Dating in Seattle can be... um, unique. It can also be expensive, but since Seattle's also the best place for pretty much everything else, you're definitely gonna to want to go on these 20 dates so you can stay here and also not go broke.
Happy hour wine has a tendency to be, to put it lightly, terrible. Not at List Restaurant, where Italian bottles (red, white, and rosé) go on sale every afternoon. Grab one to share and split it on the patio: your $20 will cover the bottle, tax, and a generous tip, so linger long and enjoy watching the world... err, Belltown go by.
Drive-in theaters have gone the way of the dodo, but there's still something romantic about watching a movie on a giant outdoor screen. While the price of seeing a movie in theaters has shot up, outdoor movies stay affordable, meaning you can probably also spring for a food truck taco for your date.

Could it be love among the lily pads? That depends on how well can you steer. For $10 an hour ($12 on weekends), the University of Washington will rent you a canoe to take your date through the tree-lined arboretum or for a quick turn around the Union Bay Natural Area to say hi to the local birds.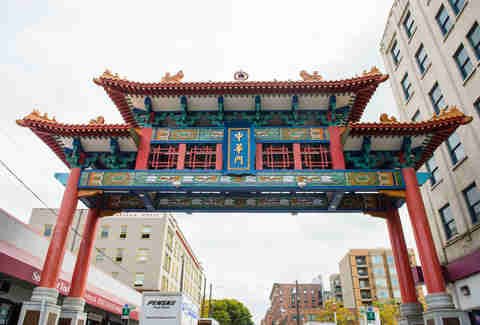 From the Vietnamese food at 12th and Jackson to the stalls inside Uwajimaya, there are hundreds of dumplings, spring rolls, and snacks with big flavor and tiny price tags. Pop in and out of shops and cafes, buying just a bite or two at each place.

All the views that you'd get if you spent the money to go up the Space Needle, none of the expense. For extra romance (read: fewer people) but a slightly less-good view head a few blocks away to the lookout across the street from Parsons Gardens.
It's gotten a bit pricey just to watch another embarrassing Mariners loss, but Safeco Field offers $10 tours of some of the areas you might never have seen before -- stop by a private suite and pretend you can afford to see the game from there!

Riding a bike is always a good -- if overly wholesome -- date activity, so sweeten the deal by heading to the 192 Brewing Company in Kenmore's Lake Trail Taproom. Sure, you could go all the way to Woodinville, but this ride keeps it around 15 miles from Seattle, leaving you just enough energy to order a couple of beers, and maybe even do a little dancing when there's a live band.
Getting on a boat is the most quintessential Seattle way to pass an afternoon, and the easiest way to do it is the water taxi, which leaves from downtown and takes passengers to West Seattle. While the $4.75 price tag (per person, each way) won't leave you much spending money, the best thing to do on the other side is free: stroll along Alki beach.

Watching the guys throw the fish at the market is super cheesy. Watching the tourists bumble around watching the guys throw the fish is fun. Stopping for a yogurt at Ellenos afterwards basically guarantees a successful date.
Kale rarely breaks the bank, so hit your neighborhood's farmers' market and grab a few nice vegetables and maybe some bread and cheese to put together a simple supper for you and your new friend. Just steer clear of the meat as it tends to get pricey!

You could actually each get your own small sandwich, if you're that type, from Seattle's most famous sandwich shop. But it's far more romantic if you split one of the giant, messy beasts for which the place is known: the porchetta or grilled lamb (get a few extra meatballs at $2.50 each, if you think you'll still be hungry). Walk a few blocks to eat at Waterfall Garden Park and pretend you're eating anywhere that isn't Pioneer Square.
Sadly, the Fremont facility doesn't have any Oompa Loompas, but you can still see how chocolate is made and, more importantly, taste as you do.

With rolls priced at $5 apiece and a full sashimi set at just $10, even the thriftiest of Romeos can eat well during Umi's late-night happy hour. Beers start at $4 each, though, so make sure to keep that budget balanced.
Listen to an Italian glassblower talk about his Venetian techniques or hear amazing storytelling from The Moth. Most of the events on the jam-packed calendar are free or $5 each.

Yup, there's free whiskey to be had. Take the tour and learn how they make the single-malt, then head to the tasting bar to sample the wares. Since it's all free, you'll leave with $20 to spend on your date.
Don't know your bromeliads from your ferns? Here's the place to learn -- or just wander the stunning glass building and look at all the pretty plants.

The $0.69 tacos served on Tuesdays are none of the authentic taco-truck styles that are trending around town: these are old-school American, right down to the crispy shell, orange cheese, and shredded lettuce. But the price -- and nostalgia -- hit the spot, so feel free to see how many you can down in a sitting.
It's a hometown favorite, but it's time for a taste-off: are the burgers under the orange sign actually any good? Or have you just only ever had them while wasted at 1:30 in the morning? Take your date to Dick's, order the works (a Deluxe, fries, and a milkshake, natch) and enter a deep discussion on burger quality.

There's no particular reason a cheap beer might taste better from the inside of a sleek-looking Airstream, but there's also no particular reason said trailer should be parked on the patio of a dive bar in South Park. Loretta's Northwesterner gives you and your date plenty to ponder as you drink $2.50 tallboys of Rainier.

Scoop du Jour is a classic old-school ice cream shop -- the kind where the smell is intoxicatingly summery and there are kids everywhere. So grab your cones to go and make the short walk to Seattle's most crowded beach, where there is always great people-watching.
Sign up here for our daily Seattle email and be the first to get all the food/drink/fun in town.
Naomi Tomky judges all of her dates based on the food they order, so listen to her restaurant suggestions on Twitter: @gastrognome.