The Most Famous Film Landmarks in Seattle
It's almost summer blockbuster season, which essentially means we'll be bombarded with remakes (do we really need another TMNT? Sorry, that was a dumb question. Of course we do). Anyways, what better time than now to take a look back at some of the films that made Seattle the city it is today. While our Canadian neighbor city of Vancouver gets most of the lights and cameras, the Emerald City has been home to dozens of movie sets, starting with Tugboat Annie in 1933.
From rom-coms to horror flicks and everything in between, these 10 famous locations will provide you the backdrop to relive all your favorite scenes.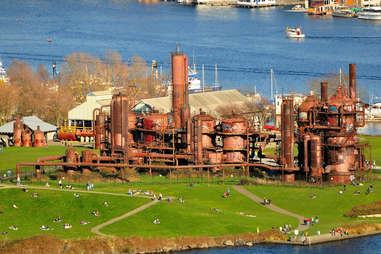 Gasworks Parks, Wallingford
10 Things I Hate About You (1999)
This classic '90s teen movie with Shakespearean roots, starring Heath Ledger and Julia Stiles, is filmed all over Seattle and features some of the cities most iconic locations. Scenes from the flick were shot at the Fremont Troll and Lake Union, along with an epic paintball date scene at Gasworks Park. The high school -- where a large portion of the movie takes place -- was filmed at Stadium High School in Tacoma.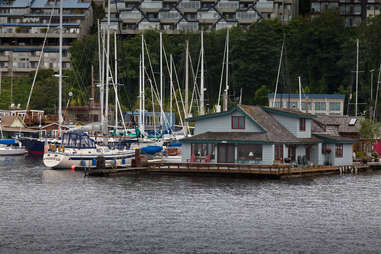 Tom Hanks' houseboat, Lake Union
Sleepless in Seattle (1993)
First things first, know this: Sleepless in Seattle is required viewing before visiting our beautiful city. Seattle is literally in the title. This classic love story follows the cross-country love affair between Tom Hanks and Meg Ryan. Some memorable scenes were shot at Athenian Seafood Restaurant and Bar in Pike Place Market and The Arctic Club in downtown Seattle. But perhaps the most memorable scene is Hanks' boathouse, which still sits on the banks of Lake Union.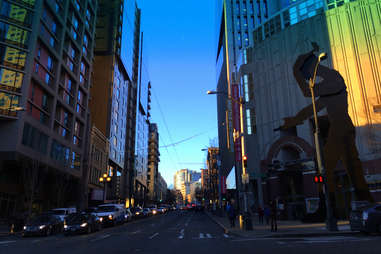 Harbor Steps Apartments, Downtown
The Ring (2002)
Horror movies are a total fit for Seattle. Dark? Check. Gloomy? Check. Rainy? Triple check. Creepy little dead girls crawling out of open stone wells? Um, sure! I guess so. The majority of The Ring was shot in rural Washington state, including some incredible shots out in Deception Pass on Whidbey Island. But the movie's main character, a Seattle reporter named Rachel, lived in the Harbor Steps Apartments near downtown. The Westin Hotel library also makes a short cameo, as well as a nonexistent photo lab on 5th Avenue.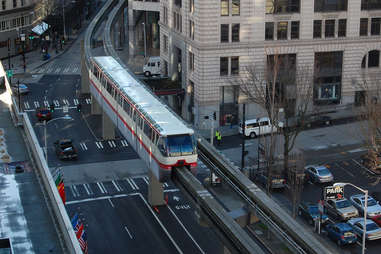 Space Needle Station, Downtown
It Happened at the World's Fair (1963)
This movie is the king of all cinematic features filmed in Seattle... get it? Elvis?! Is this thing on? Anyways, the most iconic scene from this classic features the rock'n'roll star taking the Seattle Monorail from downtown to Seattle Center and the Space Needle -- a trip every tourist and local alike should take.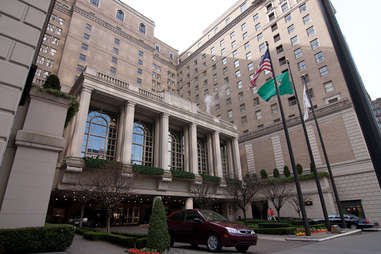 Fairmont Olympic Hotel, Downtown
House of Games (1987)
This gambling thriller showcases perfectly what Seattle looked like in the 1980's. Unfortunately, Seattle looks nothing now like what it did back then. So a lot of the seedy downtown bars in the movies no longer exist. The most noticeable Seattle film location still around is the beautiful Fairmont Olympic Hotel, which has one of the best happy hours downtown featuring exceptional live piano music.
FinMacCool's/ University of Washington, University District
21 & Over (2013)
The University of Washington basically got its own Animal House with this college party flick, the newest-made movie on our list. Miles Teller and Skylar Astin star in this comedy where the duo helps their friend Jeff Chang, played by Justin Chon, survive his 21st birthday. Scenes for the film were shot all over Capitol Hill, where a "frat house" was based, and on the University of Washington campus at Hansee Hall and the Army ROTC building. Nearby bars Fin MacCool's, The Knarr Shipwreck Lounge and Big Time Brewery & Alehouse all get some nice screen time.
Coryell Court Apartments, Capitol Hill
Singles (1992)
Singles tells the story of several twenty-somethings all living in the same apartment complex looking for love. They also happen to be pretty grungy because it's the early '90s, but nowadays we have the hipster -- so really, this story is timeless, much like flip-flops. The film was shot mostly in Seattle and features Gasworks Parks, the Virginia Inn restaurant in Pike Place Market, and Chandler's Crabhouse in South Lake Union. The apartment that the main characters live in, Coryell Court Apartments in Capitol Hill, are still around and you can even live there, if you want!
Thornewood Castle, Tacoma
Rose Red (2002)
You didn't happen to catch this 3-part horror mini-series based on Stephen King's novel about an evil mansion that kills everyone who enters it, which premiered on TV about 15 years ago, did you? I didn't think so. Well, I just so happened to watch it as a kid with my family and when I found out said evil mansion was near Seattle -- I couldn't contain my creepy joy. Thornewood Castle in nearby Tacoma is the setting for the spooky movie, and is a working inn where you can stay the night. The front desk even has a copy of the movie (you know, if you don't plan on getting any sleep.)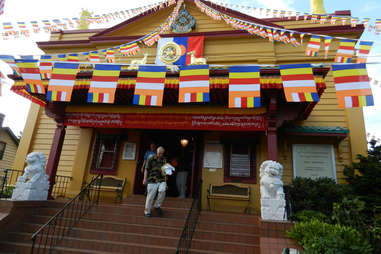 Sakya Monastery, Phinney Ridge
Little Buddha (1993)
The story of a group of Tibetan monks on a journey to Seattle to find the child reincarnation of the Buddha -- and a brownface Keanu Reeves -- intertwine into one beautiful and strange film. Parts of Queen Anne are shown throughout the movie as well as the Seattle Art Museum. But the real star is the striking Sakya Monastery where several scenes for the movie were also filmed.
Landmark Guild theater, Wallingford
World's Greatest Dad (2009)
Robin Williams stars in this dark comedy as a father and high school teacher forced to write a suicide letter for his son after he finds him dead in a humiliating accident. It's heavy, but is assuredly one of Williams' finest performances toward the end of his career. Almost the entire film was shot in Seattle, featuring scenes at the Landmark Guild theater in Wallingford and nearby F.A. McDonald International School. The final scene of the movie was filmed at Seattle's public Helene Madison Pool.
Sign up here for our daily Seattle email and be the first to get all the food/drink/fun in town.
Cody Permenter
is a freelance writer for Thrillist who still hasn't seen
Sleepless in Seattle
, and yes, he's ashamed. Follow him on
Twitter
.