It's great that so many other people around here are into the outdoors, but when you get to the trailhead and there's no room to park and your selfie at the peak has, like, three random people in the background -- and that's on a Monday afternoon -- it's time to choose a different hike.
Don't worry, Washington is full of hidden gems if you're willing to get off the (literally) beaten path: and we're not just talking about restaurants, we're talking trails sporting panoramic views, mesmerizing waterfalls, cool alpine lakes, and more. Here're the nine best ones...
Rachel Lake
Cle Elum
Distance from Seattle: 71 miles; 1.5-hour drive
The extra few miles after Snoqualmie Pass take you away from the most crowded hikes and get you to the spectacular 7.6mi Rachel Lake trail. After a steep start, the trail flattens out for a while before getting to the final pitch (which requires a bit of careful stepping), but hikers are rewarded with a breathtaking alpine lake, perfect for a picnic. Ambitious climbers can continue on to Rampart Lake and others.
 
Franklin Falls
Snoqualmie
Distance from Seattle: 49 miles; 54-minute drive
Usually the further you get from the city, the longer the hike, and the steeper the climb, the better the view at the end. Franklin Falls is the opposite of that, making it perfect for families, hot days, or hungover people. The gorgeous falls aren't perfectly isolated like those on further hikes (they happen to be between two pieces of I-90) but the quick, easy 2mi jaunt makes this a worthwhile view.
 
Squires Lake Trail
Bellingham
Distance from Seattle: 78 miles; 1.3-hour drive
An easy drive from Seattle (the trailhead starts just off I-5), this is barely more than a lakeside stroll -- though there are plenty of other paths in the park to continue on a longer journey. The 2mi trail is dotted with benches and picnic spots for stopping along the way, but there's also excellent opportunity for snacking throughout: it is lined with berries, from the salmonberries of spring to the blackberries of late summer.
 
Crystal Lakes
Mt. Rainier National Park
Distance from Seattle: 87 miles; 1.75-hour drive
For those who hike for the scenery, this is the 6mi mountain walk for you: start with glimpses of Mt. Rainier along the switchbacks, gaze at the wildflowers as you stroll to lower Crystal Lake, then keep an eye out for elk and mountain goats as you climb to upper Crystal Lake. Basically, don't forget your camera.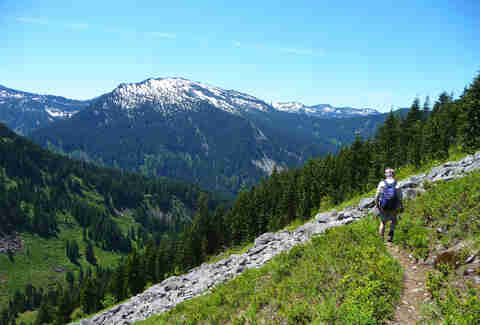 Bare Mountain
Snoqualmie
Distance from Seattle: 51 miles; 1.9-hour drive
This is an 8mi hike you should take on a sunny day: the top was once a location for a fire lookout, so that should give a pretty good indication of the quality of panoramas to expect from the top. On the way up, plan to hop across a creek and admire a few small lakes while heading toward the long switchbacks.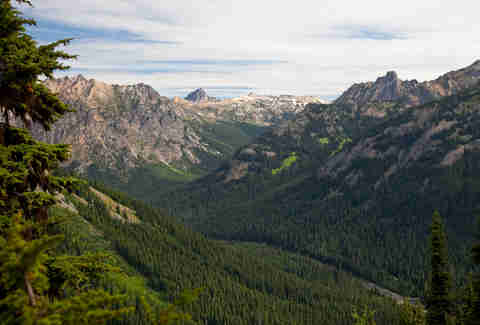 Maple Pass Loop
North Cascades
Distance from Seattle: 154 miles; 3-hour drive
A grab bag of hikers' favorite things: a bit of challenge, the variety of going in a circle instead of out and back, waterfalls, snow, wildflowers, and views. This is the 7mi hike you were looking for, the only question is if you'd rather ascend (hike the trail clockwise) or descend (counter-clockwise) the steepest section.
Whitehorse Trail
Arlington
Distance from Seattle: 70 miles; 1.5-hour drive
An old rail route that is in the process of being converted entirely to a trail as part of the Snohomish Parks system, this is a flat, easy walk -- it will someday be 28mi, running from Arlington to Darrington. Right now it's 7mi, and ready for hiking starting at Arlington: the trail meanders along the North Fork of the Stillaguamish River, visiting old barns, showing off railroad bridges, and passing into Cloverdale Farm around 3.5mi in, before getting too overgrown to continue.
Barclay Lake
Central Cascades
Distance from Seattle: 63 miles; 1.5-hour drive
Cedar boardwalks and even a sturdy log bridge bring a little bit of variety and fun into this otherwise flat, easy 4.4mi wander along the rippling Barclay Creek. The destination -- Lake Barclay -- offers imposingly beautiful views of mountain peaks and a great place for a picnic.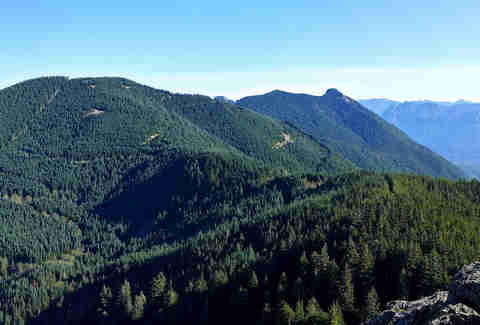 Mt. Teneriffe
Snoqualmie
Distance from Seattle: 36 miles; 42-minute drive
So you're over the crowds at Mt. Si, and up for a bit more of a challenge: its next-door neighbor, Mt. Teneriffe has been waiting for you. With fewer crowds, and the bonus of a lovely waterfall and stunning views of Mt. Rainier from the broad saddle at the summit, this 14mi trail is the best choice for a quick drive, a long hike, and a stellar view.
Sign up here for our daily Seattle email and be the first to get all the food/drink/fun in town.