Do you know what Friday is? It's the anniversary of the day that Emperor Agustín de Iturbide dissolved the Congress of the Mexican Empire (that was a thing, apparently) in 1822. Oh, and it's Halloween. And since there aren't any sweet parties celebrating the first of those things, you better check out these…
Recommended Video
Timothy DeLaGhetto & David So Take Over LA's Premier Foodie Event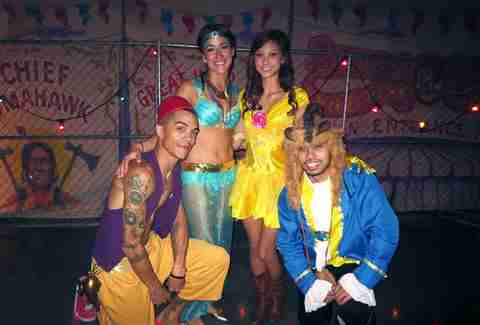 Friday, October 31st & Saturday, November 1st: FreakNight, one of Seattle's can't-miss fall events, is two-day dance party that promises to attract thousands of scantily/scarily clad... well, freaks to the WaMu Theater, where they'll hear dozens of sweet DJs, including headliners Kaskade and Tiësto.
Friday, October 31st: Pulse Ultimate Halloween Bash is bringing together "Seattle's best party band", Brand X, the sweet Seattle DJ, Funk Daddy, and thousands of costumed party guests (all competing for $4,000 in cash prizes). It all starts at 8pm.
Friday, October 31st: It's not like people need encouragement to wear sexy costumes on Halloween, but Risqué's Halloween Party is providing it in the form of an "interactive" sexy costume contest. There'll also be GoGo girls, palm and tarot card readers, and other adult-oriented entertainments starting at 8pm.
Friday, October 31st: If you'd prefer to get dressed up while dressing up, you'll want to hit the black tie-optional Bonza Bash Halloween 2014 Masquerade Costume Ball at Fremont Studios. Don't worry, those not in formal wear can compete for $10,000 in prizes, including a trip to Australia, starting at 8:30pm.
Friday, October 31st: Frolik, one of Seattle's sweetest outdoor bars, is hosting Yelloween, a sweet Champagne costume party, on its fifth floor patio with some help from Veuve Clicquot starting at 7pm.
Friday, October 31st: The most Seattle way to celebrate Halloween is… um, probably going as something that requires polar fleece, or on a three hour Lake Union/Washington Halloween Party Cruise, where in addition to music and costume contests, there'll be nosh like Ghoulish BBQ Sliders w/ tomato jam, cheddar & caramelized onions.
Sign up here for our daily Seattle email and be the first to get all the food/drink/fun in town.