One of the worst things about Seattle is that when it comes to things like strip clubs, Portland totally kicks our ass. Soooo embarrassing! But that doesn't mean there aren't naughty things to do around here (just ask number 11 on this list!), they just aren't always obvious, so we went ahead and rounded up the eight naughtiest things you can do in Seattle...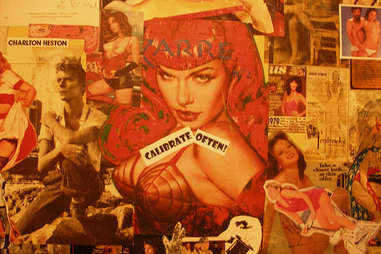 Go to the bathroom at The Tin Hat
The Tin Hat (address and info)
Phinney Ridge
Take a leak and take in the sights at The Tin Hat's scandalously plastered restrooms. Drop on by for 69 cent tacos (get it? get it?) on Taco Tuesday and super-cheap drafts. Be sure to shamelessly fill your phone with selfies while surrounded by bevies of busty ladies in the loo.
Shop at Babeland
Babeland (address and info)
First Hill
From events like Blow outs and BJs to adult toy giveaways, Babeland is the go-to place for sex-ed and sexy goodies. Located smack dab in the heart of Capitol Hill, you'll find all the sexy time doo-dads from your wildest fantasies and more. Rest assured, from Pecker Patch Sour Gummies to things that go wa-ksssh in the night, you'll find it here.
Join the Foundation for Sex Positive Culture
Interbay
Whether dark tantra or a bit of role-play is your bag, Interbay's Foundation for Sex Positive Culture is THE place to brush up on your skills. FSPC hosts many events every month, ranging from rope enthusiast workshops to sacred sexuality meet-ups -- keep track on their online calendar here. Also for your perusal is the Pacific Northwest Library for Sex Positive Culture, which is home to hundreds of books on human sexuality, as well as a lofty pornography section. Yearly memberships run $20 and are 18+.
Get freaky at FreakNight
WaMu Theater (address and info)
SoDo
With a name like FreakNight, there really should be no confusion as to what transpires at this event. Once a year, this mother's-worst-nightmare of an event bring scantily clad performance artists, pyrotechnics, some of the world's biggest DJs, and thousands of costumed party-goers out for two of Seattle's wildest nights.
Go to a (possibly?) nude beach
Denny-Blaine
In the summer you'll find a super-secret patch of beach in the Denny-Blaine Park that serves as one of Seattle's unofficial nude beaches. Strip off those skivvies and keep it real, just remember -- no staring, ya weirdos! Also worth noting -- there isn't anything wrong with lying out in the buff in Washington State as long are you aren't creating "reasonable affront or alarm", so play it cool.
Have dinner at The Pink Door
The Pink Door (address and info)
Downtown
Catch a glittery burlesque show and late dinner at The Pink Door in Pike Place Market. On Saturday evenings at 11pm, the intimate space becomes the canvas for pasty-adorned dancing queens to strut their stuff. We recommend arriving early because seats tend to fill up quickly... especially the ones under the trapeze. Doors for shows on Saturdays open at 9pm.
Go to DeJa Vu on amateur night
DeJa Vu Showgirls (address and info)
Downtown
So Seattle strip clubs kinda suck, unless you check out DeJa Vu Downtown on a Thursday at 9pm for Amateur Night, which features dancers hitting the poles for the very first time. Or a Tuesday when there are 2-for-1 dances. Or any night really because you can get three dances for just $40.

ThePalms spanking group
Various locations
An adults-only spanking group, ThePalms, meets bi-monthly (you JUST missed the last event of 2014, sorry!) for dinner and a good ol' fashion paddling. If you've been naughty, this group is the place to turn for... how do you say? Corrective measures or cosmic retribution. You have to be invited to join the banquet-style dinners and subsequent parties -- find more information here.
Sign up here for our daily Seattle email and be the first to get all the food/drink/fun in town.