The 5 coolest places to go swimming in Seattle
Everybody from Seattle knows the best place to go swimming is... um, somewhere in, like, California, probably -- but not everybody knows where to find the best swimming holes around here. Never fear: Thrillist has picked out the sweetest local beaches, pools, etc., so you've got the perfect place to go on those few days a year when it feels like California -- err, well, Northern California -- outside.
7201 E Greenlake Dr N, Seattle, WA
They've got a newly renovated pool and, unbeknownst to many, two lifeguarded beaches where they actually keep the kelp cut back enough for you to swim in the lake instead of just running around it. Well, PARTway around it.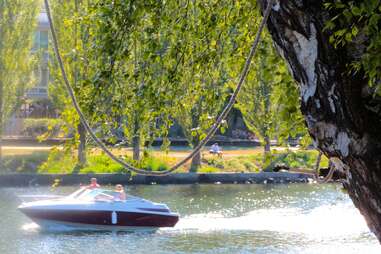 4. Fremont Rope Swing
Fremont (where Phinney Ave N meets the Canal)
Nothing says summer like stepping out of The Sixgill -- or one of Fremont's other sweet bars -- and swinging out into a narrow, boulder-lined shipping canal that's crowded with commercial boats and pleasure craft.
5700 SW Dash Point Rd, Federal Way, WA
One of the only places on Puget Sound where the water's actually shallow/warm enough to swim in, this long muddy beach is also one of the world's most popular destinations for skim boarders -- which is apparently also something hostel owners do, but who cares? This place is only as far as Federal Way.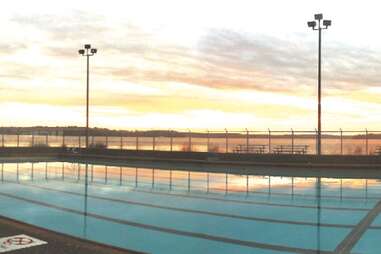 8603 Fauntleroy Way SW, Seattle, WA; 206.684.7494
You've got a simple choice: the cold and sometimes treacherous water off West Seattle's glorious beaches, or Fauntleroy's occasionally kid-/teen-filled Colman Pool. The public pool's sweeping views of Puget Sound (and the off chance that it's actually named after Gary) make it the obvious choice.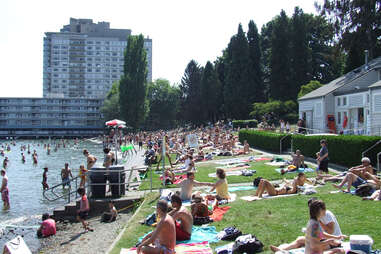 At E Madison St & E Howe St, Seattle, WA
Sure, this "Caribbean" of Capitol Hill is often overrun by hipsters and hip young families, but this small sandy beach still boasts warmer-than-usual water and a convenient location just steps from sweet eat/drink spots like the Independent Pizzeria and Madison Park Conservatory.