The 20 Seattle Commandments
On the first day, God said let there be light. On the second, he said something about water or whatever. And, on the third day, he create Seattle. And Seattle, despite having a few problems, was good... provided the people living there followed the rules, aka, the 20 Seattle Commandments:
CHONA KASINGER
Thou Shall...
1. Shop at Pike Place Market
There's too much great stuff there to avoid going altogether, but you should definitely avoid the place on weekend, also avoid standing around watching the dudes throwing fish. You're in the way!!!
2. Thou shall have a favorite coffee shop
Like Victrola, Bauhaus, or Zeitgeist, but it can't be a Starbucks... unless it's the one on Olive where they serve beer, or maybe one of the ones made out of shipping containers.
CHONA KASINGER
CHONA KASINGER
7. Graciously take out-of-towners to Seattle Center when they visit
Shhh... don't tell anyone, but the Space Needle is actually kinda cool, and you can always use an excuse to stop by Big Food or Skillet.
8. Stop acting like marijuana is a big deal
Dude, it's legal now, and easier to get than, like, foie gras, so just calm down already.
9. Be generous with your deck on the 4th of the July
Yes, we'd love to come watch the fireworks on Lake Union at your house, thanks for asking!
10. Tell anyone thinking of moving here that Seattle's got nothing but problems
We're already the fastest growing major city in America... how many more Californians can we possibly handle?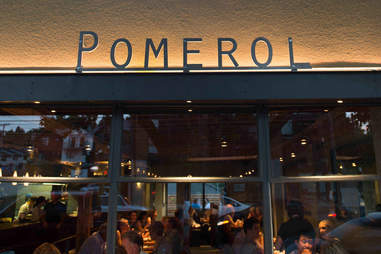 CHONA KASINGER
Thou Shalt Not…
1. Forget to eat/drink at Seattle's best new bars & restaurants
You don't them to stop opening, do you? You don't want Portland to be the Northwest's top dining destination, do you?
2. Brag about that sweet one bedroom with a wash/dryer and secure parking your found for under $900
'Cause everyone else is paying like, $1600... at least.
3. Purchase an EZ-pass
That's for people who live in Bellevue... and maybe Microsoft employees.
4. Live in Bellevue...
... and tell people you're from Seattle.
Thrillist
5. Complain when the people around you stand up at Sounders games
Especially in The Brougham End. Seriously.
6. Turn left off of Denny
Or anywhere without a dedicated turn lane, but especially here... unless you want to be confused for one of these people.
7. Tell someone about your start-up within five minutes of meeting them
Yeah, that app totally sounds like it's worth working 70 hours a week, and no I don't know where to catch the 18 to Ballard.
8. Stop tipping your server
Not even if they're earning $15 an hour or if some people at a certain online lifestyle magazine think you should.
9. Support the Oklahoma City Thunder
Yes, still. But you CAN root for Nick Collison since he totally agrees with you about OKC.
10. Make the mistake of thinking Portland's the better place to live
To quote one totally sweet website (us!): "is there seriously a debate about this"?
Sign up here for our daily Seattle email and be the first to get all the food/drink/fun in town.