Yeah, yeah, Seattle summers are totally great... except for the fact you don't have A/C. But hey, when it's this hot inside you might as well do your sleeping outside, provided you can find a campground that isn't already filled with your neighbors, of course. Don't worry, that's where our list of eight underrated campsites within four hours of the city comes in. Shhhh... they're our little secret.
Penrose Point State Park
Lakebay
Distance from Seattle: 64 miles; 1.25-hour drive
Perched on the shores of the Puget Sound, this 165-acre marine park gives campers the best of both water (over two miles of saltwater frontage) and forest. All of the 82 tent spaces are shaded nicely in the woods and located conveniently close to the magnificent Mayo Cove and Carr Inlet, where boating and water skiing are popular activities.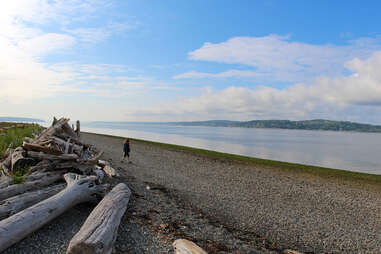 Camano Island State Park
Camano Island
Distance from Seattle: 67 miles; 1.25-hour drive
If variety is the name of your game, this state park is the place you should pitch your tent. With one mile of bike trails, three miles of hiking trails, a baseball field, an 18-hole golf course nearby, and views of the Olympic Mountains and Mount Rainier, this spot will keep you busy all weekend.

Hope Island Marine State Park
Olympia
Distance from Seattle: 78 miles; 1.3-hour drive
How does your own practically private island sound for a relaxing weekend away from the hustle and bustle of the big city? Reachable only by boat, this secluded campsite only has four tent spaces, and sits on an island with 1.5 miles of serene beaches perfect for bird-watching.
Blackpine Horse Camp
Wenatchee
Distance from Seattle: 117 miles; 2.3-hour drive
Finding a campsite along Icicle Rd near Leavenworth can be a challenge given the popularity of the area, but this spot is a good option when those other camps are overrun. While the 10-site spot is tailored for equestrians, anyone can camp here. The extra-large campsites offer plenty of room for groups, and are close to both the Black Pine and Icicle Creek trailheads.
Cape Disappointment State Park
Ilwaco
Distance from Seattle: 171 miles; three-hour drive
The sheer beauty of this coastal campsite dotted with lighthouses is reason enough to make the three-hour trek from the city. With views of the Pacific Ocean on two miles of beach and plenty of campsites (137 standard spots to be exact), snagging one of the 14 yurts within walking distance of the beach sounds like the perfect relaxing getaway.
Alta Lake State Park
Okanogan County
Distance from Seattle: 202 miles; 3.5-hour drive
Still recovering from the Carlton Complex fires that swept through the area in summer of 2014, this beautiful park has a lot to offer the would-be camper not hung up on having a "perfect" spot. Their loss is your reward: 91 tent spaces surround two miles of gorgeous hiking and a pristine lake where people can often be found sailboarding.
Palouse Falls State Park
Lacrosse
Distance from Seattle: 237 miles; 3.75-hour drive
Yes, this spot is quite a drive from the city. But just wait until you see the waterfall! Eleven tent spaces located inside the park have a perfect view of the 198ft Palouse Falls, which are especially active during the spring and summer months.
Maryhill State Park
Goldendale
Distance from Seattle: 222 miles; four-hour drive
Go about as far south as you can get without crossing into... ugh, Oregon, and you'll discover this 99-acre campground on the banks of the Columbia River. The real gems of this trip, beside the gorgeous waterfront for activities, are a full-scale partial replica of Stonehenge about a mile away and The Maryhill Museum of Art. A unique blend of camping and culture makes this trip a must-do experience.
Sign up here for our daily Seattle email and be the first to get all the food/drink/fun in town.