Seattle vs. Portland. Is there really a debate about this?!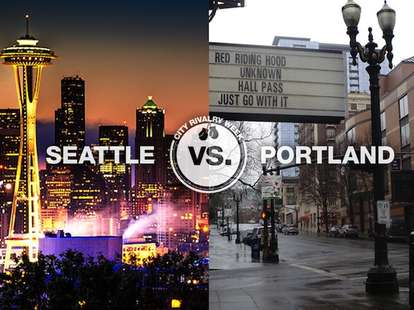 To be honest, most people in Seattle actually like Portland -- it's like our bratty younger (and much smaller) brother -- but when one of our neighbors to the South decides to talk some serious trash about Seattle, the bloom starts to come off the Rose City. So we've taken it upon ourselves to put the PDX back in its place, and remind everyone that, in the words of famed poet Sir Mix-a-Lot, people in "Seattle ain't bulls**tting"… unless they tell you that one of these 10 reasons Portland kinda sucks isn't totally true.
1. Let's face it: Bigger is better -- The Seattle metro wins by around 1.3 million people. Oh, and to the Portlanders about to trot out that old line about "the motion of the ocean", guess what? Your city's on a frickin' RIVER!
2. Seattle's got a killer music scene -- Whether we're talking influential musicians (Jimi Hendrix, Quincy Jones, Kurt Cobain, etc.), radio stations (KEXP vs… ?), or methods of celebrity suicide, when it comes to musical battles, Portland's bringing a knife to a shotgun fight.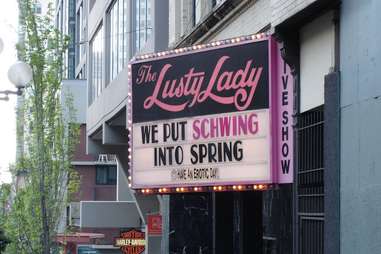 3. All your cute girls are strippers -- Despite having an estimated 650,000 fewer female residents, the Portland metro's got more than 10 times the number of strip clubs, which sounds like a great thing… err, okay, it is a great thing, until it's time for her to meet your parents.

4. Seattle revolutionized the beverage industry -- In addition to the world's most successful coffee slinger, Starbucks, Seattle boasts America's most successful craft brewery, Redhook. Oh, and Portland, before you get all righteous about the abundance of micro-brewers down South, we've even got more of those, too.

5. Sounders vs. Timbers isn't really a rivalry -- We dominate the all-time series, and we're so proud you're able to fill Jeld-Wen Field every week that we won't even mention the fact that the average attendance at a Sounders match would do that twice over. Oops!
6. And speaking of sports -- We've got an NFL team that's expected to contend for the title, a baseball team that… um, exists, and the proportion of people who'd rather root for a Sonics team that doesn't even exist instead of the Trailblazers, is about the same as those who agree Durant was a better pick than Oden, aka, everyone.

7. Pike Place Market -- Seattle's got what is hands down the best farmers market in the country, and, down the road, they've got what is essentially a Portlandia set that's open to the public six days a week... even though it's called the Saturday Market.

8. Taxes -- The income tax rate in Multnomah County is as high as 10%. The rate in WA is 0%. Oh, and the fact that Washington's regressive-and-otherwise-stupid sales tax discourages people from eating at crappy restaurants may also be part of the reason Seattle's got a lower obesity rate. Boom, two for one!
9. Man, Portland's economy sucks -- Here're some facts: Our median family income is 50% higher than yours, less of our full-time workers live in poverty, our houses are worth more but we spend less of our money on 'em, and your unemployment rate is higher. Worst of all, the Portland child poverty rate is twice as high. But don't worry, that Etsy shop you opened will have things straightened out in no time!

10. Thanks for the memories -- When you think of Seattle, things like the Space Needle, Mt. Rainier, the downtown skyline over Elliot Bay, or real rivals like San Francisco or Vancouver immediately come to mind. But when you think of Portland, you think of… um, how much cooler Seattle is? Yes.