10 secret Seattle things you didn't know existed
Just when you thought you had seen everything Seattle has to offer, some super-useful city guide (us!) comes along and shows you that you're WRONG. Don't believe it? Here's proof in the form of 10 secret things you probably didn't know existed in Seattle...
1. The town below Lake Washington
Fremont
According to divers, this 33 square mile lake is littered with the wrecks of several hundred boats and ships, dozens of airplanes (including a fully armed WWII bomber, sitting on its wheels), a bridge, an ancient forest, and an 1870s train of coal cars. Best of all, there is likely an entire Native American settlement covered in mud on the bottom.
2. Steve's Weird House
A private art gallery/freak show/museum of sorts inside a Victoria home owned by a guy named... youguessedit!... Steve, who has absolutely filled it -- like from wall to wall and floor to ceiling -- with bizarre and unusual items, including conjoined twin animals, medicinal specimens, statues, giant women, and more.
3. Waterfall Garden Park
Pioneer Square
UPS was founded in Seattle, but it abandoned it's hometown decades ago. Thankfully, Big Brown left something special behind: a pocket park on the site of the company's original headquarters where a 22ft waterfall pumps 5,000 gallons of water per minute over granite boulders. Pro tip: get there early in the winter 'cause it closes at 3:45pm.
4. Giant popsicle "art"
Belltown
Hidden in plain site, this vivid-red 17ft-tall piece of steel and epoxy art is posted up on a street corner North of Downtown, in a lot that is... surprise!... owned by the artist's husband.
5. The beach at Marine View Park
Normandy Park, WA
People have been trying to keep that fact there's a sweet beach down here a secret since 1987, when the city of Normandy Park renamed the rugged, secluded strip of sand just North of the Des Moines Marina to remove the word beach. Oh, and if that doesn't keep people away the arduous hike down the steep hillside above probably will.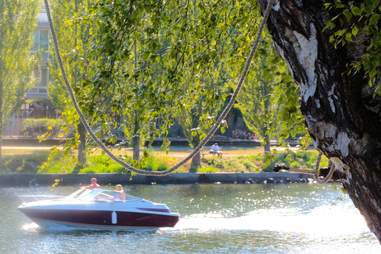 BRADLEY FOSTER
6. Fremont rope swing
Fremont
Everyone knows the best place to go swimming in Seattle is... probably some place other than Seattle, but then again, nothing says summer like grabbing this not-so-safe-looking rope that almost no one knows about and swinging out into a narrow, boulder-lined shipping canal that's crowded with commercial boats and pleasure crafts.
CHONA KASINGER
7. Shh... this is a bar
Various Locations
We're terrible at keeping secrets (especially ones about how terrible we are at secret-keeping), but even if we told you where to find the Knee High Stocking Company, the Backdoor at Roxy's, or any of Seattle's sweet secret bars, you would probably still have trouble finding 'em. Which is good thing.
8. A haunted Coke machine
Capitol Hill
For more than a decade people puzzled over a strange and incredible reto-looking Coke machine on the corner of Broadway and John, which, if you put in $.55 spat out a seemingly random assortment of sodas like Fanta and Cherry Coke. People even said it was haunted, and hopefully it still is, even though someone was finally caught filling it earlier this year.
9. Bridges to nowhere
Montlake
For a few more days, these abandoned off-/on-ramps will continue to rise from the water off the Arboretum towards 520, serving absolutely no purpose, except maybe as something for college students to jump off of. Not that we would even condone such a thing.
10. Seattle Pinball Museum
International District
Dedicated to the "preservation of pinball for future generations", this riotous arcade boasts more than 30 working vintage pinball machines (all set to free play!), including a Bally Ballerina from 1948, the pulpy devil-arted Gorgar, and one from '77 called Stern Pinball, which should really be replaced by David Silver Pinball by now. What makes it a secret? Its completely inexplicable storefront location in the middle of the International District.
Sign up here for our daily Seattle email and be the first to get all the food/drink/fun in town.