The best thing since Detlef Schrempf's hair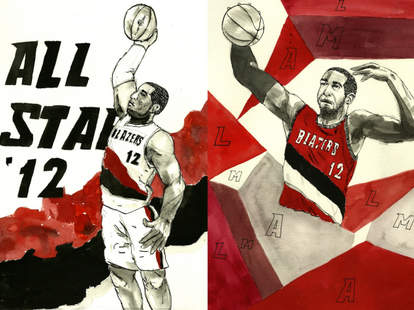 The average Seattle basketball fan hates David Stern, Howard Schultz, Clay Bennett, Greg Nickels, Wally Walker, and, really, a hell of a lot more people the idea of looking to Portland for basketball solace, so, rather than actually rooting for the Trail Blazers, just check out Sportz Ill-ustrted, a compendium of mostly irreverent b-ball art done up by a PDX superfan. Highlights include:
Matt Bonner Speed Painting If you've ever wondered what Matty B wore in the locker room after spending 48mins raining high-arcing threes down from the heavens like Tom Cruise does frogs in that faux-art house movie from the early 2000s, a cape, furry loincloth, and white gloves is probably not it. Maybe a three-piece?
Greg Oden Greg Oden is so old, the first "Greg Oden is old joke" is actually in Aramaic, and surprisingly dirty. Also, this is a sketch of him naked.
RIP Kendrick Perkins Here lies a sketch of OKC's really big man, Who got posterized when Blake dunked as hard as he can. Now Perk's left with a mental image he may never live down, Guess karma's a bitch when you play for a squad that moved out of Seatown.