Adult popsicles and a very adult prom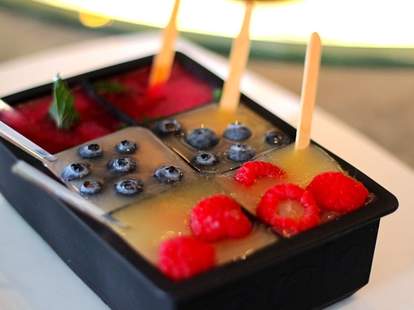 Event of the Week Score hooch'd-up popsicles like the peach/lime/blueberry/orange-flavored vodka Big Breezy anytime this summer at BOKA, or get 'em at happy hour prices during Boozy Tuesdays, a party the downtown mainstay's throwing every... um, crap, we have it written down somewhere. Get all the info you need, here!
Saturday, June 1st Dunkxchange is bringing its traveling sneak swap (essentially a sneaker/hip-hop/art show) to Seattle and topping it off with live performances from local rappers like Nacho Picasso and a live demonstration from a NW dude who turns Jordans into Transformer-style robot statues. Get the deets and score tickets, here
Sunday, June 2nd Free Popcorn! KuKuRuZa Gourmet Popcorn is giving away a free bag to everyone who stops by to help celebrate their one-year anniversary in Ballard. Click here to get it poppin'!
Tuesday, June 4th Tickets to the grand reopening of Redhook's Woodinville pub get you two beers, a brewery tour, and an open buffet stocked with new eats like fried cheese curds and pulled pork shoulder. Oh, and 100% of the ticket price goes to help local firefighters
Wednesday, June 5th The Enchantment Under the Sea dance usually means going back in time to make out with your mom! But, at Linda's, it means endless soup, salad & breadsticks (suck it, Olive Garden!), tunes from DJ Hank Rock and DJ Cuts Like a Knife, and professional, semi-ironic, prom-style photographs all night long. Things get started at 8p!
Ongoing They started slinging cups of Joe from a sleek airstream trailer on Cap Hill, but now the creative coffee slingers at Slate have their own brick and mortar spot in Ballard. Check 'em out now!