27 Things People From Seattle Absolutely Love
Sure Seattle's got a few problems -- 99 of 'em to be exact -- but people from around here don't really mind, especially not when there are so many things that they absolutely love. Want proof? Here're at least 27 objects of locals' affection...
1. Lying about the rain…
Seattleites* will happily tell you that it rains more in New York or Chicago than it does in Seattle while conveniently ignoring the fact that it rains more often here than it does... well, almost anywhere.
*Note: People from Seattle don't love being called Seattleites.

2. … and then ignoring the rain
Carry an umbrella? You must be from California.

3. The Seahawks
The 12s (yes, that's what 'Hawks fans are called) are everywhere, and they will gladly start listing reasons the Broncos suck, especially after all the whining they've been doing about losing to us in overtime last week.
Thrillist
4. Soccer
The average attendance at Sounders games is higher than it is at games for all but two Major League Baseball teams and a handful of teams in the world's most popular soccer league: the English Premier League.

5. Artisanal… well, anything
There's a good chance the next time you go out for a burger everything from the beef, to the bun, to the the veggies -- not to mention whatever beer/liquor you're drinking -- was made, grown, or raised in three or four counties around Seattle.

6. Eating at new restaurants
At least we better, or these places AND these places are in serious trouble.

7. Tom Douglas
And why not? The dude makes one of the best pizzas in the country, Anthony Bourdain's favorite breakfast sandwich, TWO of Seattle's eight best chicken wings, and more.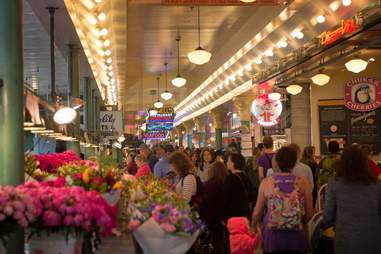 Chona Kasinger
8. Pike Place Market
There are plenty of reasons to brave the crowds at the Market... just don't ask us to stand around watching dudes throw fish.

9. Macklemore (yes, and Ryan Lewis)
Unlike the rest of the country, we love this crafter of ironic songs about second-hand stores un-ironically.

10. How good we look on paper
We're the smartest city in America, the "most liked" city in the country, one of the 10 best cities to find a job in, the leader in LGBT equality, the second greenest city in America, #2 in literacy, and, most importantly, #1 in indie music sales.

11. The Huskies
Sure, a lot of Wazzu alums live here too (it's not like they're gonna live in the Palouse!), but UW and its gorgeous campus dominate Seattle.

12. People from out of town...
If only because if gives us a chance to explain things to 'em... like the fact that, no, we don't want to go to the Space Needle.

13. ... as long as they leave
In addition to all those things mentioned in #10, we're also the eighth most desirable city to move to, much to the chagrin of people who blame all of Seattle's problems on "Californians" who live here now.
14. Pho…
We like other Asian noodles like ramen and soba too, but the sheer number of these Vietnamese soup spots is mind-boggling.

15. … and teriyaki
Actually, the number of pho spots in Seattle isn't all that mind-boggling IF you compare it to the number of sweet teriyaki spots -- as many as 3% of all restaurants in Seattle have "teriyaki" in their name, and as many as 10% actually serve it.

16. Acting like we don't actually love Starbucks
If that were true, we wouldn't have more of 'em than any other city (even much bigger ones), would we?

17. Laughing at the supposed traffic problems in other cities
Between all our lakes, hills, and other awkward geography; delayed transportation projects; and some pretty terrible drivers, Seattle's one of the worst cities in country when it comes to traffic. Oh, and don't get us started on parking.

18. Weird public art
We've got the world's most disgusting tourist attraction: the infamous Gum Wall. Plus there's a whole outdoor museum full of sculptures and things like the Black Sun and A Sound Garden (yes, that's where they came from).
Bradley Foster
19. Cream cheese on our hot dogs
Invented in Pioneer Square back in the '80s, this amazing NW classic tops the standard dog with cream cheese & caramelized onion, and is always hilarious to share with out-of-town friends.

20. Avoiding 520
Going to Bellevue definitely isn't worth getting a good-to-go pass.

21. The Sonics
They're like our third favorite sports team and they don't even exist. Also, our second favorite basketball team is whoever is playing that team in Oklahoma.

22. LOCAL craft beer
Sure, there are a few breweries that distribute nationally (Redhook, Pyramid, etc.), but most sud-makers seem content to sling their wares in local bars/taprooms. It seems to be working too, because we've got neighborhoods with more breweries than some cities.

23. Jeans
Weddings? A night on the town? Running errands? We're probably wearing jeans. And polar fleece.

24. Amazon
We love they way they deliver groceries. And the way they're transforming Downtown... except when it's lunchtime in South Lake Union. Seriously, you don't think the line at this food truck is long enough already?
Chona Kasinger
25. Crushing Deluxes
Given how much time we spend there, you'd think we'd know everything there is to know about Sir Mix-A-Lot's favorite fast food spot.

26. Pretending we don't live on a fault line
We're pretty sure Nisqually was actually a Native American word meaning "the big one", so we're totally in the clear, right? Right?!

27. Being wayyy better than Portland
It'd probably be more "Seattle" of us not to care whether or not we're cooler than Portland, but we totally are.
Sign up here for our daily Seattle email and be the first to get all the food/drink/fun in town.