Actually Cool Things to Do in Seattle This Fall
You've earned some fun.
As the season with the highest holidays-to-normal-days ratio, fall is arguably the best time of the year, summer notwithstanding. That said, it also rains a lot here, gets pretty cold, and oh yeah, we're still in the middle of a global pandemic. But fear not, fellow Seattleites! There is plenty to do in the city—and beyond—and you'd be remiss to skip out on seasonal activities just because you're still mourning summer's end. Could this be the year that you get really into Halloween, eat too many s'mores-themed desserts, go hiking, or do all of the above? But of course. Below, everything fun you can do in Seattle this fall.
Washington
$
Pumpkins are a dime a dozen in these parts every fall, but the most authentic way to purchase yours is, of course, to stop by a nearby farm and select it yourself. Visit Craven Farm (linked above) in Snohomish for a whole festival of related activities, September 18 - October 31, or other spots like Snoqualmie Valley Pumpkin Patch and Creek House Farm, which also have u-pick pumpkins this time of year.
Georgetown
$20 per ticket
'Tis almost the season of ghouls, ghosts, and the like, and that means haunted houses are back open for business—meaning, if you like a good scare, this one's for you. For starters, head to Georgetown for the one and only Georgetown Morgue, which is sort of iconic when it comes to Seattle haunts and thus very much guaranteed to be just as frightful and freaky as you dare wish.
Ballard, Capitol Hill
$
Is there anything more fall-inspired than a hot (and chocolatey) dessert? Not according to Hot Cakes, which specializes in the aforementioned dessert and does it so brilliantly that you can never order just one. For the most seasonally appropriate menu choice, start with the s'mores molten cake, and pair it with a boozy milkshake if you're feeling extra indulgent.
Magnolia
Free
The fact that Seattle has a humongous—like, 534-acre—park just a hop and a skip from downtown is a flex that simply never gets old. This fall, spend some time getting reacquainted with its trails (and stunning views), before it gets too chilly to spend an afternoon outside. You just can't beat that fresh Puget Sound air, am I right?
Downtown
$25 - $31.75 per ticket
You may think you know everything about your favorite celebrity, but do you really? Put your wisdom to the test (and pick up some new trivia while you're at it) by paying a visit to the Museum of Pop Culture, which has so many exhibits on view right now that you'll be spoiled for choice. Pro tip: Start with "Nirvana: Taking Punk to The Masses," and you won't be disappointed.
Try out one of Seattle's many pop-ups
Seattle
$ - $$
Seattle's dining pop-ups are a dime a dozen, and it's totally understandable if you're overwhelmed with choice. Not to worry: If we're lucky, they'll be here all season long, so you have plenty of time to try them all. We'd recommend starting with Cookie's Country Chicken (Tuesday - Sunday, inside Quality Athletics in Pioneer Square) or Lenox (Thursday - Saturday at Great Notion in Ballard).
Your home
$$
If you're still not ready to dine out at a restaurant, simply bring the restaurant to you—with a virtual cooking class hosted by Chef Brian Clevenger (of Vendemmia, Haymaker, and GH Pasta Co fame). Here, you'll pick up a new skill, eat some delicious food, and get one-on-one advice from the master himself.
Downtown
$
Seattle Art Museum has been open for a while now, but if you've yet to visit, there's no time like the present to get reimmersed in the world of art history. Take a date, drag a friend along, or go solo; there's plenty to see, and a ticket will only set you back $19.99 (and, on that note, SAM highly recommends that you purchase them online in advance). The museum currently has two shows that will be on view this fall: "Monet At Étretat" and "Barbara Earl Thomas: The Geography of Innocence."
Find a Sound Garden and The Black (Hole) Sun
Sand Point/Capitol Hill
Free
Soundgarden is one of Seattle's seminal bands, and a pioneer of '90s grunge. A Sound Garden is a collection of towering metal sculptures in a park overlooking Lake Washington that turns the wind into an eerie, but soothing kind of music… and is the inspiration for the band's name. The inspiration for the title of the band's most famous song? Another art installation: this one called The Black Sun, overlooking the city from another local park.
Various locations
$
Sir Mix-a-Lot rapped about bringing his posse by for some burgers. Macklemore danced on the Broadway location's rooftop. Esquire called it the "most life-changing burger joint" in America. But the best recommendation? The people still lining up outside these old-school joints just before they close at 2am every night, even though you can now get Dick's delivered via DoorDash.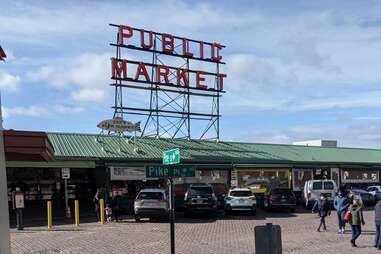 Pike Place Market
Downtown
$$
It's the best farmers market in the country. Period. So heading there for some shopping (provided you wear a mask) is a no brainer, but figuring out what to do once you get there isn't. Luckily, our guides to the 50 Best Things to Eat, and the Best Secret Shops in the Market, will get you started, but the still newish Marketfront, and the myriad shops/stalls lining Post Alley give you almost endless options. There are even options for people who aren't comfortable actually going to the market—boxes of items from market vendors you can get delivered to your home.

Watch the sunset at Kerry Park
Queen Anne
Free
Get all of the views that you'd get if you spent the money to go up the Space Needle, with none of the expense at this iconic Seattle park. Or, if you'd rather share the experience with fewer people, head a few blocks away to the lookout across the street from Parsons Gardens.
Woodinville, WA
$ - $$
Just 20 minutes outside of Seattle sits Washington State's oldest winery, Chateau Ste. Michelle, on 105 acres of wooded forest (and yes, there is an actual chateau there, too). Pay a visit and let the hours slowly melt away while you drink with a view (the tasting room is open 11 am - 5 pm, Wednesday - Sunday). There are also a few special winery "experiences" that you can book ahead of time here, like a feature flight tasting, a private igloo rental, and more.
Bradley Foster is a former Thrillist editor who you and your guests will probably run into at Dick's.