Nailing down a definitive Seattle bucket list is about as easy as, uh, something that's not super easy at all. And we should know, seeing as how we... totally did exactly that: here are 31 essential things every Seattleite* has to do before they die. Did we miss something? Let us know in the comments below...
*Note: Never use the word "Seattleite" again should probably be No. 32.
1. Drink a $50 margarita at Mission
Premium tequila, incredibly rare Grand Marnier, and fresh fruit make for a marg that, shockingly, does feel overpriced.

2. March to the Match with the Sounders
The only other way to get this close to Drew Carey is to try your hand at this "foolproof" system.

3. Ride the Seattle Great Wheel
Just please don't do anything stupid and get kicked off for drinking like two editors from a certain lifestyle site that rhymes with "illest".
4. Eat a whole Mt. Fuji burger
They don't call Katsu Burger's above creation the Mt. Fuji cause it looks good on film (but boy, does it!).

5. Sit in the bleachers at Safeco Field
All respect to King Felix's Court, but the bleachers are the best (and cheapest) way to see the M's... as long as you remember to get a Seattle dog afterwards, obviously.

6. Get a burger at Red Mill
Just make sure it's got Mill Sauce on it... duh!
7. Ride The S.L.U.T.
Or whatever it's actually called. You can even make a bar crawl out of it.

8. Bike ride naked at the solstice festival
Or better plan: attend the Naked Bike Ride and watch everybody else do it.
9. See A Sound Garden and the Black Sun
Preferably after stopping by the bench outside Kurt Cobain's house.

10. Eat a 12-egg omelette at Beth's Cafe
Oh, and if that's not enough, it comes with all-you-can-eat hash browns.

11. Go to Theatresports
Going to Seattle sweetest improv theater gives you an excuse to knock the gum wall off the list at the same time.

12. Check out a book from the public library
Because books are cool... and the Downtown library is even cooler.
13. Wait in line for Shiro's
'Cause it's the best of Seattle's best sushi.

14. Drink whiskey at Canon
Not every bar is one of the best whiskey bars in the country.

15. Hit the morning happy hour at the 5 Spot
Where else can you score sweet eat/drink deals from 8:30-11... every weekday morning?! It's the perfect way to start a day of... well, day drinking.
16. Go on a Ballard Brewery Crawl
Here, we made it really easy for you.

17. Attend all three days of Bumbershoot
For some this is an annual tradition, for others it's too much, but you have to push yourself to the limit at least once.

18. Take a ferry
Short of owning a boat, it's the single best way to see Puget Sound up close. Plus, they serve beer!

19. See an outdoor movie
Our favorite spot is the Fremont Outdoor Cinema (err, parking lot?), mostly for its proximity to one of Seattle's best beer bars, but you can't go wrong wherever you catch one.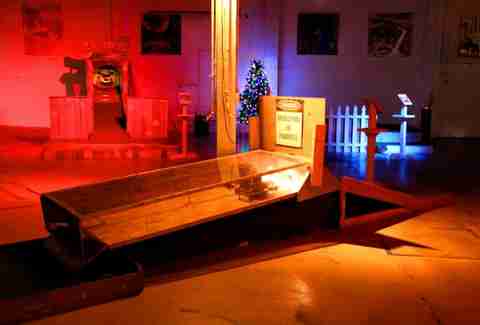 Do you want "your balls smashed and your holes thrashed late into the night?" Actually, you do.

23. Build a bonfire at Golden Gardens Park
Even better, do it at Alki... as long as you can find a freakin' fire pit.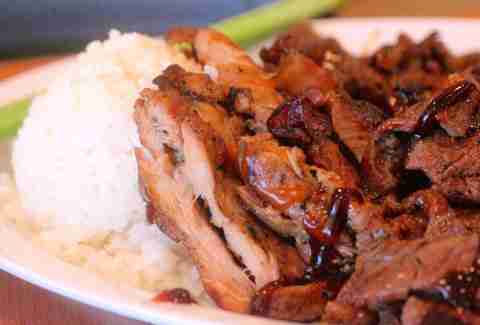 24. Have teriyaki on The Ave
Picking Seattle's best teriyaki is hard in any neighborhood, but it's probably hardest in the U-District, where a handful of sweet shops compete to attract hungry students.

25. Pick a favorite pho spot…
Good luck with this. Seriously, let us know if you find a particularly sweet one.
26. … and a favorite food truck
Sure, it'd be easier than picking a pho spot, but with all the great ones feeding the 206, it won't exactly be easy.

27. Wait in line for lunch at Salumi
The sandwiches here are so good and so popular we didn't even need to put 'em on our list of Seattle's must eat sandwiches. 'Cause everyone knows already... they (and you) just need to take the time to actually get one.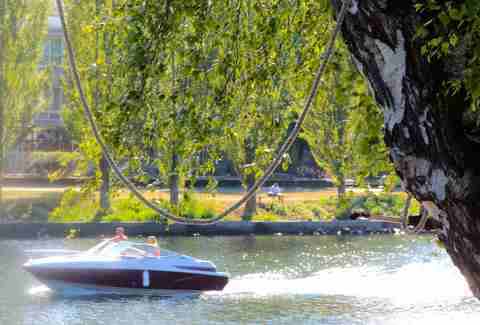 28. Rope swing into the ship canal
Nothing says summer like swinging out into a narrow, boulder-lined shipping canal that's dangerous and crowded with commercial boats and pleasure crafts.

29. Go sailgating
Sadly, it's the best part of going to a Husky football game lately.

30. Watch the salmon run at the Locks
This display of animal/food most closely associated with Seattle swimming upstream never fails to mesmerize... no matter how many times you've seen it.

31. Fish off a balcony at the Edgewater
If it's good enough for The Beatles, it's good enough for you.
Sign up here for our daily Seattle email and be the first to get all the food/drink/fun in town.