A "Baby Got Back" art show, and all-you-can-eat pancakes
Seattle Event of the Week
Saturday, April 12th: El Corazon's epic Pancakes and Booze Art Show is just what it sounds like: a cash bar, 75 up-and-coming artists, live body-painting, and all-you-can-eat pancakes (!!!) topped with things like chocolate chips, strawberries, bananas, blueberries, etc. for just five bucks.
Thursday, April 10th: "Oh, my, god. Becky, look at her butt. It is so big. She looks like she's taking up the whole canvas", is something you may overhear at Cairo's Hold on to Your Butts, a "Baby Got Back"-inspired art show. Continue Reading
Saturday, April 12th: Need even more... um, back? Then hit The Rendezvous at 7 or 8:30pm for TableTopless! A burlesque tribute to geeked-out Dungeons & Dragons-style board games.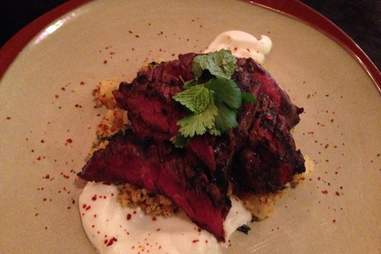 Golden Beetle
Monday, April 14th & Tuesday, April 15th: The Golden Beetle is making sure you enjoy the very best thing about a Seder -- the food (!) -- with a five-course menu of things like Sablefish soup, and Anderson Valley Ranch braised lamb. Call for reservations.


Ongoing: Pintxo's new La Noche menu (10:30pm-1:30am Friday and Saturday) means that Belltown's formerly limited late-night eats options now include a rotating selection of tapas, served with half-liters of sangria or $6 mules, and a DJ spinning classic vinyl in the background.