Event of the Week Duh! It's the Capitol Hill Block Party, which is closing off... um, several blocks actually, so you can see shows by 104 local/national bands (The Flaming Lips, Killer Mike, Pickwick, etc.) over three days, and nosh on street food from Thrillist faves like Off The Rez. It'll sell out... so buy a ticket!

Friday, July 26th Starting today, and continuing every Friday and Saturday this Summer, Monsoon East is bringing back it's famed Crab Feast, featuring whole two-pound Dungeness crabs that're sautéed and served two ways. Their badass bartender's also launched another new cocktail list, so hit 'em up immediately

Saturday, July 27th Today and tomorrow, Uwajimaya's hosting a street food festival featuring over a dozen food booths slinging things like Yakisoba, Ramen, Okonomiyaki... and um, other things you can't pronounce, plus break dancing by the Massive Monkees. See the full line-up, here!

Let one of MOHAI's history ninjas lead you on a tour of everything beer-related in Georgetown, which'll presumably include stops at places like Machine House Brewery. Hazzzauh! Tickets!

To celebrate National Scotch Day, the Ballard Annex Oyster House is hosting its first-annual Scotch and Oyster Sip and Slurp, which'll feature at least four premium tastes of the good stuff paired with briny, locally raised bi-valves

Ongoing Cozy Wallingford mainstay Tilth has teamed up with Bluewater Distilling to make their own gin. They flavored it with things like lavender, rosemary, and spruce, and are using it to make their new signature martini w/ vermouth and scrappy orange bitters

On sunny Fridays and Saturdays this Summer, Madison Park Conservatory is bringing back Seattle's most popular pop-up, Tako Truck. Get there between 1130a-2p and get three of their classic menu items (Tongue Tacos!) for $10

A Local Lady We Love, And Where To Meet Her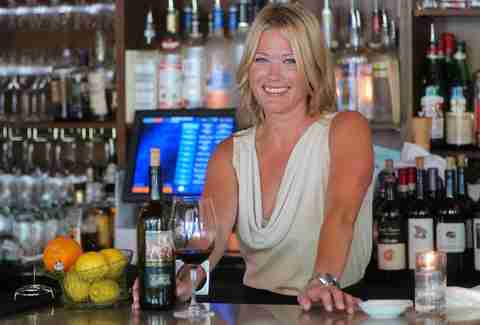 This is Ellen Pritchett, she works at Cantinetta (both Seattle & Bellevue), and will be running BAR Cantinetta when it opens in Madison Valley next month.

Reasons We Love Her: 1) she proves at least one cool person comes from Sedro Wooley; 2) she's a certified Sommelier, which is French for professional drinker... or err, something like that; and 3) if we tell her we love her enough, she might give us free stuff when the aformentioned BAR Cantinetta opens.

What She Says About Meeting Women In A Bar: "Any girl you take home from a bar, probably isn't the kind of girl you want to take home."

What WE Say About Meeting Women In A Bar: "Yes she is!"

Where to Meet Her: Duh! Bar Cantinetta... but you might catch her at can't-miss spots like Barolo, or Primo, where she also used to sling drinks.