3 days of cider in SoDo & 1 night of Barrio in Bellevue
Seattle Event of the Week
Friday-Sunday, June 6th-8th: Head down to The Woods in SoDo for the Pacific Northwest Cider Awards -- a three-day cider-tasting festival, featuring 25 ciders on tap from producers in Washington, Oregon, Montana, and Canada.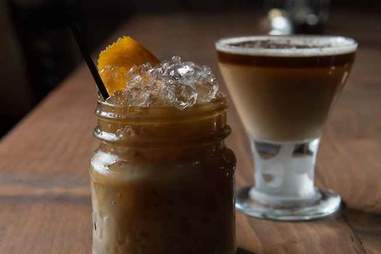 Thursday, June 5th: Head over to Bellevue's Cafe Cesura for a latte art competition: there's a $5 buy-in if you want to compete in this winner-takes-all contest, or you can just get in on the food, beer, and door prizes.
Continue Reading
Friday, June 6th: Cap Hill's Barrio is returning to its old Eastside space with a one-night, pop-up-style prix-fixe at Cast Iron Studios boasting three courses and a slew of Spanish and Portuguese wines, cervezas, and tequila-heavy cocktails. Call 206.838.3853 for reservations.
Saturday, June 7th: Celebrate the joint that's been bringing you a 12-egg omelet for the past 60 years this Saturday with a '50s-themed birthday party at Beth's Cafe featuring prizes and competitions, which we're guessing revolve around eating a shton of eggs.


Tuesday, June 10th: This isn't your grandma's bingo, thanks to Poquitos, which is boozing up old folks' favorite game with prizes donated from local businesses, half-off Aha Toro tequila drinks, and a post-bingo happy hour.