A Seattle guide to Cinco de Mayo: 2 taco truck challenges, a block party, and more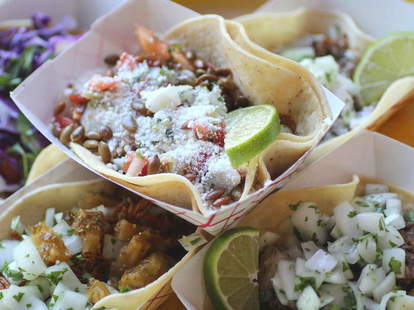 Seattle The best-ever Mexican-holiday-that-isn't-actually-celebrated-in-Mexico-except-in-some-parts-of-Puebla-where-it's-called-something-else-entirely (seriously!) is almost here, and you know what that means: a Weekend Playbook full of taco truck throw-downs, boat rides, and more? Yup!
Saturday, May 3rd: The End's fourth annual Taco Truck Challenge at Volunteer Park starts with a 5K walk/run... but let's be serious, you just care about the trucks, like Rancho Bravo, Happy Happy Tacos, Streetzeria, Skillet, etc., that're there to stuff your face with tortilla-based eats. Same here.
Continue Reading
Saturday, May 3rd: Learn about the tradition of Cinco de Mayo (by reading our intro, above!) or hitting El Centro de la Raza's Cinco de Mayo Celebration, which'll also feature music, prizes, informational booths, and assorted DJs and bands.



Saturday, May 3rd: Join Gosa Life Seattle for the Annual Cinco de Mayo Block Party hosted by Tacos Guaymas in Greenlake, and featuring a jalapeno-eating contest, food specials, margarita deals, live music, and an outdoor beer garden. 

Saturday & Sunday, May 3rd-5th: The Mobile Food Rodeo's got a whole other taco truck thing happening, with over 40 mobile eateries, three beer gardens, tequila tastings, and live Mexican wrestling. Plus, you can skip all food lines with the purchase of VIP tickets. Oh, and did we mention we're gonna get you in FREE?!