The Weekend Playbook: A holiday buffet and burlesque... at the same time!
Seattle Event of the Week
Saturday, November 30th, 1030p: Two words you don't see together enough: burlesque and buffet. Calamity Jane's in Georgetown is hosting Peeks from the Pantry with live music from Urban Jellyfish, performances by Cirquesse, Morgue Anne, Scandal from Bohemia, and... of course... dinner. Tickets are $10, and you can snag 'em here
Friday, November 29th: The Balagan Theatre's premiering ThanksKilling the Musical; the tale of a "possessed turkey on a deadly mission to avenge his tortured ancestors".  There're two shows opening night (at 8p and 10p) and tickets are $35.00 a pop.
Continue Reading
Friday, November 29th, 9p: Columbia City Theater's hosting a tribute to Lou Reed and The Velvet Underground: catching local acts like Hounds of the Wild Hunt, and Rob Femur'll be like having the "Perfect Day"... except one where Lou was still alive, obviously.  Tickets are just $8 at the door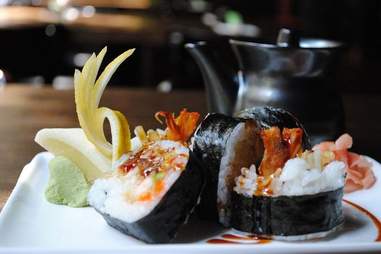 Saturday, November 30th, 4-730p: You'd literally have to eat a ton of raw fish at LivingSocial's annual Sumo and Sushi Experience to be as big as the world champion wrestlers doing their thing at Fremont Studios.

Ongoing: Getting into the holiday spirit is easy if you've got enough... um, spirits, so the Tipsy Twinkle tour is packing you into a Mercedes, taking you on a distillery tour, plying you with craft cocktails, and then driving you past Seattle's sweetest X-mas light displays.