The Greenwood Collective's got your superheroes right here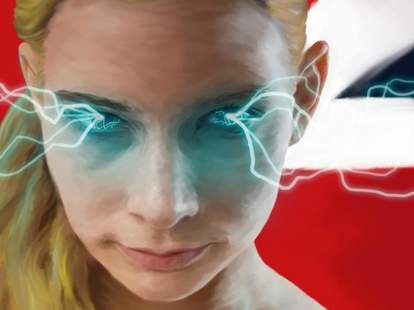 If you ever find yourself saying "I need a hero", immediately stop calling Warm 106.9, Today's Soft Hits, to request Bonnie Tyler songs, and instead repair to the Greenwood Collective, as that's where Urban Light Studios and the Echo Echo Gallery have gathered a global (but Seattle-dominated) group of 75-plus alternative artists for portraits of comic book heroes and villains. A breakdown:
Superheroes: Good guy art is highlighted by a manga-inspired depiction of Spider-Man in action against a giant robot by local artist Sensei, and a mash-up of Captain America and The Incredible Hulk, which would undoubtedly be a box-office... um, smash
Supervillians: The more ambiguous bad guys/girls of Gotham City have inspired Seatown's Siolo Thompson to create a menacingly sensual portrait of Catwoman, and Kyle Abernathy to recast Mitt Romney as Two-Face (so Kyle Abernathy likely equals Nancy Pelosi plus fake mustache and glasses).
Pop Culture Characters: The sweetest of these are Deborah Scott's musculoskeletal depictions of figures ranging from Super Mario, to the cast of Scooby-Doo, to Homer Simpson, for whom saying "I need a hero" definitely means sandwiches.