Proof that the Mini Golf Apocalypse is upon us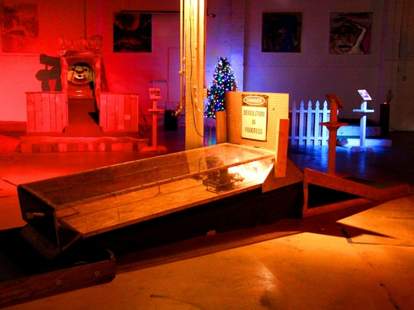 Despite the Mayans prediction that, this year, John Cusack would destroy the world while driving his ex-wife's boyfriend around in a limo, celebrate the fact that it hasn't happened yet by potentially destroying a very different type of sphere at Smash Putt 2012: Mini Golf Apocalypse.
For the next two months, the purveyors of mechanized mayhem behind the original way Tiger divided his time on tour Smash Putt are bringing a bigger/even more raucous brand of apocalypse-inspired mini golf to a vacant SoDo warehouse, where their mischievous course promises to leave "your balls smashed and your holes thrashed late into the night". Yep, that's a quote. The fun includes:
Mutually Assured Golf Ball Destruction: In addition to a hole boasting a plexiglass chamber stocked with various ball-destroying power tools, the course ends at the par-two "Deconstruction Zone" where success literally means getting your ball drilled, something previously only available during soccer free kicks...in weird sex clubs.
A Little Nostalgia: Try an even more frustrating version of "Foosball", where failing to avoid rows of automated little men lands you in 1-, 2-, or 3-stroke penalty boxes, or post up in the vintage TV-equipped "Living Room" and play Atari's Space Invaders while golfers intent on finishing the course invade your...um, space, and totally keep you from hitting the Mystery Ship.
And Refreshing Drinks!: Smash's selectively stocked bar offers a range of brews and mixed drinks, including their signature ginger vodka/apple cider cocktail, the Ginger Zelenka, which is so tasty that, instead of sharing, you'll have no choice but to say it's all Mayan.