They say the best things in life are free, and that's not just their two very ironic cents -- some of the funnest things in life (and Toronto) cost precisely zero dollars, so we thought we'd round up 24 of the best for any time of the year.
The Art Gallery of Ontario offers no-cost admission on Wednesdays from 6 to 8:30pm.
The Tour Guys' free 90-minute downtown walking tours go from Union Station through the Financial District to City Hall on Thursdays, Saturdays, and Sundays from June to October.

Recommended Video
This New Gadget Charges Your Devices Using Your Bare Hands
3. Catch a free movie in the park
Skip the exorbitant ticket prices and watch a flick for free instead. There are several options during the summer including Free Flicks at Harbourfront, TIFF in Your Park, Christie Pits Film Festival, and Sail-In Cinema.

There's always something free going on at Harbourfront Centre especially in the summer. Depending on when you visit you can find everything from food and cultural fests to DJs, live music, and dancing.

Because, beer. Amsterdam BrewHouse offers free brewery tours Monday to Thursday at 5pm and Fridays at 11am.

Listen to live music and get your date to spring for cheap booze because you're so close to the weekend that you might as well pretend it's already here.
7. Explore Kensington Market
This eclectic mash-up of cafes, bars, vintage stores, produce stands, and specialty food stores is always worthy of a walk through. Hungry? Go to Global Cheese, look like you're debating what to buy, and then let them feed you all the free samples.

Get over to the Music Garden on Thursdays at 7pm and Sundays at 4pm for free concerts throughout the summer.
Yonge-Dundas Square always offers free events throughout the summer including concerts (Fridays at 8pm) and films (Thursdays at dusk).

PANAMANIA, a 35-day arts and culture festival, will be going on in conjunction with the Pan Am and Parapan Am Games happening in Toronto this summer. This includes free concerts at Nathan Phillips Square, the Distillery District, and CIBC Pan Am Park. Acts include The Flaming Lips, The Roots, Stars, A Tribe Called Quest, and many more.

No pool of your own to dive into? No problem. Toronto boasts 57 outdoor pools all across the city so choose one and jump in -- for free.
12. Hit the beach
Toronto is blessed with an array of beaches that cost nothing more than what you spend getting to one. Some of the best include Cherry Beach, Bluffer's Park Beach, and (if you're feeling adventurous) Hanlan's Point Beach, which is clothing optional.

Just because you have a problem keeping plants alive in your house doesn't mean you can't appreciate them. At the Toronto Botanical Garden 17 themed gardens cover four acres and admission is free.

Pretend you're in a tropical rainforest with a trip to explore Allen Gardens Conservatory's 16,000sqft of plant-packed greenhouses.
You'll be hard-pressed not to buy something among the more than 120 merchants hawking delicious things, but if you really need to keep your wallet shut, just fill up on samples.

Hiking trails, Grenadier Pond, an outdoor pool, a zoo, gardens -- Toronto's favorite plot of green space has enough to keep you busy for days without worrying about spending a cent.
17. Check out Graffiti Alley
Not all art needs to be viewed in a museum or gallery. There's about a kilometer of awesome street art here in an alley that runs West from Spadina Ave to Portland St off of Queen West.

The museum dedicated to all things footwear-related is PWYC on Thursdays between 5 and 8pm. It's a suggested donation of $5, but if you only have lint in your wallet then that's what you can pay.

This stunning space showcasing Islamic art, history, and culture offers free admission to all exhibits on Wednesdays from 4 to 8pm.

Admission to this public gallery dedicated to contemporary visual art is always free and there's always something interesting going on.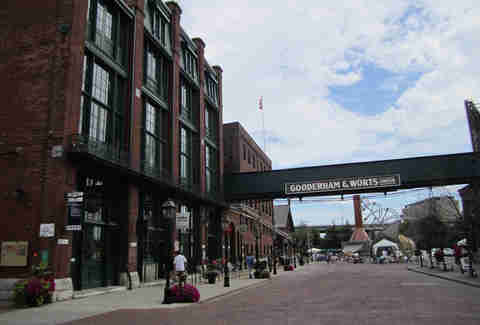 Cobblestone streets, no cars, and Victorian-era buildings combined with galleries, shops, and restaurants with expansive patios make this a 'hood well worth exploring.

Yoga can be pricey. Do a class for free in High Park Sunday mornings at 10am.

We never said it was going to be good wine, but it's free and samples are pretty much always on offer.

Nature, nature all around, and not a trace of the city to be found. Plus, exercise is good for you (or so we've heard).
Sign up here for our daily Toronto email and be the first to get all the food/drink/fun in town.