The 20 Best Toronto References in Drake Songs, Ranked
Cole Burston/Toronto Star/Getty Images
Cole Burston/Toronto Star/Getty Images
Listen: Everybody knows that Drake, the first #emo rapper, ultimate Raptors fanboy, and seemingly all-around good dude, is from Toronto because he reps it like mad in his expanding collection of music (and if you didn't, it's time to move out from the rock you've been living under). The entirety of North America knows what "The Six" is thanks to the unforgettable hook in "Know Yourself." While much of his pre-Take Care material focused heavily on fame (typical), his mom (aw), and his love for Houston, Texas (?), he switched lanes to put his city on the map through CN Tower views and NBA All-Star Weekends. But which are the best, most Drake-ian references to Toronto that don't involve his relationships? We combed through Take Care and beyond to find them.
20. "I worked at Jaydees Connections whenever Jason let me/... Ceesay's I was buyin' fitteds everyday"
- "Views," Views (2016)
This straightforward shoutout is to Drake's pre-fame fashion haunts. Jaydees Connections is a former clothing store on Eglinton Ave in West York where we assume Drake learned how to dress himself in turtlenecks, Jordans, and slim-fitting jeans. Ceesay's M&M Military Sporting Goods store was his spot to top off his look with the latest in fitted hats.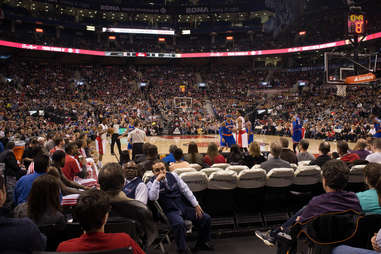 19. "I got a club in the Raptors arena/Championships, celebrations during regular seasons"
- "30 For 30 Freestyle," What a Time to Be Alive (2015)
Expectedly, the Toronto Raptors' global ambassador has his own lounge at the Air Canada Centre arena. Named after his maternal grandparents, Reuben and Evelyn Sher, Sher Club is a 4,000sqft area that costs about $7,000 a year and is invite-only. Propping up a room reserved for tastemakers with a black-and-gold membership card to enjoy free popcorn and Michelob Ultras? Nice.
18. "How did I finesse all of this shit from Jane and Weston"
- "Still Here," Views (2016)
Reflecting on his early years, Jane St and Weston Rd is the intersection in the northwest part of Toronto where Drake lived until his mom moved them to Forest Hill. Oh, the long ago memories of when Drake was ever not soft.
17. "After hours of Il Mulino or Sotto Sotto, just talkin' women and vino"
- "Pound Cake / Paris Morton Music 2," Nothing Was The Same (2013)
Just like Joso's Restaurant, the face of Take Care, on Davenport Road, Il Mulino in Upper Forest Hill and Sotto Sotto in Yorkville are some of Drake's favourite spots for fine dining. Imagine indulging with Drake at these two upscale trattorias in hours-long pasta dinners drinking bottle after bottle of fine gamay (assuming that he's into hot wine trends too). It's one of life's better daydreams.
16. "This that OVO, that SZN, this that new Toronto"
- "10 Bands," If You're Reading This, It's Too Late (2015)
Despite the Johnny Football co-sign, #TOPSZN is a semi-secretive movement that's all about making it to the top. Fitting, as OVO Sound, the record label in which Drake is a co-owner, has officially made it in the rap game.
15. "I'll tell 'em link up at the valet at the Hazy"
- "Used To," If You're Reading This, It's Too Late (2015)
Everyone's welcome at Yorkville's Hazelton Hotel. Except for Meek Mill, of course.
14. "Vaughan Road Academy, star player"
- "Two Birds, One Stone," More Life (2016)
Drake is still loyal to Vaughan Road Academy, the high school he dropped out from in 2001 to play Jimmy Brooks, the basketball star, on Degrassi: The Next Generation. (He eventually completed his GED in 2012.) This is basically an implicit shoutout to the school's other notable alumni which includes NHLer Brandon Pirri and actresses Ellen Page, Alison Pill, Samantha Weinstein, and Neve Campbell.
13. "You was ridin' TTC metro, I had the place boomin'"
- "Weston Road Flows," Views (2016)
Unlike Young Metro, the Toronto Transit Commission is never boomin'.
12. "15 Fort York shit, y'know?"
- "Know Yourself," If You're Reading This, It's Too Late (2015)
15 Fort York Blvd is the condo where Drake's close friend and producer 40 (nee Noah Shebib) used to live. The duo did most of the tracking for 2009's So Far Gone in Apartment 1503. Gotta remember where you came from, y'know?
11. "I haven't been inside Terminal 1 and 3 in so long/I'm driving up to it right now, make sure you got your coat on/That runway can be cold especially after summer's rolled on"
- "The Ride," Take Care (2011)
Though he's used to private jets these days, Drake is introspectively calling out Toronto Pearson International Airport's two operating terminals, Terminal 1 and Terminal 3, on their coldest days when you're better off trading those flip flops for Heel Boys.
10. "I take Eglinton to 401 East and exit at Markham Road in the east end"
- "Connect," Nothing Was The Same (2013)
Drake breaks out the MapQuest rhyme scheme to detail a route from Forest Hill to Scarborough, the two areas he grew up in.
9. "6 cold like Alaska"
- "Hype," Views (2016)
Drizzy isn't lying. Toronto's winters are mild in comparison to the northern part of the country but we're also known for spontaneous cold spells and wind tunnels that will mess up your Mondays. In February 2016, the city dipped to -26°C (-39°C with wind chill), its lowest reading in nearly 22 years. Nothing like the relatable depths of winter to bring a city together.
8. "Shout out to the G's from the ends"
- "Used To," If You're Reading This, It's Too Late (2015)
As straightforward as it is, this "Used To" snippet is actually a nod to Skepta's 2014 track "That's Not Me."
7. "Drinkin' Hpnotiq with Glenn Lewis, I been through it"
- "Weston Road Flows," Views (2016)
Recounting a time when he shared a bottle of the fruity blue bev with Toronto R&B singer Glenn Lewis, who once won a Juno Award in 2002 for his hit "Don't You Forget It," this lyric is at once hilarious, because Hpnotiq as a concept only brings us back to the cheesiest moments of the early aughts, and jealousy-inducing, because a party with Drake and Glenn Lewis in the same room has to be nuts.
6. "Runnin' through the 6 with my woes"
- "Know Yourself," If You're Reading This, It's Too Late (2015)
This is the line that got even people in Arkansas woke to what The 6 is. As for the "woes," no one really knows if it stands for "woadie," "working on excellence," or actual woes, but being the sadboi that Drake is, we're guessing the last of the bunch. We're down with a dude wearing his heartstrings on his sleeve.
5. "I got real ones livin' past Kennedy Road/I got real ones with me everywhere that I go"
- "Energy," If You're Reading This, It's Too Late (2015)
Drake reps Scartown true and true. This excerpt from If You're Reading This… solidifies that, paying homage to his longtime friends and Kennedy Road, a main street that runs north-south through Scarborough, separating downtown from Mona's, Johnny's, Rouge Beach, and the Bluffs.
4. "Shit is hot up in the 6 right now"
- "6 God," If You're Reading This, It's Too Late (2015)
The Toronto Raptors. Auston Matthews. Jazz Cartier. BadBadNotGood. Frank Dukes. REBEL. The Baby G. Bar Raval. Yorkdale's Canada Goose flagship. The National Ballet of Canada's production of Cinderella. Opposite of #9, this isn't so much about the temperature as it is about Toronto being dope as hell.
3. "This sound like some 43-01 shit"
- "Pop Style," Views (2016)
KanyeToThe and other rap forums speculate 4301 refers to 4301 Kingston Rd, a housing complex in the east end of Scarborough that's been frequented by OVO rapper P. Reign and his Reps Up crew. But in this case, the lyric is so much more as it's clearly a tribute to 40 and Boi-1da who worked on "Pop Style" alongside producers Sevn Thomas and Frank Dukes.
2. "Been flowin' stupid since Vince Carter was on some through the legs, arm in the hoop shit"
- "Weston Road Flows," Views (2016)
Ghostwriters be damned, Drake is still capable of laying up smooth NBA references. Back in the early 2000s, #15 for the Toronto Raptors had the swagger of the Dominiques and the Jordans, and that inflated his ability to dunk in any way and on any thing. Just ask Frederic Weis.
1. "This ain't the son you raised who used to take the Acura/5am then go and shoot Degrassi up on Morningside"
- "Worst Behavior," Nothing Was The Same (2013)
Honestly, this 2013 lyric alone deserves a Grammy or two. Degrassi filmed various segments at Centennial College on Morningside Ave in Scarborough during its 14-year run. Wordplay 101: Drake's character, Jimmy Brooks, was famously shot on the episode "Time Stands Still." This is the perfect interplay of Drake's personal life, local references, and self-awareness.
Sign up here for our daily Toronto email and be the first to get all the food/drink/fun in town.
Joshua Khan is a Toronto-based writer who has been on a "Scarborough thing from time, G." Follow him and his other endeavors over at @blaremag.