Love may be priceless, but dating sadly isn't -- especially in a city as expensive as Toronto, where the romance scene can make your wallet seem like it's allergic to money. But there is hope. Not all dates have to cost the world, or even any money whatsoever. Here are some dollar-friendly date ideas, many of which are free...
1. Go on a brewery tour
Assuming you and your date like beer (which we HOPE is a safe assumption), hit up Amsterdam Brewhouse for a free tour and tasting Monday through Thursday at 5pm. Afterwards, snag a seat on the sprawling lakefront patio and order a flight of brews to share.
2. Make good use of your library card
Your library card is good for more than just helping you rack up overdue fines. Flashing it can also get you free (yes free) passes to various museums and attractions in the city. Some options that would otherwise set you back more than a few bucks include Bata Shoe Museum, Aga Khan Museum, AGO, and the ROM.
3. Eat all the cheese
A budget wine and cheese date can totally be had with the help of Global Cheese in Kensington Market. First you'll feast on all the samples (seriously, they dole out samples here like they will never run out of cheese). Once you find one you like, buy a small chunk (there are always crazy sales) and a baguette from Blackbird Baking Co. just up the street to take home to enjoy with a bottle of pre-purchased plonk.
 
4. Drink at a dive bar
Toronto is home to a lot of great dive bars, but one in particular offers insane drink deals that will satisfy even those with the shallowest pockets. Fancy this place is not, but Wide Open is where you can get drinks for $2.75 on Thursdays between 5-8pm, or $4 if you go on a Monday. Oh, and it has $5 shots of Jim Beam every day, all the time. Depending on how much cash you have leftover, head up the street and split a $15 curry at Khao San Road to soak up all the booze.
5. Head to the island
For the cost of $7 each, you get yourselves a ferry ride to and from the Toronto Islands. Pack a picnic, a Frisbee, and some well-concealed boxed wine for a cheap, but worthwhile afternoon. If you're feeling adventurous, or just fancy a swim and you forgot to pack a suit, make your way to Hanlan's Point Beach (Toronto's only nude beach) for a dip in the buff.
 
6. Dance the night away by the lake
So long as you don't have two left feet, you can spend a grand total of zero dollars dancing by the lake. Thursdays throughout the summer see the waterfront turned into an open-air dance floor with Dancing on the Pier, complete with a different live band each week and even dance instructors on hand to guide those whose feet do both happen to be left.
7. Catch a free flick
There are several ways to watch movies in the city that will cost you and your date nothing more than what you decide to spend on snacks. At Harbourfront, you can watch movies by the lake for free all summer long. Yonge-Dundas Square also hosts free movie nights throughout the summer and TIFF in Your Park sees free movies coming to parks across the city.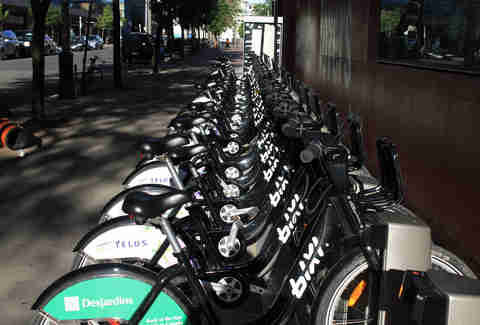 8. Explore the city on two wheels
There's really no better way to explore Toronto than by bike and if you don't have wheels, you can rent one through Bike Share Toronto at docking stations throughout the city. A 24-hour pass is just $7 with docking every 30 minutes.
9. Check out the Botanical Garden
Green thumb or not, the Toronto Botanical Garden offers a relaxing option for a casual warm-weather date. The landscaped grounds are open daily from dawn until dusk and admission is free. There are four acres to explore consisting of 17 themed gardens. A small café on-site serves coffee, tea, pastries, and light meals.
 
10. Do some yoga in the park
Zen-minded couples and early risers can check out Flow-Active's free yoga classes in High Park from 10-11am Sunday mornings. There's a suggested donation of $2-$5 but otherwise, you just need your mats and yoga gear. Styles vary week to week so you won't get bored if you make it a regular thing. After class, keep the healthy vibes going by heading across the street to Rawlicious for a $7 ChocoMinty smoothie blended with nut milk, banana, cacao, agave & peppermint.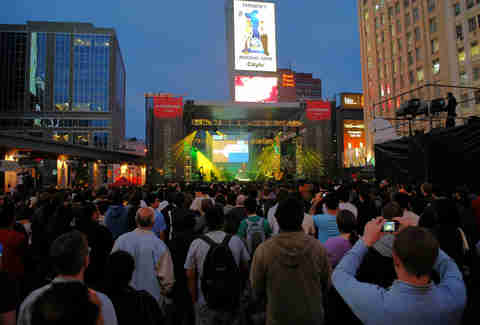 11. Listen to live music
No matter what kind of music you and your date are into, there's a way to listen to it for free somewhere in the city. Between Indie Fridays at Yonge-Dundas Square, Toronto Music Garden's Summer Music in the Garden series, or pay-what-you-can classical performances by the Tafelmusik Baroque Orchestra, there's always something to listen to for little to no money.
 
12. Play games generally reserved for the elderly
Track & Field Bar is a newer addition to Toronto's bar scene and makes for a good interactive date-night spot. In addition to the availability of alcohol, here you'll find two lanes of bocce ball and two lanes of deck shuffleboard that are free for walk-in patrons. Decently priced booze, including cocktails on tap, make this a pocket-friendly night out.
13. Take a dip
It's possibly little more than an excuse to see your date in a swimsuit, but why not go for a dip on your next date? Once July rolls around you'll have your pick of outdoor public pools like the one in Christie Pits Park (complete with water slide) and Gus Ryder Pool at Sunnyside Beach, but there are dozens of indoor pools across the city to choose from with free leisure swims.
 
14. Take advantage of the Beast 120
Every day, Beast restaurant offers its 120 menu, which refers to the hours between 5 and 7 during which it has some seriously good deals. Various craft beers, wine, and house cocktails are all $5, while oysters on the half shell are a $1, and a small menu of creative snacks are only a fiver each.
Sign up here for our daily Toronto email and be the first to get all the food/drink/fun in town.