11 Actually Great Toronto Date Ideas
Yes, there are plenty of fish in the sea, but that does you no good if, once you reel one in, you don't have any idea where to take them for a cool, fun, and original date that's not a seafood restaurant. Well, Toronto actually has some pretty choice options when it comes to dates that don't suck. In fact, we've sourced 11 -- so now there's really no excuse not to swipe right or accept that next set-up offer.
Go on a pork-centric food tour
Various locations
Carnivorous couples can check out When Pigs Fry, a food tour dedicated to the humble swine and all the bounty it provides us. Sample your way through three Toronto spots that are known for their porcine creations, check out a local butcher to learn about pork quality and ethical pig farming, and get some background on how Toronto wound up with the super-sexy nickname of "Hogtown." 
 
Take in a burlesque show
Alexandra Park
Sunday brunch? Pshhht. Every Sunday night, Cherry Cola's, a bar and cabaret lounge tucked just off the main Queen West strip, hosts Sinful Sundays. Two sets of performances by a rotating cast of the best burlesque and cabaret artists in the city (and sometimes beyond) make for a date that far surpasses standing in line for eggs Benny.
Go to Night School for Cheese Fans
Leslieville
Leslieville Cheese Market's three locations allow cheese lovers to delve deeper into their favourite food -- and pair it with beer & wine. They host a variety of classes that focus on wine and cheese, beer and cheese -- or all three. Previous classes have covered farmer's market cheese, Ontario craft beer and cheese, and fireside beer, wine, and cheese.
Try some indoor rock climbing
The Junction
Couples who climb together, stay together. Boulderz has one location in the up-and-coming Junction Triangle 'hood and another in Etobicoke. At both you can try your hand at bouldering, which is a way to climb, minus ropes and belaying. $25 on your first visit gets you a quick intro lesson and a two-week membership. 
 
Check out Great Escape
North York
If being trapped in a small room with your date doesn't sound romantic, we don't know what does. During Great Escape, you and your date will get to see what kind of mystery-solving skills you have and find out how well you can work as a team by figuring out how to escape a locked room in 45 minutes using only the clues available to you.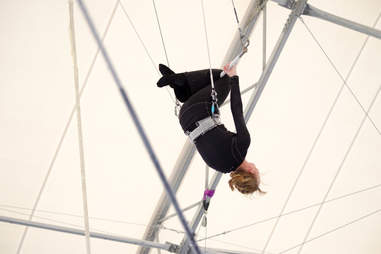 Get you flying trapeze on
North York
Channel your inner desire to run away with the circus while you and your date learn to soar through the air on a trapeze. Every Friday at 7pm, the Toronto School of Circus Arts offers a one-to-two-hour drop-in class designed for all levels. We suggest planning on having dinner after, rather than before.
Go to DJ Skate Night
East Bayview
Even better than feeling the warm-fuzzies while gliding hand in hand on one of the city's best outdoor rinks is the chance to achieve the ultimate feat: dancing on skates. DJ Skate Nights at Harbourfront Centre see Natrel Rink turned into a treacherously slippery dance floor Saturday nights, with DJs from Toronto and all over getting skaters in the mood to move in ways they never thought possible while balancing on thin blades of metal. 
 
Play archery tag
Scarborough
Get a group of friends together to battle it out with bows and arrows. Archery District provides everything you need to (safely) compete in a 55-minute game of AT, which, if you've never played, is kind of like a combo of laser tag and paintball -- but with arrows (they're foam-tipped, relax). Couples can work together to defeat the opposing team. Because nothing says love like taking down a common enemy.
Ping pong!
Fashion District
Combine the friendly competition of hitting balls at each other with food and drinks and you have yourself a fun date night. SPiN Toronto is 12,000sqft of space that consist of two bars, seating, 12 ping pong tables, and a full food menu. May the best participant win (and may the loser buy all the beer).
Hit AGO First Thursdays
Downtown
Find a date for the first Thursday of the month and you can hit up the Art Gallery of Ontario for its First Thursdays event that takes place after-hours. Programming varies month to month but it's always interesting (Grandmaster Flash recently headlined). And there's a bar! And even the chance to create your own masterpiece, depending on the night. Secure tickets in advance -- these tend to sell out. 
 
Try some improv
Bloorcourt Village
Tap into your quick-witted side with an improv glass. Bad Dog Theatre Company offers drop-in classes Tuesdays at 7pm. There is no experience necessary and the 45-minute classes offer a chance to see if you have what it takes to get a laugh out of your date. The $5 cost of admission also gets you into Academy Tuesday at 8pm, Bad Dog's weekly showcase of various performance classes and faculty members.