There a lot of things to love about Toronto, but let's face it, if you didn't complain every now and then, the authorities would probably politely ask you to leave. And as much as we may love our fair city (and be willing to defend it to the death in a Montreal vs. Toronto debate), we reserve the right to occasionally air a few grievances, so with that in mind, here are Toronto's 99 problems...
1. The deep, dark, biblical freeze that lasts January through April
2. Cab drivers don't know where anything is
3. Liquor stores close at 10pm
4. Flight cancellations due to bad weather
5. Salt stains on everything all Winter
6. Stepping into thigh-high piles of slush
7. People who complain about it being too hot in the Summer
8. Summer is totally about to start... right?
9. Woah, Summer's over already?!
10. Construction season lasts April through December
11. Construction itself on your street or anywhere near where your live
12. Despite the evidence, some people still think Montreal is better
13. Booze only at designated stores
14. Lineups at the LCBO before any major holiday
15. A rampant no-reservation policy at restaurants
16. Lining up for them in January
17. Terrible service at restaurants you waited an hour and a half to get into
18. The nail-biting stress that is trying to find an apartment to rent in this city
19. Affording an apartment in this city
20. Affording an apartment that is not a windowless basement
21. The Downtown core during Caribana Festival (or any festival, really)
22. No direct link between Downtown and the airport
23. The cost of getting to and from the airport in a taxi
24. Condos everywhere
25. Complaining about condos
26. No chance of ever being able to afford to buy a home (unless it's a condo)
27. A love/hate/mostly hate relationship with IKEA
28. The TTC
29. Going to Toronto Island? Prepare to see a penis.
30. The Dufferin bus
31. The price of parking Downtown
32. Trying to find free parking that won't involve getting a ticket
33. Lack of bike lanes
34. 2am last call
35. The fact that the subway shuts down before last call
36. Slow walkers
37. Hipsters
38. The Cronut burger no longer exists
39. Bikes on sidewalks
40. Bikes on crowded sidewalks, without bells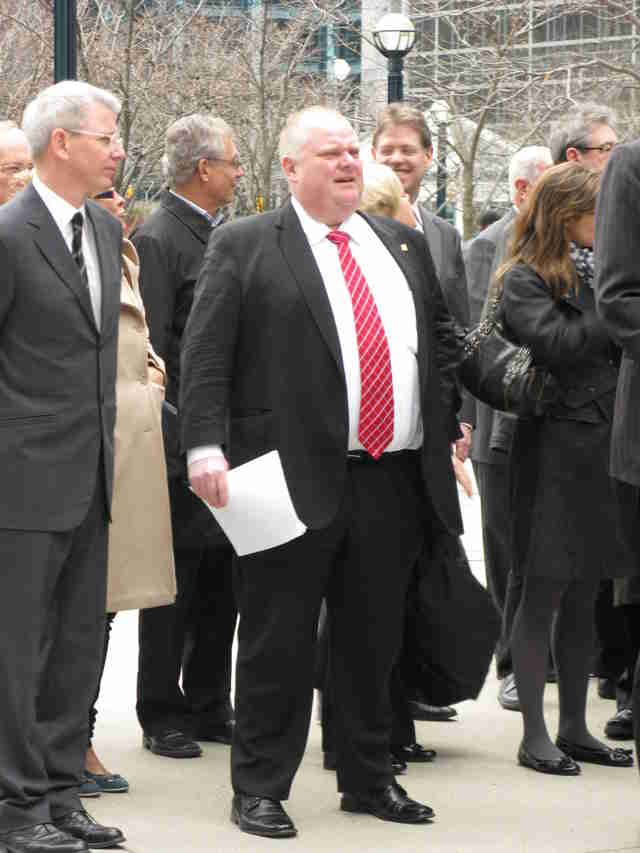 41. ROB FORD
42. The fact that people actually voted for, and will still vote for Rob Ford
43. Rob Ford being allowed anywhere near City Hall
44. Potholes big enough to swallow a car
45. Biking into these potholes
46. Watching the Jays lose
47. Watching the Leafs lose
48. The cost of a ticket to watch the Leafs lose
49. Never-ending construction on the waterfront
50. The wasted potential of the waterfront (less condos, more public space)
51. Dundas and Ossington on a Saturday night
52. A dearth of food trucks compared to most major cities
53. Brunch lineups
54. You'll probably never bump into Rachel McAdams
55. People who crowd the front of the bus and refuse to move back
56. Never-ending construction on Union Station
57. No NFL team
58. Having to go anywhere near Yonge & Dundas Square
59. People who don't abide the stand right, walk left rule on escalators
60. Being nearly run down by cyclists who speed through red lights
61. Drivers who ignore cross walks
62. Pedestrians who ignore stop lights
63. Trying to find a good bagel
64. Book stores being replaced by big box stores
65. Dollaramas everywhere
66. Dog poop on sidewalks (seriously people, stoop and scoop)
67. Dogs wearing sweaters
68. Trying to find a patch of grass in Trinity Bellwoods Park in the Summer
69. Losing your local when it inevitably becomes "trendy"
70. Gentrification
71. Pigeons, and the people who feed the pigeons, thereby attracting more pigeons
72. Coffee shops that discourage lingering for fear you will only come for the Wi-Fi
73. Sketchy Coffee Time coffee shops
74. The high price of admission for most Toronto attractions
75. The Eaton Centre
76. A Starbucks or Tim Hortons on every corner
77. The East vs. West debate
78. Not having any storage space
79. Trying to keep up with food trends
80. Condos replacing city landmarks
81. Landlords too cheap to fix anything
82. Mammoth strollers on buses
83. The bus never coming when you're running late
84. The ear-piercing noise from the annual Air Show
85. The delicious gluttony of the food building at the CNE
86. The Entertainment District
87. The "T-Dot"
88. Cyclists who don't wear helmets
89. The bacon-on-or-in-everything trend
90. The cupcake trend
91. Racoons
92. People don't appreciate Drake enough
93. Motorists hate cyclists, cyclists hate motorists
94. Toronto is generic enough to stand in for other cities in the movies
95. Yorkville
96. Urban sprawl
97. No casino
98. Paying $13 for a juice (it's cold pressed, yo)
99. Food festivals with more lineups than actual food