The Most Beautiful Places in Ontario You Never Knew About
Time to move beyond Niagara.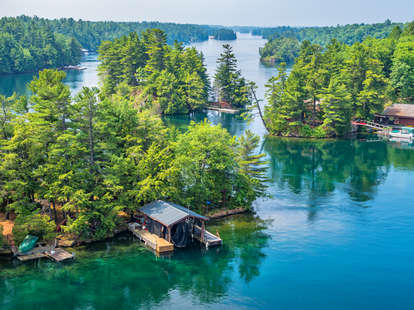 Thousand Islands National Park

| benedek/E+/Getty
Thousand Islands National Park

| benedek/E+/Getty
Calling Ontario massive is an understatement. The Canadian province—which borders four of North America's five Great Lakes—is larger than both France and Spain combined. There's everything from natural wonders like the northern lights and Niagara Falls to wineries (the Niagara region claims 80 vineyards alone) and more than a thousand waterways and canoe routes.
To come and just check the falls and capital city Toronto off your list would be seriously missing out. Those places are great—and you should, by all means, visit them—but there's still wide swaths of wilderness stretching millions of miles to be explored. On a road trip around the region, you'll come across natural beauty of all forms, from legendary lakes and waterfalls to marine parks sprinkled with islands and shipwrecks—plus creatures like caribou and wolves along the way. To help you map out your route, we've picked 15 of the most stunning places around Ontario that'll blow you away just as much as (and maybe even more than) Niagara.
Cheltenham Badlands
Caledon
The closest you might come to living out your space travel fantasies and feeling as if you're exploring Mars is a trip to the Cheltenham Badlands. Northwest of Toronto, the natural heritage landmark is a sea of rolling red hills and iron-rich Queenston shale, which was deposited 450 million years ago. The shape it takes now is thanks to questionable farming practices in the 1900s that led to erosion of the red shale bedrock—which is why you have to stick to the marked trails while trekking through the park to avoid further damage.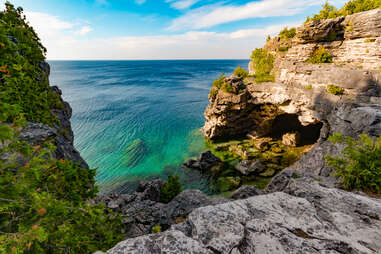 Cyprus Lake Grotto
Bruce Peninsula National Park
Cyprus Lake Grotto is a natural sea cave that was carved into the limestone by the relentless pounding of waves from the Georgian Bay over thousands of years. It's a short, 30-minute hike to the grotto along the Georgian Bay Trail, and getting in involves climbing down the 40-foot open cliff face—but once you're inside, you'll be rewarded with a dip in the glowing pool of turquoise-blue water.
Flowerpot Island
Tobermory
Just off the coast of Tobermory, Flowerpot Island—accessible solely by boat—is the only in Fathom Five National Marine Park with campsites and hiking trails. The island gets its name from the towering, 60-foot-high rock formations (or sea stacks) that look like remnants of a long-since-washed-away medieval castle. Start at Beachy Cove (which doubles as a picnic spot) and make the trek to the flowerpots before looping back around, taking a quick detour at the historic lightstation on the way. Don't expect sand on this island—the coastline is rocky and the water is freezing (which is why it's better for hiking than swimming).
Decew Falls
St. Catharines
Located on the outskirts of St. Catharines, about a 20-minute drive west of Niagara, Decew Falls cascades 72 feet in a veil of water you can actually walk behind if you can make the steep climb into the gorge. You'll pass by a 19th-century grain mill before looping through forests on the hiking trail to the falls. Getting down is one thing, getting up is another—people have needed rescuing in order to get out, so maybe better not to test your luck.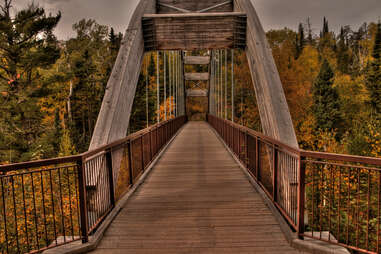 Ouimet Canyon
Dorion
Geologists believe Ouimet, along the north shore of Lake Superior, was created a billion years ago when glaciers came through Northern Canada, essentially cracking the earth open. That would explain why way down at the bottom of this 328-foot-deep canyon there are rare arctic plants thriving when they would normally only be found about 600 miles north. The canyon itself is pretty spectacular—at 1.25 miles long and nearly 500 feet wide, it's hard not to be blown away by the size. A short hike gets you to the two lookout platforms on the canyon's edge that show off panoramic views of the sheer cliffs that dip down to the canyon floor.
Bonnechere Caves
Eganville
Originally formed at the bed of a tropical sea, these limestone caves date back hundreds of millions of years. The winding complex of tunnels near the Ottawa border was caused by erosion from acidic waters, and these eerily beautiful tunnels contain stalactites and tons of prehistoric fossils. Some tunnels are particularly narrow, so they're not ideal if you get claustrophobic. A set of stairs leads in and out of the caves, and if you're up for a stroll, there's a trail that takes you past a sinkhole and back.
Webster's Falls
Hamilton
This waterfall happens to be one of the most beautiful in the Hamilton area, and that's saying a lot because there are more than 100 waterfalls near the shores of Lake Ontario—the highest number in any urban area of that size (There's a reason why it's the "Waterfall Capital of the World."). Pop trivia fact: Webster's Falls also happens to be the backdrop of some of the scenes from 2005 sci-fi flick Descent, starring Luke Perry. The tiered fall plunges 72 feet, making it one of the largest in the area. During peak season (between May and November), you'll have to reserve a spot to see the falls.
1000 Islands
Gananoque
Located along the border between northern New York State and southeastern Ontario, the 1000 Islands (pronounced "Thousand Islands") are actually an archipelago of 1,864 islands, so someone miscounted. More than 50 miles of these waterways—now a vacation destination—were once patrolled by pirates, who then gave way to bootleggers in the Prohibition era. Now, though, it's just a really pretty place to spend a few days camping, fishing, exploring historic castles and lighthouses, and simply cruising around on a boat tour.
La Cloche Mountains
Northern Ontario
Being a relatively flat province, mountains aren't something you see a lot of around these parts. But what makes the La Cloche Mountains so striking is the fact that they're composed of sparkling white quartzite, which looks almost as if someone spray-painted a subtle coat of glitter. One of the best places to soak up the view is Killarney Provincial Park—and if you really want to get the full experience, you can tackle the 47.5-mile La Cloche Silhouette loop trail near Killarney. The trail isn't easy—it takes on average more than 20 hours to trek—so most hikers turn it into a multi-day trip pausing at campsites along the way.
Mazinaw Rock
Cloyne
Bon Echo Provincial Park—a southeastern Ontario gem in its own right—is home to the Mazinaw Rock, a sheer granite rock face that is nearly a mile long and towers 330 feet above Lake Mazinaw. The size of Mazinaw Rock is impressive enough, but so are the pictographs—more than 260 rock drawings dating back to some of the first visitors, the Algonquins—which are the largest collection of its kind in this stretch of Canada.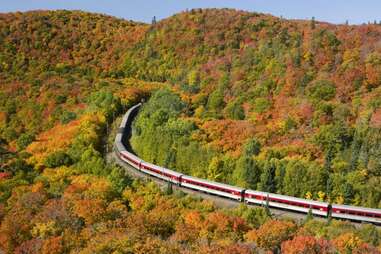 Agawa Canyon
Sault Ste. Marie
Similar to New England, leaf peeping is like a sport in Ontario—and Agawa Canyon is the perfect place to get your photography fix. The most popular way to explore the 1.2 billion-year-old fault is on the one-day train tour from downtown Sault Ste. Marie, across from Michigan's Upper Peninsula. On the 114-mile trip you'll have spectacular views of gushing waterfalls and pristine lakes from the train's large tinted windows. The train has a dining car and stops for 90 minutes so you can check out the area on foot, or you can explore at your own speed and drift through the canyon by canoe and enjoy some of the area's famous fishing.
Lake Superior Ice Caves
Algoma
When Ontario plunges into the well of winter, towering waves in Lake Superior crash against rocks on the seashore and form striking ice ridges and caves that are a photographer's fantasy. You'll have to bundle up until you look like the Michelin Man and wear snowshoes, but it's well worth the trip considering the caves could disappear in just a couple of decades due to climate change. Since the ice caves change location every year, ask around in nearby towns and hotels to find them. Here's a lead to get you started: They've been seen before at Coppermine Point, Alona Bay, Pointe Des Chenes day park, and Hibbard Bay.
Kakabeka Falls
Thunder Bay
Very few people have heard of Kakabeka Falls—and they're seriously missing out. Ontario's second-highest waterfall is more than 130 feet tall, and the flow is so powerful, it has unearthed 1.6 million-year-old fossils at the bottom of the Kaministiquia River. Getting here is an easy 30-minute drive from Thunder Bay—a Lake Superior city with an airport, if you feel like flying rather than road tripping—and the falls are just a short walk from the parking lot.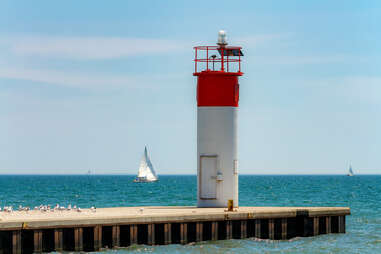 Port Dover
Norfolk
Forget the Caribbean—Ontario has its own palm tree-laden beach in Port Dover, a resort town on the coast of Lake Erie. The beach has a little lighthouse on the edge of the pier and is perfect for a day of basking or tossing around a frisbee. Hop on a bike and sip your way along the new Toast the Coast Trail at some of the top wineries and breweries in Oregon's South Coast. On every Friday the 13th, Port Dover turns into a motorcycle rally, which attracts more than 100,000 bikers from across North America (particularly when it falls on a date in summer).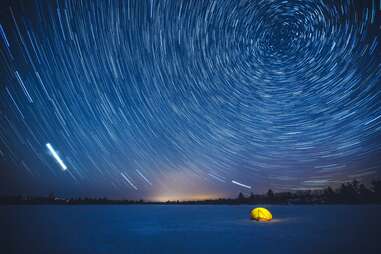 Torrance Barrens
Muskoka
Designated the world's first permanent Dark Sky Reserve in 1999, stargazing in Torrance Barrens guarantees 360-degree views of the Milky Way, the Andromeda Galaxy (located 2.5 million light-years away), and, on rare occasions, the northern lights. During the day, you can hike or bike around the 4,700-acre conservation reserve's wetlands, which are dominated by vast ridges of Precambrian bedrock shaped by ice age glaciers, as well as the oh-so-Canadian animal, the beaver.
Joel Balsam is a freelance journalist and travel guidebook writer whose work can be found in
National Geographic Travel, Time, The Guardian, Lonely Planet
, and
Travel + Leisure
. Follow him on Instagram.