Though we might complain a lot -- about the inability of TTC buses to run even remotely on schedule, or the fact that we apparently elected Chris Farley as mayor and are now stuck with him -- we also know there's a hell of a lot to love about our city. Like these 17 things.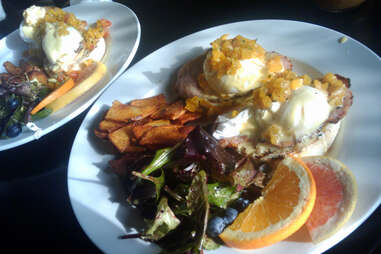 1. Brunch
If brunch were a sport, Toronto would win. Every time. We love it, we line up for it, we side-eye your table while we wait for it, and it's all worth it. From hole-in-the-wall spots with tiny tables, to pubs with $3 Caesars, it's not Sunday morning (or afternoon) if you aren't having brunch.
2. Patios
As soon as the snow melts, and until it starts falling again, you will find us drinking on patios.
3. Complaining about gentrification
There's nothing we love more than to complain about a sketchy 'hood getting a Starbucks, thereby turning into an area you might actually want to, ugh, spend time in.
4. Complaining about the TTC
Everyone without a car in Toronto has a love/hate relationship with the transit system. Mostly hate.
5. Their bikes
While we may not have the bike lanes to accommodate it, Toronto is a city of proud bikers. Unless it's Winter, and then we all take the TTC -- and complain about it.
6. Vintage stores
Depending on the neighbourhood, empty storefronts will become one of two things here: a bar or a vintage store.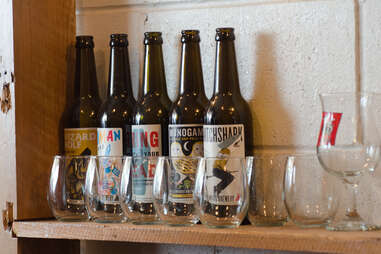 7. Craft beer
It may have been ironic for a while to knock back cheap cans of PBR, but Torontonians are pretty discerning about their beer choices for the most part. Bonus points if it was brewed in the city.
8. Anything local, seasonal, or artisanal
If it was made in small batches, ideally from something that was foraged from the woods, and it's organic, local, and seasonal to boot, we will buy it, at a likely exorbitant price.
9. Lamenting house prices
If you own a house here, especially in a coveted neighbourhood, we secretly hate you.
10. Trinity Bellwoods Park
As soon as it's safe to be outdoors for longer than five minutes without wearing a parka, Trinity Bellwoods Park becomes a sea of bodies. We eat there, drink there (don't tell the authorities), and generally make merry in every inch of it.
11. Loathing big box stores
Want to start a heated debate with someone from Toronto? Suggest Kensington Market as a good spot to put a Walmart.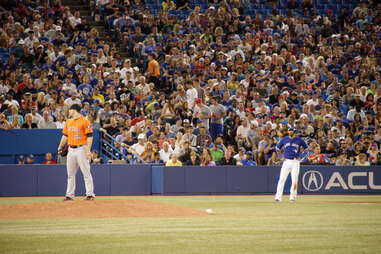 12. Cheering for the Jays
Whether the Jays win or lose, we're in the stands, drinking beer and cheering.
13. Cheering for and then being let down by the Leafs
Every season is the same: we allow ourselves a glimmer of hope, the Leafs sadistically allow it to flourish, then they dash those dreams against the back of their own net.
14. Farmer's markets
Fancy a gluten-free savoury tart stuffed with sautéed kale and sheep's milk cheese? Well, despite the fact that we literally just made that up, you can still probably get one at a farmer's market here.
15. Coffee
While we mostly eschew Timmy Hortons and Starbucks in favour of small, indie bean shops, we'll generally take our caffeine hit any way we can get it.
16. The East vs. West debate
It's like Tupac and Biggie all over again.
17. Lining up for food
Although more new restaurants seem to be taking reservations lately, people from Toronto will always, no matter the season, grudgingly wait in line for food. Especially if it's a taco.