The 20 things that bind Torontonians together
Many people criticize Toronto for lacking a unified sense of itself (even some Torontonians!), but there are a few things that we can ALL get behind. Here are the things that bind every one of the residents of this fair city together...
1. Cheering on the Leafs
Every. Single. Year. No matter what. 
 
2. Hating on the Leafs
Yep. Especially when we don't make it to the playoffs. Which is also: every, single, year. It's like a bad, abusive relationship but we just can't stop. 
 
3. When other people talk about Toronto being awesome
We know we're pretty cool, but sometimes our fragile ego just really, really likes to hear it from other people. 
 
4. Drake, no matter where he started from
Let's be real, Forest Hill is nowhere near the bottom, but no matter where he started from, we're still proud of our homeboy Drizzy who's #madeit out there.
5. The Blue Jays home opener
Game one of the season? Rogers Centre is packed from top to bottom with fans in their Jays gear, and everyone you know is Instagramming selfies from the game. Game two? There are literally 50 people in the stands. 
 
6. Calling it the SkyDome
Because it means you were around when it was the SkyDome and not owned by that big telecom company we all hate. #StreetCred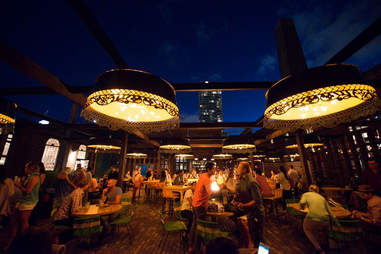 Gizelle Lau
7. Patio season
A sunny day in March that's above zero degrees Celsius? It's patio season. And then it stays patio season until there is literally snow on the ground. 
 
8. Complaining about winter
WHY IS IT SO COLD? I'm freezing my ass off. #DLWS
 
9. Complaining about summer
WHY IS IT SO HOT? I am literally melting. #DLWS
10. Complaining about the TTC
We loathe the TTC wherever it is in the city (and wherever it's not). 
 
11. Complaining about condos, construction, and traffic
Another condo? You bet. The Gardiner is closed again this weekend? Of course. It took me two hours to get home today because there was an accident on the 401? A 16-lane highway just isn't enough. 
 
12. Actually, complaining in general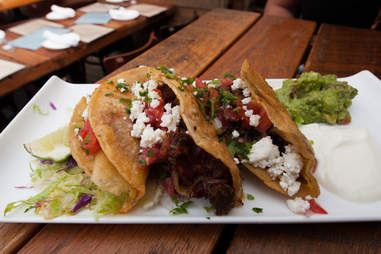 Gizelle Lau
13. Talking about our favourite poutine, taco, and/or pho place
You call that poutine? You should try the poutine here.
 
14. Timmys
Sure, we love our hipster indie coffee and our Starbucks, but deep down, none of us can resist a double-double with a Chocolate Dip or Honey Cruller on the side. 
 
15. Booing Chris Bosh
Sure, he left the Raptors like, half a decade ago. But if there's anything that's important to us, it's loyalty. 
 
16. Toronto FC
They're new, exciting, and since we haven't had the time to become completely jaded yet, we still love TFC and wearing red instead of blue, for once.
Gizelle Lau
17. Brunch
Brunch isn't just a meal: it's an event -- and, in some cases -- a marathon. Our brunch places cover the entire metropolis, and have longer lineups than most clubs.
 
18. Being better than Vancouver
It ain't easy being on top. 
 
19. Paying more for gourmet comfort food
Mac & cheese with truffle oil? Foie gras on my burger? Extra local organic something with cheese? PLEASE TAKE MY MONEY. 
 
20. Rolling our eyes at anything/everything about the former mayor who shall not be named
Please JT, be cool, be cool...