8 things Toronto does better than practically anywhere else
Toronto is the fourth-largest city in North America (though it's still referred to as a "small market" by many ill-informed Southerners), and's known around the world for its incredible... long street-having. But there are actually a ton of other things this city does better than pretty much all of the rest -- here's a breakdown.

1. Our young people are doing super-important things
Toronto is the youngest city in the world, according to the awesomely named Youthful Cities Index. With a majority falling in the 15-29 year-old range, that means we're shaping our future now, and are on the bleeding edge of the digital world. Speaking of that...
2. We're one of the smartest cities in the world
Fast Company ranks Toronto second to Vienna as the world's smartest city, and we're the highest ranked in North America. The ranking takes into account using information and communication tech to be more efficient and intelligent in the use of resources, supporting innovation, and working towards a reduced environmental footprint. In layman's terms, that means we're awesome.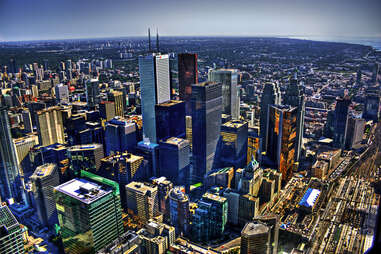 3. We're making money
For three years in a row, the World Economic Forum has ranked the Canadian financial system as "the best in the world", and Toronto is the biggest fish in that ocean. In fact, the recession only improved our position on the world stage.

4. We're all about diversity
There's an openness to LGBT communities, immigrants, and different religions. You want diversity? Just check out the neighborhoods, which boast the formidable ethnic range to produce a Little Malta, a Little Azores, and many Chinatowns.
5. You can get pho at the 2 in the morning
Or Ethiopian food, or Afghani food, or Ugandan food, or basically anywhere in the world. We've got it all. And it's good.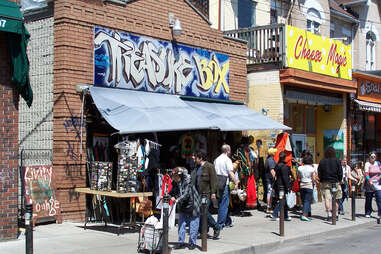 6. We have one of the best markets in the world
Kensington Market is a maze of alleys and little streets, overflowing with pop-up shops, vendors, and different smells and sights from across the world. It's a total sensory overload... but in a good way!
7. Summer festivals
Luminato, NXNE, Pride, Summerlicious, Caribana, Beer Festival, Jazz Festival; we've got a ton of festivals, and an insatiable need to party at them.
8. We're the first city in the world to make municipal politics interesting
Thanks, Rob!