As much as we Torontonians love a good polar vortex, there's something to be said for the ensuing patio season, and the pool parties, baseball, and beers in the park that come with it. But spending an entire summer without leaving the city is a summer not fully embraced. Take at least a couple of weekends to explore further afield. Gas up the car, round up some willing accomplices, and road-trip your way to one of these easily accessible vacation spots within driving distance of Toronto.
Port Hope, ON
Distance from Toronto: 100km west; an hour-and-20-minute drive
Why you should go: Pretty Port Hope was recently named the best small town in Ontario by travel writer and TV host Robin Esrock, and makes for an easy day or weekend trip from Toronto. Slapped on the shores of Lake Ontario, it boasts waterfront walking trails, a beach, fantastic antique shopping, historic buildings, art galleries, and museums. There are also a ton of super-quaint places to stay including several bed and breakfasts in heritage buildings.
Pro tip: Fuel up at popular burger joint Olympus Burger at some point during your stay. Go classic or order off its not-so-secret menu for something a little more decadent.
Niagara Falls, ON
Distance from Toronto: 120km northeast; an hour-and-40-minute drive
Why you should go: Um, duh. It's quintessential road trip materiel, a budget honeymoon destination, and the favourite locale for low-cost bachelor parties. Plus, no matter how you look at it, the Falls themselves are pretty spectacular, whether seen from an observation deck or boat cruise. Casinos, golf courses, and the chance to visit nearby wineries round out the list of to-dos in the area.
Pro tip: Do the tourist thing, don the yellow rain slicker, and take the Journey Behind the Falls tour. You look silly, but it really is the best way to see Niagara Falls in all its glory.
Stratford, ON
Distance from Toronto: 150km west; a two-hour drive
Why you should go: This might be the town that spawned Justin Bieber, but don't hold that against it. Just a couple of short hours from Toronto, Stratford is a hotbed for arts and culture in Ontario. Known for its renowned theatre company, the Victorian town is also a great place to browse unique shops, sample some creative local cuisine, walk amongst well-preserved Victorian architecture, and check out the many art galleries in town.
Pro tip: If you visit between May and October, you can catch a production at the renowned Stratford Festival.
Wasaga Beach, ON
Distance from Toronto: 132km north; a two-hour drive
Why you should go: Sweaty city dwellers flock to Wasaga Beach come summertime, but despite the hordes, you have a pretty good shot at finding a slice of sand seeing as Wasaga is the longest freshwater beach in the world. There are six beach areas to choose from, but beware that Beach Area 1 is the most jam-packed. Skip it if you can, but it is where you'll find the bulk of the shopping, bars, and restaurants.
Pro tip: Make a pit stop in nearby Collingwood to check out one of three microbreweries in town: Side Launch, The Collingwood Brewery, and Northwinds Brewhouse & Eatery... or make it a mini beer tour and stop at all three.
Prince Edward County, ON
Distance from Toronto: 200km east; a two-hour-and-20-minute drive
Why you should go: Located in southeastern Ontario, Prince Edward Country is the only Canadian destination named in Travel + Leisure magazine's 2015 list of best places to which to travel. In addition to a burgeoning culinary scene and over 35 wineries, the area tends to attract creative types, so it's a great place to browse galleries and artist studios, as well as one-of-a-kind shops where you can pick up things your (soon-to-be) friends won't be able to find in Toronto.
Pro tip: Bed down at one of 11 rooms (or two suites, if you're splurging) at the Drake Devonshire, the Drake Hotel's lakeside outpost in Wellington for a taste of cottage life with an artsy, stylish twist.
Killarney Provincial Park, ON
Distance from Toronto: 400km north; four-hour-and-30-minute drive
Why you should go: Simply put, Killarney is one of the most beautiful parks in Ontario, and a superb spot for backcountry camping and hiking. Emerald lakes and glittery quartzite cliffs dazzle even the most cynical city dwellers, and the feeling of setting up your tent knowing that you will very likely see more wildlife than humans can be very freeing.
Pro tip: If camping isn't your thing, or you'd just rather not bother with all that hiking and paddling business, book a stay at the Killarney Mountain Lodge to experience the area's beauty without roughing it in a tent.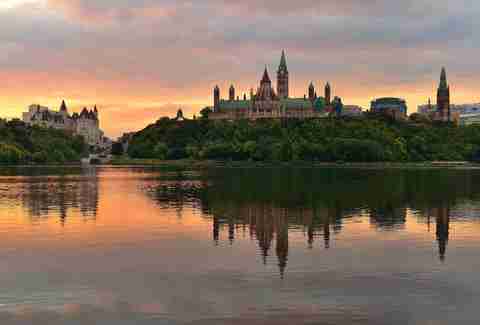 Ottawa, ON
Distance from Toronto: 450km east; five-hour drive
Why you should go: As long as you aren't planning on going in the winter when the entire city freezes over, a road trip to Canada's orderly capital can make for a worthwhile few days. After the requisite jaunt around the Parliament Buildings, take a walk along Rideau Canal, get your culture fix at the National Gallery of Canada, and spend some time eating and drinking your way through ByWard Market.
Pro tip: Ottawa has been experiencing a craft beer boom over the past few years, so make a point of visiting some local breweries like Broken Stick Brewing Company, Bicycle Craft Brewery, and Lowertown Brewery in ByWard Market.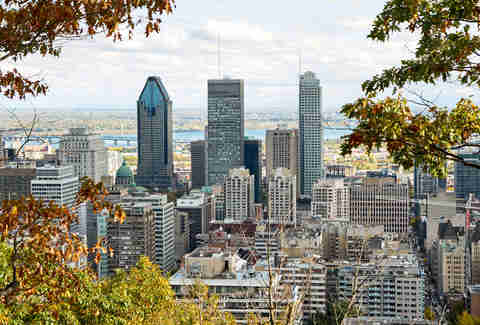 Distance from Toronto: 540km east; five-and-a-half-hour drive
Why you should go: As much as we're loath to admit it, Montreal is a great city and one that has something for everyone, whether you want to spend a weekend shopping, eating, or partying all night and nursing hangovers all day. Montreal is especially known for its culinary scene, whether you order an iconic smoked meat sandwich at Schwartz's, sit down to a meal at Joe Beef (known as one of chef David Chang's favourite restaurants), or indulge at Au Pied de Cochon (a fave of Anthony Bourdain).
Pro tip: Make sure you spend some time feeling like you're wandering a quaint European town with a stop in Old Montreal. It's tough not to fall for the cobblestone streets and Old World vibe.
The Adirondacks, NY
Distance from Toronto: 590km east, six-hour drive
Why you should go: After a long winter spent bingeing on Netflix and comfort foods, it's time to get some sun on that pasty, pasty skin. The Adirondacks were made for people who either love the great outdoors, or have a firm belief that they should probably be spending more time in the great outdoors. Either way, this is the place to fill your lungs with fresh air and get your body moving. Adirondack Park is a mind-blowing six million acres of mountains, lakes, rivers, and trails, making it the ultimate destination for outdoor adventure.
Pro tip: Reward yourself for all that physical activity with a trip to one of the many wineries and cideries along the Adirondack Coast... because nothing pairs better with fresh air than alcohol.
Sign up here for our daily Toronto email and be the first to get all the food/drink/fun in town.