If it were up to Hollywood, the District would be a fantasyland, where the laws of physics simply do not apply, and where well-known geography can be swapped out for, say, Baltimore or Los Angeles. To right the wrongs of the silver screen, here are 12 things TV and movie producers have screwed up when it comes to DC.
Recommended Video
These Are the 8 Best Stephen King Movies of All Time, Ranked
1. Sorry, St. Elmo's Fire, you graduated from the University of Maryland, not Georgetown
The St. Elmo's Fire "brat pack" did not graduate from Georgetown University (as the film indicates). In the opening scene, they're wearing caps and gowns and crossing fraternity row at the University of Maryland, College Park. Terps, not Hoyas!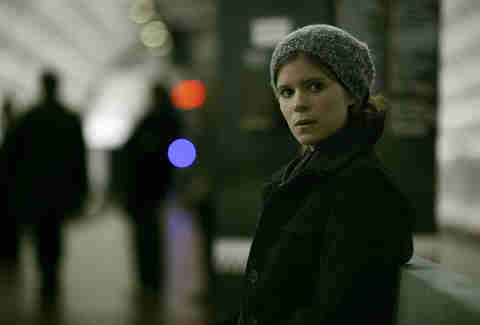 2. Zoe Barnes never even rode the Metro because her station stop, Cathedral Heights, does not exist
This one is irritatingly inexplicable. Zoe Barnes never met Frank Underwood at the Cathedral Heights Metro station because there is no Metro stop called Cathedral Heights. This changes everything!
3. Jack Bauer, please go back to LA
There is so much wrong with the DC season of 24. In Jack Bauer-land, it's possible to drive across town in rush-hour traffic in a matter of minutes. But, Jack Bauer really loses it when he tries to get all California on us. In the 2009 season, Bauer says he'll take "the 355" to get back to Virginia. Sorry Jack, we don't give definite articles to our highways, and good luck getting back to Virginia on 355.
4. Air Force One will now be departing from Dulles... except not really
DC has been blown up several times in all its apocalyptic glory, and Independence Day is a textbook example. Just two small problems. First, the president narrowly escapes Armageddon by heading to Dulles International Airport where he boards Air Force One. Sorry, pal. Air Force One almost always departs out of Andrews Air Force Base. Oh, and one more thing... I'm pretty sure your plane -- as cool as it is -- can't outrun an explosive fire cloud of doom.
5. All the President's Men is fascinatingly accurate, except for one detail
Okay, All the President's Men is a study in what to do right when it comes to location-based filming. The movie was shot inside The Washington Post headquarters, and even the late, great Ben Bradlee has a role in the film. But, All the President's Men gets one crucial detail wrong. Bob Woodward says he will switch cabs before meeting his secret source, "Deep Throat." Woodward also says those meetings took place in the early morning hours. But, in the movie, we see Redford switching cabs at the Kennedy Center as a show is letting out. Nobody would be exiting the Kennedy Center at 2am.
6. Veep seems to think DC is Baltimore
We get it. It's cheaper and easier to film on location in Baltimore. But if you're the Veep, maybe you should cheer for the home team? In season two, Vice President Selina Meyer shows her allegiance to Baltimore by attending an Orioles batting practice. Bryce Harper probably isn't happy.
7. Come on, West Wing! Figure out your establishing shots!
Many, many, many films and TV shows get DC establishing shots all wrong. But the West Wing should be held to a higher standard... because Martin Sheen. In season one, the Washington Monument is shown in many establishing shots with the mesh scaffolding that encased the monument at the time. But, in other shots, the monument appears without it. You can't have it both ways, West Wing!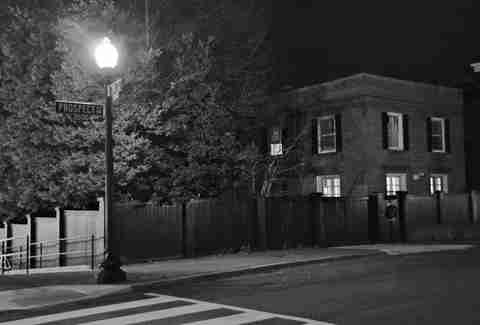 8. The devil himself could not have thrown a body to the bottom of the Exorcist steps
This one is logistically impossible, and the film crew knew it. The house that sits atop the Exorcist steps in Georgetown is not directly in line with the stairs. Not even the devil could have ejected Father Karras out the bedroom window, around the corner, and to the bottom of those steps. It's simple physics.
9. Even a Wedding Crasher can't legally booze on public property
If you drink a bottle of Champagne on the steps of the Lincoln Memorial at sunrise (or any other time), you will be promptly cited by the United States Park Police. No alcohol allowed.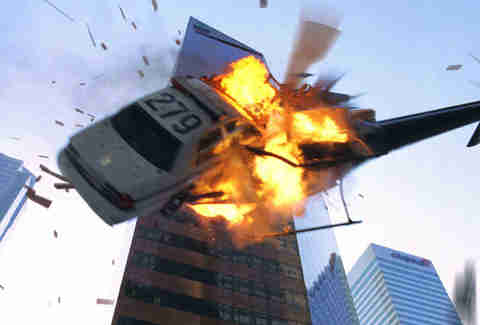 10. Skyscrapers in DC? Not even if it's Live Free or Die Hard.
So many films forget that there's an imposed height restriction in DC. So please, Bruce Willis, stop trying to pretend like there are 30-story buildings all over downtown.
11. One cannot walk from DC to New York in a superstorm
Oh no! Dennis Quaid needs to save his son Jake Gyllenhaal. So what does he do? He decides to walk to New York City in the world's largest sub-zero superstorm. Even on a spring day, that walk would take... too long, okay?! And even more so if you're being pelted by ice.
12. Even if Nic Cage stole the Declaration of Independence, the museum gift shop would have been closed for business
This changes the entire outcome of the movie. The National Archives gift shop is only open to the public during museum hours (10am to 5:30pm) which means Nicolas Cage would not have been able to purchase his replica copy at an after-hours black-tie gala. The fake copy of the Declaration of Independence is a fake!
 
Sign up here for our daily DC email and be the first to get all the food/drink/fun in town.