These Are DC's 99 Problems
Poll people around the country, and they'll likely have plenty of thoughts on the problems with Washington DC. But they don't have to live here. You do (or you've chosen to, at least), so you're probably familiar with these 99 problems.
1. The first motorcade you witness is cool. The rest throw off your whole day.
2. That whole Northern charm and Southern efficiency thing
3. Every cab: "Cash only. My credit card machine is broken."
4. First-time Capital Bikeshare riders. In the middle of the street.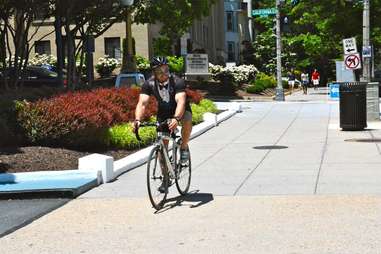 5. Veteran bike riders with their expensive road bikes. On the sidewalk.
6. Lawyer and lobbyist expense accounts make things pricier for the rest of us
7. Related: DC has more lawyers than any US state per capita. In fact, we have 1,356% more lawyers than New York. Can be helpful if you're in trouble, though.
8. Getting bag-shamed on top of that five-cent penalty because you forgot to BYOBag
9. Not enough Michael Wilbon sightings
10. Restaurateurs from 95 North cities (NYC and Philadelphia) dropping in to open steakhouses because they don't think we can handle something more exciting
11. 8th grade field trips. From everywhere
12. Indignant PoPville comment trolls
13. Having to partake in "shared plates" at every single restaurant. Sometimes you don't want to share.
14. RG III's knee
15. Bars being super uptight about carding thanks to Summer interns
16. Every restaurant opening is "epic" and "game changing"
17. Marion Barry
18. Fourth of July gunshots that were "probably fireworks"
19. Forgetting the quadrant during your initial cab ride convo
20. This Silver Line lie
21. Not speaking as many languages as your dining companions
22. Barely any BYOBs
23. The Height Act restricts our access to scenic views
24. Too many "black tie" events, not enough "no tie" events
25. Having to carry two phones
26. Hard to find a good authentic Mexican joint
27. Ditto Jewish delis
28. Ovechkin means "little lamb"
29. DC drivers. VA drivers. MD drivers.
30. Music festivals take at least 45 minutes to drive to. Probably more. Because of said drivers.
31. Tripping over Christmas trees that linger on sidewalks until March
32. The Marriott taking away our parking
33. Bryce Harper's health
34. Half-smoke chili stains
35. Mike Shanahan
36. The rent is too damn high
37. "Sorry we don't take reservations"
38. Bike vs. car rage-offs
39. No Metro stop at critical areas like H Street, Georgetown, and we'll even count AdMo, because that's a hike after a couple beers
40. $15 "hand-crafted" cocktails
41. WMATA escalators are slow, broken, endless, and full of tourists standing left
42. Summertime sweat stains
43. High heel-related injuries
44. Jeff Bezos not making the call to deliver our newspapers by Amazon drone
45. Big music acts come to DC on a Monday or a Tuesday so they can go to "cooler" cities by the weekend, leaving you needing a work nap
46. It snows every Winter. We still don't know how to handle it.
47. White House Christmas Tree Lighting Ceremony lottery = rigged
48. Too many visiting fans at stadiums, which we have not managed to "take back"
49. "I don't want to go to E Street Cinema for the movie because there's no cell service"
50. Missing the Circulator
51. Chris Brown's arrest record
52. Humidity that has its own life force
53. Your friends are training for the Marine Corps Marathon. They will not stop talking about it.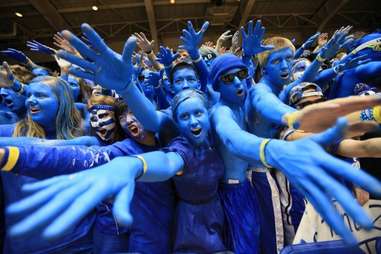 54. Duke grads are EVERYWHERE
55. The hike through people's homes en route to FedEx Field
56. FedEx Field
57. OPM always makes their snow call either too late or too early
58. The DMV
59. Not having a realistic blow-up doll to put in the passenger seat to fool the HOV patrol
60. Someone wants you to make a "one-time donation" on every corner
61. Our strip clubs seem to collapse
62. Navigating a flooded Rock Creek Park during thundersnow
63. Pepco specializing in prolonging power outages
64. Dave Thomas Circle
65. The music being blasted from the headphones of THAT GUY on the metro is never something good
66. The absence of Spring and Fall
67. The overuse of House of Cards references/the underuse of West Wing references
68. Bobcat-sized rats
69. Half the people you meet can't tell you what they do for a living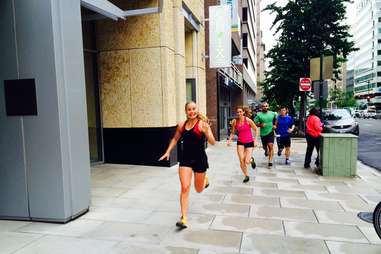 70. The herd of CrossFit "athletes" running you over on the sidewalk
71. We're still talking about Snowmageddon
72. Metro track work
73. Democrats
74. Republicans
75. Opportunists
76. Name dropping
77. Teddy Roosevelt's President Race prowess
78. Once a year, the country makes fun of us by sending C-list celebrities to DC for the White House Correspondents Dinner
79. Gentrification/not enough gentrification
80. Having to explain just about EVERYTHING to tourists
81. When Food Truck Fiesta is wrong
82. DC drivers actually have to tote around the "Taxation Without Representation" slogan on their license plates
83. Not enough public golf courses or driving ranges… which leads to this
84. Jason Werth's beard has its own Twitter account
85. Tourists on Segways wearing Google Glass taking up the whole right lane
86. Diplomatic immunity
87. Our NFL team is a national hot-button issue
88. And it's owned by Dan Snyder
89. "This Jumbo Slice won't fit in my mouth"
90. When it happened twice, no one knew the plural of polar vortex
91. Getting a seat at a beer garden
92. Our most efficient, dedicated government entity is parking enforcement
93. You feel like maybe you're being watched right now
94. You already know the Wizards will mess this offseason up
95. Lying on the pavement at DC public pools
96. Getting busted for sneaking booze into Jazz in the Garden
97. People continuing to fish in the Anacostia River
98. 66, 270, 395, 495, 95
99. Still needing a GPS after years of calling DC home
Sign up here for our daily DC email and be the first to get all the food/drink/fun in town.