Where to Go on a Date Right Now in Washington DC
It's time to get cozy.
Winter has come and brought with it long nights, cold weather, and yes—the ideal season for cuddling up with a loved one. In fact, one might argue that Mother Nature is practically begging us to couple up. Luckily, our fair city has a great many options for date night in the winter, which can be perfect for sparking (or reigniting) a romantic connection. So whether it's your first date or date too-many-to-count, check out our running list of the best date venues and activities that can be found in the nation's capital.
Explore a museum together
Multiple locations
The crowning jewels of DC are the multitude of museums that grace our streets and avenues. Whether you're an art aficionado, a history buff, or just interested in learning a bit more about how the world works, there's no shortage of options for you and your date to explore together. So grab your date and check out this handy guide of all the must-see museum exhibits in town.
Go see a show (or two)
Multiple locations
Whether you're interested in comedy, country, or classical music, DC's music scene is back and buzzing. Check out the latest from The Kennedy Center, where the National Symphony Orchestra is celebrating its 50th anniversary, or head down to The Wharf and see a national act put on a show at The Anthem. And if you're looking to check out a local performer in a brand-new space, consider Capital Turnaround, a venue that only recently opened its doors.
Get your game on
Multiple locations
If your idea of a great date is some friendly competition, find your way to one of DC's many adult-friendly game spots. At mini golf destination Swingers, you can play a couple rounds of mini-golf while ordering a couple rounds of drinks. Pinstripes in Georgetown offers bocce, ping pong, bowling, and more, so you can challenge your date to a day of competitions that rivals the winter games.
Root for the home team
Capital One Arena
Why watch the game at home when you can watch it in person? During the cold winter months, Capital One Arena gets downright hot with the electrifying cheer of fans at both Capitals and Wizards games. After the game, cheers to another tally in the winning column or drown your sorrows at one of these great bars and restaurants in the area.
Mix up your WFH day with a day date
Multiple locations
Not all dates have to take place in the evening. There are few better ways of livening up your dating routine than by taking your significant other to your favorite daytime haunt. Spend your lunch break grabbing a bite with your date or even plop down to get some work done side-by-side at any one of the great coffee shops in the city. Productivity can be pretty sexy.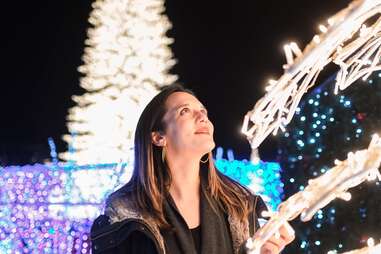 Explore a winter wonderland
Nationals Park
Enchant Christmas is back and bigger than ever. Visit the Christmas light maze and village that has transformed Nationals Park into a holiday wonderland through the beginning of the new year. You and your date will enjoy millions of lights, 3D animations, and yes, can even ice skate through it all. And if all that activity gets you hungry, fret not—there's the Enchant Village and Enchant Eatery with food and beverage options from some of DC's favorite spots, including Ben's Chili Bowl, Arepa Zone, and True Honey Teas.
Have yourself a merry little staycation
Multiple locations
DC is home to so many beautiful hotels, it would be a shame if they were just enjoyed by out-of-towners. For couples who live (and now work) together in a small DC apartment, a staycation is the perfect thing to spice things up as your relationship goes strong. And luckily, there are many options. The Riggs Hotel is swanky and beautiful, and the nearby Hay-Adams has killer views of the White House. Then there's the LINE Hotel and Eaton Hotel for those who enjoy trendy design and want fun restaurants and bars at their fingertips. If you're willing to venture a little further, the Ivy Hotel in Baltimore is practically made for staycationing.
Indulge during brunch
Various locations
Given how cold the winters in DC can be, no one will blame you and your date if you want to keep your outside hours limited to the warmest times of the day. Generally speaking, that'll mean getting out there for the all-important brunch. Luckily, DC is a town made for brunching, and there are plenty of options to choose from.
Lace up your skates
Various locations
Nothing screams winter quite like a spin on the ice, and DC has quite a few options to keep you and your date occupied. Head to the rink at the Wharf, where you can grab a quick bite after at the newly opened bistro Du Jour, or check out a smaller option in the National Gallery of Art's sculpture garden, where you can warm up inside the museum once you've finished.
Do a dessert tour
Various locations
There's no time like the winter to really indulge your sweet tooth with your sweetie, and DC has no shortage of dessert purveyors to keep you fully satisfied. If you're a baked goods fan, head to Pluma for an incredible Basque-style cheesecake (among other delicious pastries). Modena also makes a great lineup of simple, elegant, Italian desserts, and if you're still finding a way to down ice cream in the cold, check out Dolcezza for gelato (especially their new lineup of holiday flavors).
Go skiing
Various locations
If you and your date are of the more active variety, then 'tis the season for winter sports. There are plenty of options within a reasonable distance from DC where you can hit the slopes, and after, you can relax at a winter resort or lodge. Bryce Resort in the foothills of the Allegheny Mountains, Massanutten for beginner or intermediate skiers, or Wintergreen in the Blue Ridge Mountains are all great options.
Check out a holiday market
Penn Quarter
For a seasonal activity in the heart of DC, take your date to check out the Downtown Holiday Market, now in its 17th year. The spacious, open-air market takes up two blocks of F Street between 7th and 9th Streets NW. Now through December 23, the market is open from noon to 8 pm daily, with more than 70 artisans and small business owners.