Choosing a fun, original date activity is hard enough without the swampy humidity of summer to worry about. We also know it can be extremely tempting to just opt out entirely and stay in bed all day and stream TV in the air-conditioning, or settle for the easy fall-back option of suggesting casual drinks. Despite tropical conditions, Washington, DC is chock full of unique and engaging date options that you'll both enjoy. Here are the best ways you and your date can stay cool together.
Reconnect with nature (indoors) at the US Botanical Gardens
Capital South
Do you miss being able to enjoy the splendor of nature without sweating your face off? Bring a date to the US Botanical Gardens next to the Capitol Building -- beautiful fountains and rooms full of interesting plants from around the globe will help set the mood for romance. Even better -- it's right on the National Mall, so if the date goes well you can museum hop to spots like the Hirschhorn or the National Museum of Natural History. The best part: it's free. 
Watch a movie in style at Atlantic Plumbing Cinema
U Street Corridor
If you and your date are dying to catch a new flick, don't take them to just any old movie theater. You can skip the popcorn and grab a whiskey cocktail and a hummus platter at the small, intimate Atlantic Plumbing Cinema. Cushy leather seats complete the experience and ticket prices are comparable to what you'd pay at major theater chains. 
Catch some jazz and sip a classy cocktail
Multiple locations
Take a step back in time with your date at a jazz bar like Blues Alley in Georgetown, with its varied lineup of performers from saxophone players to blues singers. Next, make your way over to a classy cocktail bar for some quality drinks and conversation. Good options include the Gibson on 14th Street and Harold Black in Eastern Market. 
Keep an eye on the best events in town this weekend
Multiple locations
Whether it's the latest concerts, food and drink festivals, or just insane dance parties, every weekend brings new events to DC that would be perfect options for any date. Our weekly guides label them by cost, date, and location to make it easy for you to decide which would be the best fit.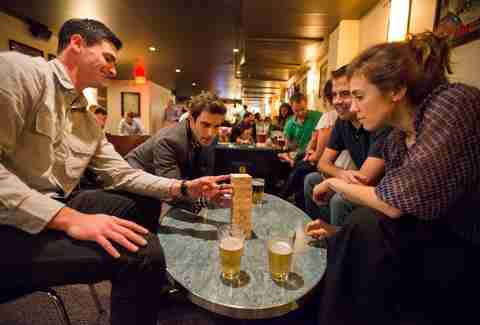 Get competitive (or even double date) at Board Room
Dupont Circle 
The bar that's obsessed with board games -- Board Room -- is a great spot if you and your date are looking to test your teamwork skills or compete against each other. It's also a fun double date idea, and you'll make a great team playing any of the many, many board games that are available for rent for a flat $2 fee. Step in from the cold, grab Scrabble or Cards Against Humanity, buy some $4 drinks, and let the games begin. (And if Board Room won't do, try any of these other great bars with games.)
Immerse yourselves in art, live music, and drinks at the "Phillips After 5"
Dupont Circle
While the museums on the National Mall are always a great option, the smaller galleries off the beaten path have worthwhile gems you might never see elsewhere. Impress your date with a trip to the Phillips Collection, America's first modern art museum, on the first Thursday of the month for their "Phillips After 5" events. Tickets typically go for $12 and sell out, so purchase in advance and prepare to enjoy rotating lineups of live music, food, and a cash bar.
Get brunch and peruse books at The Potter's House
Adams Morgan
Skip the bar and instead meet your date at the local favorite The Potter's House, a nonprofit cafe, for a great selection of books, food, and coffee that you can feel good about. According to its site, the space has been a "key place for deeper conversation, creative expression, and community transformation," since opening in 1960.
Drink on the roof at the Watergate Hotel
Georgetown
Grab some cocktails for you and your date at the Watergate Hotel -- which happens to be blessed with one of the best rooftop bars in town. If you want to go bigger, splurge on a pricier $75 per person pairing of a burger, whiskey, and cigars.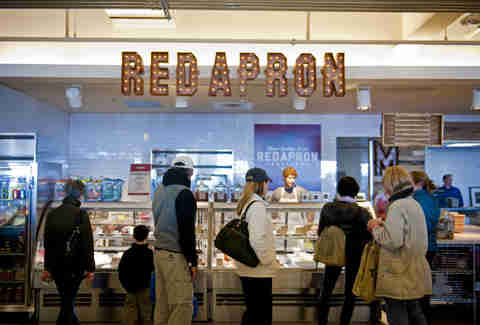 Explore Union Market and catch a show at Angelika Pop Up
NoMa
Is your date indecisive? Are you indecisive? Either way, Union Market has almost any cuisine you both could be feening for, even if they're disparate on the spectrum. Rows of stalls feature local offerings from Korean tacos to authentic Belgian waffles, and nearby Angelika Pop-Up is the place to go for specialty film programming and unique events.
Create your own DC brewery tour
Multiple locations
The District is teeming with excellent local breweries (and even cideries, if you need to go gluten-free). Right Proper, 3 Stars, and DC Brau are all great choices, or head to Ivy City if distilleries are more your speed. You and your date will have a great time sipping like critics for the day, choosing which beers receive the highest marks. 
Catch a really cheap NBA game at Capital One Arena
Judiciary Square
Bring your date to a game at Capital One Arena, or impress them with tickets to a show. The venue regularly draws big-name talent such as Justin Timberlake and Adele. Tickets to NBA games can sometimes go for as low as $12, making it one of the more affordable, lively date options around.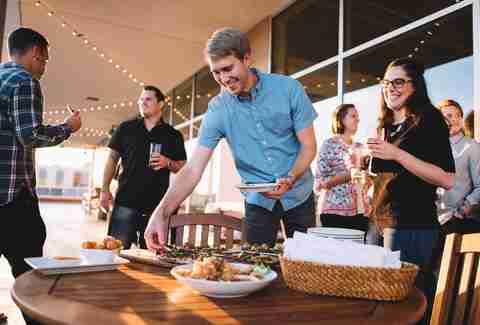 Choose between bowling or bocce ball at Pinstripes
Georgetown
Get the ball rolling with your date at Pinstripes in Georgetown, which offers Italian-American food, wine, craft beer, bowling, and bocce ball. It's a slightly more refined way to enjoy the comforts of Italian fare and easygoing bar sports. The spacious venue's comfy leather couches are a plus too.
Grab espresso and gelato at the National Gallery of Art
Smithsonian
The National Gallery of Art is free to all visitors and is the perfect escape from the sweltering heat, with enough art to keep you and your date busy for weeks. Many people are unaware that they also have their own lovely Espresso & Gelato Bar, for when you both want to sit down and get a little energy boost. It's also right next to the gallery's Cascade Café, in case you're in the mood for something more filling.
Tour the Library of Congress (seriously)
Capitol Hill
Take your date on a trip through time with a guided or self-guided tour of the Library of Congress. In addition to the centuries of research available in its halls, you can also see concerts, exhibitions, installations, and more. Like most structures of its kind on the Hill, the Thomas Jefferson Building has a stunning architecture built under difficult historical circumstances. It's not exactly a standard date, but it is an interesting (and free) one.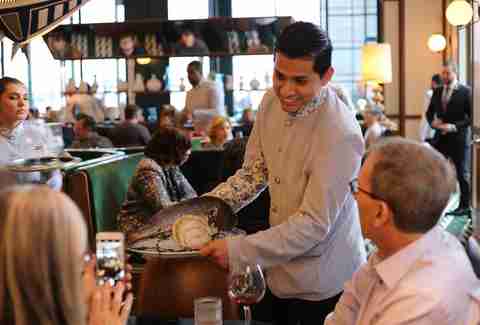 Catch dinner and a show at the Wharf
Southwest Waterfront
There are a ton of things to do in the developing Southwest Waterfront, which has quickly become one of DC's most vibrant spots to hang out. Catch a show at the District's new favorite concert venue The Anthem, including The Racounteurs and Jenny Lewis this summer, or grab dinner and drinks at tapas spot, Del Mar. 
Get some laughs in at a comedy club
Multiple locations
With plenty of options to choose from, like the DC Improv Comedy Club or Drafthouse Comedy Theater, it's easy to find a great place in the city to get your date laughing. Keep in mind that most comedy and improv clubs tend to offer a host of fairly cheap options; DC Improv, for example, has tickets available in the $5-$25 range.
Experience immersive art and cocktails at Artechouse
L'Enfant Plaza
All of DC has been going crazy over Artechouse's immersive art experiences, which find themselves at the "crossroads of art, science and technology" and make for some seriously great Instagram opportunities. Basically, for about $15, you're free to explore and interact with their installations and digital art. There's no time limit on how long you stay there, but it's good to block off at least an hour to see and engage with the exhibits. Check current immersive and trippy exhibition Infinite Space, which runs through September 2.
Paint and drink wine at Art Jamz
Dupont Circle
Show a date your creative side at Art Jamz, where you can purchase a canvas and a glass (or bottle) of wine to sip on while you both work on your masterpieces. Bonus points for not having to take a tutorial class where everyone paints the same thing -- you can paint anything you want and at your own pace. Keep in mind that you have to pay for studio time (about $20) and materials ($12).
Do a free yoga class at The Kennedy Center
Georgetown
Have you been practicing your downward facing dog lately? Show your date what you're working with free yoga classes, hosted almost every Saturday at The Kennedy Center. Just be sure to both sign up online ahead of time and show up by 10am if you want to make sure you get in.
Take a trip down to Old Town Alexandria for shopping, dinner and a ghost tour
Alexandra, Virginia
It's a quick trip to Alexandria via car or metro, and the perfect spot for a romantic day trip or even a weekend staycation. Wander down the cobblestone sideways and along the waterfront, popping into cafes and boutiques during the day. At night, there are plenty of restaurants and bars to choose from (some of our faves include Bastille, Caphe Bánh Mì, and Don Taco), and take in a ghost door if you dare.
Solve puzzles together at Escape the Room
Judiciary Square
Escape the Room may just be the ultimate test of positive communication and teamwork in any relationship. Fortunately, it's also an hourlong thrill ride as you and your date use clues to solve puzzles and fight for your freedom from this seemingly ordinary locked room filled with secrets. If you make it out without killing each other, celebrate your combined genius with more games down the street at Penn Social, or finish the night with tacos at Oyamel Cocina Mexicana.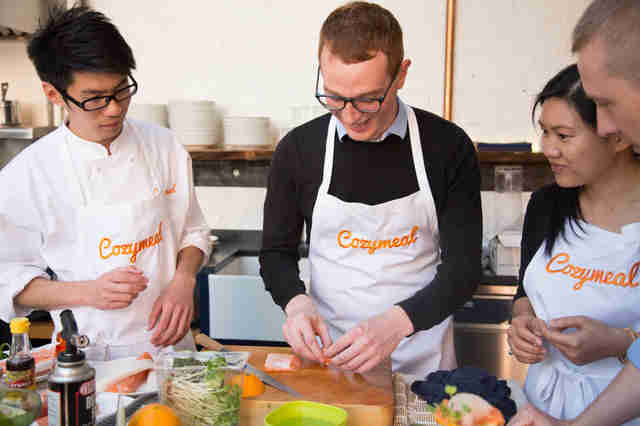 Take a cooking class
Multiple locations
Not the best chef? Maybe not yet, but you can earn some major cred, pick up new skills, and have fun doing it all (or embarrass yourselves in a self-deprecating, hopefully cute way) by bringing your date to a cooking class. This might be an ideal evening for folks already in relationships, as the options aren't exactly cheap, but check out sushi-making classes through Cozymeal or learn how to make Spanish paella at La Tasca. 
Go for a walk and pet dogs at Meridian Hill Park
Columbia Heights
Meridian Hill Park -- "a garden fit for an aristocrat, open to the public" -- is a picturesque place to stroll around at any time of the year. It has the longest cascading fountain in North America and is always chock-full of (very good) dogs to love on. Take your date for a stroll, an energetic run around the park to get the blood pumping, or come on a Sunday to participate or watch the weekly drum circle. 
Test your Jeopardy! skills at a trivia night
Multiple Locations
When all else fails, come up with a kooky team name and work as a pair to answer the questions thrown your way at any of DC's many bar trivia venues. There's certainly no shortage of restaurants and bars to choose from, but some of our favorite standouts include the Looking Glass Lounge and Wonderland Ballroom.
Sign up here for our daily DC email and be the first to get all the food/drink/fun in town.