6 Can't-Miss Events for Capital Fringe Festival Virgins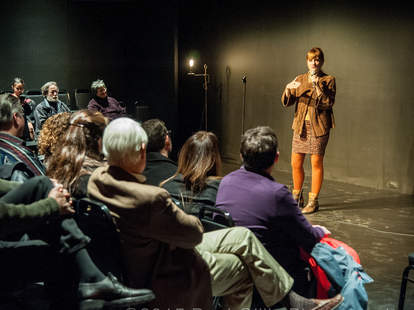 Courtesy of the Capital Fringe Festival
Look, we get it: the Fringe Festival can feel totally intimidating. But sometimes, you have to step outside your comfort zone and go for experiencing something genuine, unusual, and genuinely unusual, or you're not really living life, you know? Do yourself a favor and check out at least one of the performances at DC's Capital Fringe Festival this year. There are over 100 shows taking place at 20 venues throughout the city… so not participating is basically for chumps. Plus, the festival is a great way to make contacts (or find dates).
"Coming from Philadelphia, I found it hard to meet people outside of fancy cocktail hours," says Julianne Brienza, one of the Fringe's founders and its current president and CEO. "Working with the Fringe Festival in Philly, I thought DC needed an outlet for people to gather without having to attend those same parties... and so in 2005, we launched the Capital Fringe Festival."
If music's more your thing, this year, there's a whole day dedicated to it -- so you may want to give that a shot, too. Last week, we attended some previews, and although there are no guarantees in this world, here are six shows that piqued our attention.
Atlas Performing Arts Center: Lab II
Jackie O. will always have a special place in our hearts. Come on, who else could rock a pair of sunglasses like her? Wendy Macleod's classic black comedy follows the Pascals, a family obsessed with the Kennedy assassination -- and a sister obsessed with her brother. If you're a fan of the relationships in
Game of Thrones
, this one's up your alley.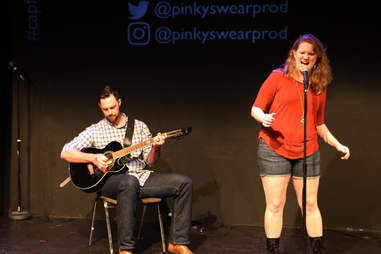 Jai Williams/Thrillist
Logan Fringe Arts Space: Trinidad Theatre
A traveling bluegrass variety show on the morbid side of life, Over Her Dead Body features local performers considering the more murderous of traditional songs, backed by local six-piece band Dead Men's Hollow. This show promises to be both haunting (um, literally) and entertaining.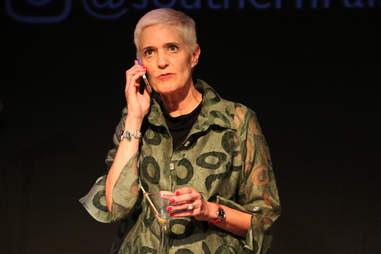 Jai Williams/Thrillist
MLK Jr. Memorial Library, A:3
Who doesn't like to talk smack over a dirty martini? Witty, clever, and profane, this two-woman show, authored by Susan Jackson, passes the Bechdel test with flying colors, and showcases an aspect of Southern womanhood, to boot.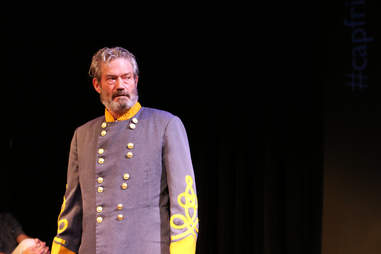 Jai Williams/Thrillist
Logan Fringe Arts Space: Upstairs
We're surrounded by Civil War battlefields around the DMV, and this drama highlights the day after a sweeping victory by Confederate soldiers at the First Battle of Bull Run (or First Manassas). Richard Gomez directs. Spoiler alert: yeah, things don't exactly go the way the Confederacy hopes.
Gallaudet University: Eastman Studio Theatre
"I love rock 'n' roll, so come an' take your time an' dance with me!" And that's exactly what Tia Nina does... but with purpose. Three amazing humans take the stage to smash gender stereotypes and stick a finger up to sexual objectification, all through dance. It's a powerful thing to watch.
Wash Over You

| Courtesy of Capital Fringe
Atlas Performing Arts Center: Lang
Yes, y'all, we ARE below the Mason-Dixon line... which gives this dance troupe the right to wear plaid dresses and talk with a twang, all the while leading you on an adventure downriver. Just like life, right?
Sign up here for our daily DC email and be the first to get all the food/drink/fun in town.
Jai Williams is a freelancer for Thrillist, and a published photographer/writer who is addicted to 62.5-degree eggs. Follow @januarijai on Twitter.