You go on a lot of dates. Just look at you. Of course you do! So stop wasting your time at soulless eateries and grubby, mood-killing bars where you're more likely to see something un-seeable in the restroom than score a second date. Here's where to take that person you're looking to impress/agree to keep dating you in 15 different DC neighborhoods.
Shaw
Mockingbird Hill (address and info)
Shaw's ham and sherry bar is quirky enough to provide a memorable date. "That guy that took me to the sherry place, I'm going to see him again," she'll utter. That's because the two of you will have explored a much-misunderstood beverage that dates back 3,000 years until you were bleary eyed and swearing on a leg of ham that you'll never drink anything else. But before things got sloppy, the evening started with sampling sherry flights and small plates.
​Columbia Heights
Maple (address and info)
Hidden twinkling light-strung patios should always cause a twinge in all the right places on date night, but there's more to Maple than a charming outdoor area. After all, two marriage proposals have gone down there (that it knows of!). The wine program provides liquid lubrication to get the conversation flowing, including three bottles of bubbly for under $40 and an arsenal of fine picks from Italy. Food-wise you're sharing various takes on bruschetta and comforting bowls of pasta. If the date is going well, be sure to kiss and tell -- it's tradition to broadcast your romantic conquests on the chalkboard walls of the unisex restrooms.
​Eastern Market
Harold Black (address and info)
There's nothing speak-sleazy about this hidden lounge whose dim lighting can coax amorous relations out of two people who previously described themselves only as friends. Stiff drinks like the Harlem Stir with bourbon, amaro, vermouth, and chocolate bitters help the cause. There are snacks too, in case you're starting to feel too tipsy to properly woo. Find Harold Black above Acqua al 2 and give the door a knock. Pro tip: make a reservation to prevent date night letdown.
​H Street NE
Maketto (address and info)
Maketto is meant for the non-committal naughty type so know what you're getting into when your favorite bartender or CrossFit coach suggests you chill there for a hot sec. There are a plethora of different spaces to explore (he or she likes to keep the options open) including several open-air areas. Settle in one of these because the lighting is less harsh, and prepare to take on blazing-hot Cambodian-Taiwanese food. You're doing a tour de Erik Bruner-Yang's best dishes: American Wagyu tartare, pork steam bao buns, and Taiwanese fried chicken. Don't be surprised when you finish the night at Maketto with a stop at the condom-dispensing vending machine that specializes in magnums.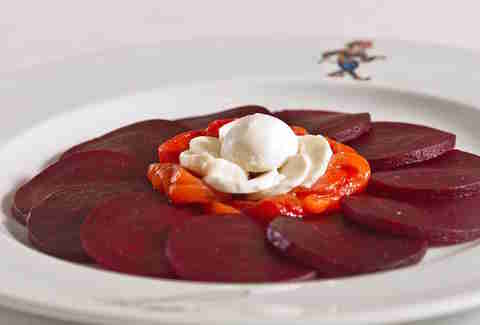 Dupont Circle
Al Tiramisu (address and info)
Think of dinner at Al Tiramisu as your first official vacation together, only without the risk of exposing your alter ego that emerges during air travel. That's because the cuisine and hospitality mimics that of a family restaurant in Italy -- more specifically, the Basilicata region, from which chef/restaurateur Luigi Diotaiuti hails. Start with something sharable like breaded grilled calamari skewers before moving on to fresh pasta and finally the restaurant's namesake dessert. Need an icebreaker? Talk about some of the celebs that have swung by for dinner, like George Clooney. Unless you ARE George Clooney. Then that'd be weird. Also, that date better be your wife!
Georgetown
Chez Billy Sud (address and info)
Take your date to a spot with an old-school Parisian feel and most of the work will be done for you because France seems to hold the copyright on romance. Whether in the cozy dining room or on the moonlit patio (whose lighting we swear can bring a six up to a 10), sip on Kir Royals as you overlook the menu full of classics like steak frites and duck à l'orange. Spring for dessert so you'll leave full enough to need a post-meal stroll along the canal where you'll channel Big and Carrie on the Pont des Arts. Don't act like you didn't get that reference.
Adams Morgan
Mintwood Place (address and info)
This warmly lit, buzzy bistro is like a big embrace with its hospitality, stay-a-while attitude, and familiar food with elegant twists. Start with some signature dishes like the steak tartare and bacon & onion flammekueche before sharing entrees like cast-iron wood oven-roasted chicken and rigatoni Bolognese. If this is date six instead of date one, order the burger because you won't care when the juices dribble down your chin. Always finish with a helping of showmanship in the form of flaming baked Alaska.
Navy Yard
Osteria Morini (address and info)
It's hard to top an al fresco table at Osteria Morini overlooking the water for date night. Especially once the Italian apéritif cocktails arrive and the staff swoops in to make sure you feel well cared for. Start a date off with small talk over charcuterie before moving on to exquisite pasta like crab and (virility-boosting) sea urchin bucatini or cappelletti stuffed with truffled ricotta. Finally, seal the deal with what's emerging to be pastry chef Alex Levin's signature dessert: budino. Watch as peanut butter and chocolate custard ooze from a peanut butter cup-meets-chocolate cake confection and start to plan part two of your date since it went so well.
Bloomingdale
Costa Brava (address and info)
There's something about a small intimate restaurant that lends gravitas during date night. Costa Brava does just that for Bloomingdale couples. The Spain-injected menu acts as a vacation transporter with its authentic pintxos, pan con tomate, and cazuela offerings. Try them with a no-fuss cocktail like a kalimotxo (red wine and Coca-Cola) or a Mahou Spanish lager. Date night pros will snag a table on the later side during the weekend because it introduces the option of sticking around for DJs spinning everything from classic salsa to reggae.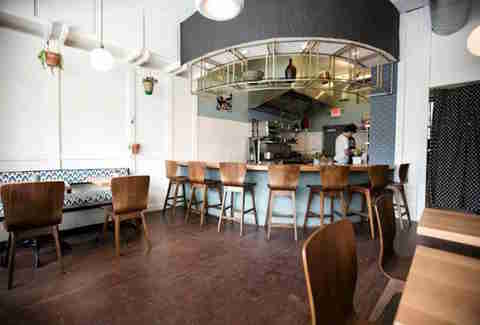 Petworth
Crane & Turtle (address and info)
Until the weather fails us, try to snag a table for two on Crane & Turtle's enchanting patio and order a bottle of rosé to go with your forthcoming seafood feast. Chef Makoto Hamamura's menu fuses French techniques with Japanese flavors, creating a culinary adventure in one of DC's buzziest neighborhoods. Another set of great seats can be found at the counter looking into the kitchen because it gives first date couples something to focus on, you know, other than living up to their online profiles.
Brookland
Menomale (address and info)
Nothing takes the pressure off like pizza. The casualness of it all should bring back memories of ordering a pie to accompany your Saturday night SNICK marathon or attacking pizza boxes with buds during college. It just so happens that Menomale does Neapolitan pizza exceptionally well. So well, in fact, that it's DOP certified. Kick back with a couple of pies, a bottle of Italian wine, and good conversation in an adorably intimate atmosphere. Seal the deal with the La Bomba dessert -- the restaurant injects its pizza dough with Nutella.
U Street
Bohemian Caverns (address and info)
Grab tickets to a sultry jazz performance in the acoustically unique underground caverns that have long been a part of U Street's vibrant nightlife scene. There are typically shows Mondays, Tuesdays, Fridays, and Saturdays and tickets don't break the bank at $10-$25, depending on the act. A full bar will help you loosen up and maybe even sway a little, but plan to dine elsewhere before or after coming here. The Fainting Goat and Vinoteca are solid picks.
14th Street
2 Birds 1 Stone (address and info)
Grab a nook that feels semi-private and geek out on cocktails at 14th Street's trendiest drink den. Every detail, from the hand-drawn menus and eccentric glassware to the stonerific drink names, yields a thoughtfully curated bar experience that's hard to find elsewhere in the city. Scan the menu to see if any of the cocktails of the moment contain house ginger beer, because that stuff is so potent it'll make you blush with warmth. Small bites, like wickedly addictive cashews, are available to busy your mouth, and definitely hit bathroom before you leave because the wallpaper offers some bedroom suggestions.
Barracks Row
Ambar (address and info)
There is NOTHING romantic about standing in line, so skip you-know-where and head instead to one of DC's most underrated patios for some rakia and adventurous Balkan bites. Start with some spreads or a flatbread before going on a tour of shared plates divided into vegetable, meat & poultry, and seafood categories. If you've netted a big eater, there's a Bottomless Balkan option that gets you unlimited plates and drinks for $59.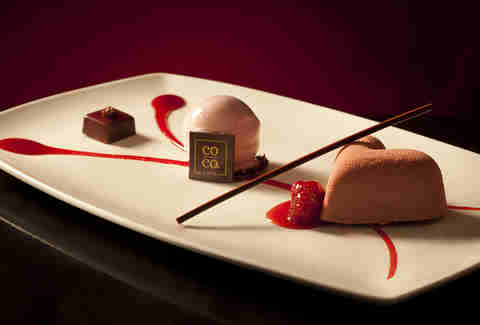 Penn Quarter
Co Co. Sala (address and info)
It's Valentine's Day every day at Co Co. Sala, so if you're a sap this is your spot. Those in need of a quickie (not that kind of quickie) can pop in for the chocolate and bubbles happy hour from 4-7pm, when $9 gets you a glass of prosecco and three types of house-made chocolate. Alternatively, make a dinner reservation for the full experience, which features dishes with notes of chocolate, like four-cheese fritters with a chipotle chocolate tomato cream sauce; prawns and grits with a cocoa nib biscuit; and blue cheese beef sliders with mole sauce. Dessert is an obvious "yes, please."
Sign up here for our daily DC email and be the first to get all the food/drink/fun in town.