Were you criminally negligent when you signed the lease for your DC living quarters and failed to look for a rooftop pool? That's okay, we're going to get through this, as long as you use this pool guide to see where you should catch some sun somewhere other than your lame, aquatic-free apartment this weekend.
Recommended Video
Winter Starbucks Beverages Around The World
Liaison Hotel (info and address)
Capitol Hill
What it is: A hotel rooftop pool and bar
Pros: Handcrafted cocktails; poolside happy hour (5:30-7pm); 7,000sqft of fun; breezy cabanas; and scarfing down Art and Soul's famous fried chicken by the pool.
Cons: It'll cost you, but not as much as a membership somewhere else. Day passes are $25, or you can go after 5pm for free.
Best time to go: Special celebrations like tonight's Margarita Wars. Or, Chefs Behind Bars on June 26th.
Banneker Pool (info and address)
Shaw/Howard University
What it is: A public pool
Pros: Entry is free to DC residents -- just don't forget to pack your driver's license in your pool bag. Non-residents can fill out an online pool pass form and pay a small fee. Banneker is quite an expansive public pool with diving boards, lap lanes, and an occasional "adult swim". Plus, people on Yelp can't shut up about the "great people watching".
Cons: It gets crowded and the nearby food options are a bit limited. Plus, if the din of children's laughter disrupts your "me time", this might not be the place for you.
Best time to go: Anytime they're open (Mon-Fri 1-8pm; Sat-Sun 12-6pm). Lap swimmers can swim free of obstruction (anyone wearing swimmies) from 8-10am Mon-Fri. They're closed Thursdays.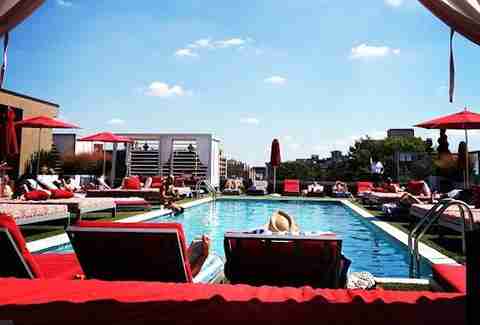 Penthouse Pool & Lounge (info and address)
U Street
What it is: A pool club atop Vida Fitness
Pros: Food and cocktails brought to your cabana; cornhole; presumably fit eye candy; and décor that looks like you've been transported to some fancy hangout in LA.
Cons: Membership only. But at least they're currently accepting applications, and this is a small city so chances are you know someone who's a member. If not, try talking people up in line at Whole Foods. Plus, the pool's a little short at 60ft, and then there's the whole concept of poolside bottle service.
Best time to go: Twilight Tuesdays -- an evening pool party from 7:30-10:30pm.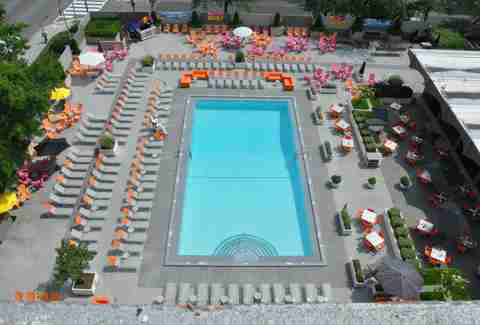 Capitol Skyline Hotel (info and address)
Navy Yard
What it is: A hotel pool
Pros: Their slogan -- "Be careful, you might think you're in Miami." In other words, it's a party atmosphere fueled by DJs and filled with people looking to meet that special someone or at least that special someone for one night. There's food and drink too, as well as the occasional oversized rubber ducky raft.
Cons: Their slogan -- "Be careful, you might think you're in Miami." This is another "members only", situation. A single season pass will cost you $225, but includes free parking, 10 guest passes, two members-only pool parties, towels, and more. That's like one month of a CrossFit membership… just sayin'.
Best time to go: During an Adult Swim Pool Party held on Sundays in the Summer -- if that's your scene.
Volta Pool (info and address)
Georgetown
What it is: A public pool
Pros: You can make a country club-type day out of it by playing tennis first, and you're steps away from Georgetown eateries including Thomas Sweet for some ice cream. Like Banneker, it's free to DC residents with proof of ID.
Cons: Getting a chair is damn tough, so get ready to cozy up on some concrete. The entire space is a bit small, so also get ready to make friends with some young families and Georgetown students who stuck around for the Summer.
Best time to go: Anytime they're open (Tue-Fri 1-8pm; Sat-Sun 12-6pm). They're closed Mondays.
Note: There are 18 outdoor public pools to chose from, for a list of all of them click here.