Twitter: it's not just for keeping track of fancy hot dog trucks (though that is a highly important use for it). These 30 Twitter feeds will enrich your social media life (and even your life-life) exponentially:
If you're not already following this Lord of Local News, you're doing social media wrong.
Way more reliable than your iPhone. Well, most of the time.
Your weapon of choice if you want to be that person in your friend group who spews "what's hot" culinary news over Double Stack's at Wendy's.
Recommended Video
Thrillist's Best (and the Rest): What You Actually Need to Know About Natural Wine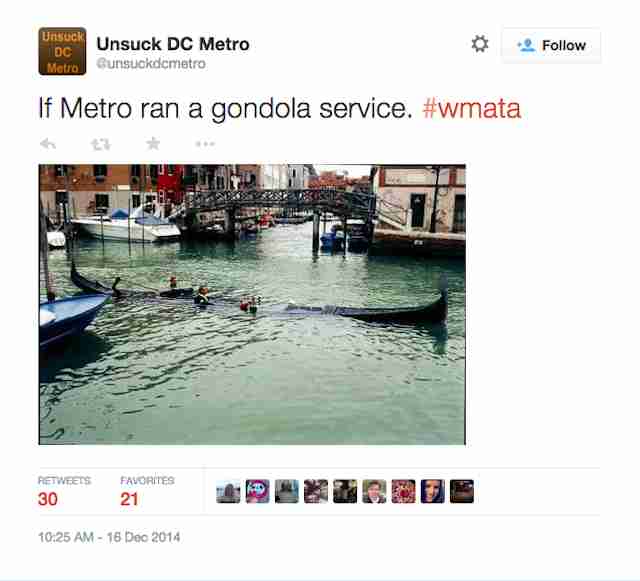 Because listening to people complain about transportation is the highest form of entertainment. Expect words like "ineptitude" to play on repeat.
 
José Andrés may be largely responsible for making DC the "food city" it is today, but every once in a while it's okay to watch someone poke fun on his parody account. You might also like @NotTomSietsema.
 
Washington City Paper's Food Editor Jessica Sidman calls people on bullcrap right and left. She also breaks her fair share of food news.
 
Never miss a beer release party or tap takeover when you're in the beer-loving hands of this guy.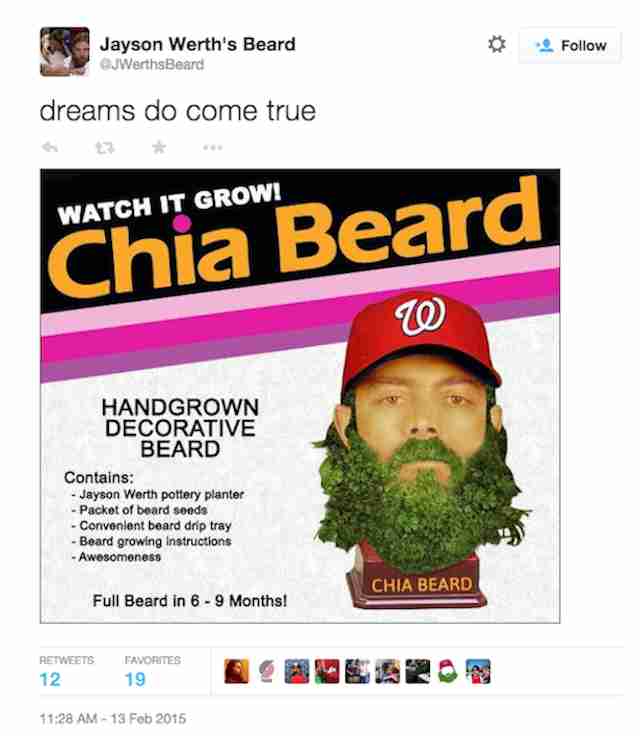 You don't have to have facial hair to enjoy the quirky, mostly sports-related quips. You don't have to like Jayson Werth, but you do have to dig his garden gnome.
 
This Washington Post humor columnist's icon is a furry pile of poop. He'll harp on the daily news and occasionally fess up to lyrics failures. "For the longest time I thought the lyric to Rock the Casbah was '#$%@ the cash bar.' And I thought Sherrie didn't like it."
 
A Bethesda dude (formerly of Kissing Suzy Kolber) with something to say about just about everything. In fact, he recently live-tweeted the Westminster Dog Show.
 
John Stanton throws jabs at politicians with the biting tone one would expect of the DC bureau chief of Buzzfeed. He doesn't hide his dislikes, which include Kanye West and kale. "Kanye West is the Adam Sandler of hiphop," he says.
They don't just make hoagies, they also bring the sass.
 
Not afraid to weigh in on the big issues in witty ways. Then there's this: "You are never truly finished in national politics until you're caught with a dead girl or a live boy, or rooting for the Dallas Cowboys."
 
David Hagedorn comes at food from all angles: author, critic, chef, enthusiast. You'll always know where he's eating thanks to his dedication to typing, "seated and tweeted." He's also a great follow for equal rights updates.
 
Never miss your favorite mobile meal. 
Drool-worthy drink pics from Washington Post cocktail columnist "Carrie the Red," plus cameos of her beagle and general waggishness. Her husband, @timcarman, is a good follow, too.
 
A shining example of how a neighborhood blog should be run (minus a few too many winter weather pictures).
 
Sexify your Spotify playlist with music recs and never miss a cool concert, especially when All Things Go is the one throwing the concert. 
Sports columnist Dan Steinberg is all over the local teams. Drink every time he types "Shanahan."
 
If you think about weekdays in terms of number of days away from brunch instead of that mainstream Monday, Tuesday, Wednesday garbage, these are the ladies you need in your life.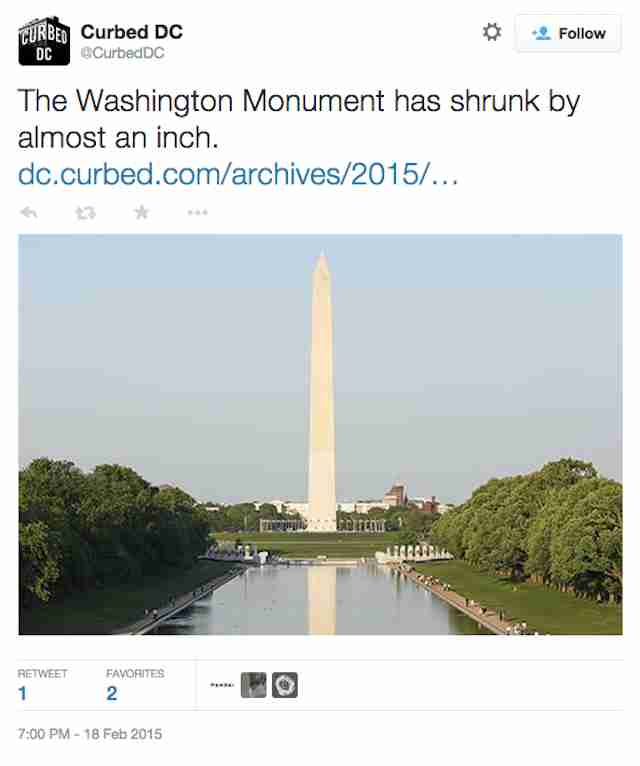 Your inner real estate junkie will thank you. Plus, you can also nerd out about some historical stuff. Look, even the Washington Monument experiences shrinkage.
 
Radio is not a lost art if you can read it on Twitter. Count on @WTOPLiving for food, health, and other news from the Glass Enclosed Nerve Center that won't bum you out. Unlike their traffic and weather reports.
 
This is the woman who brought us gems like New York Times-hates-us BINGO. Grab links to other edible literary treasures from the Washington Post reporter, such as "In which I imagine the California Tortilla brainstorming session that led to the ramen burrito's squishy debut."
 
Helping to make the case that DC's a little Silicon Valley full of more than just Federal employees waiting for OPM to tell them it's okay to telework because it's raining.
Taking a break to watch Bao Bao tumble or red pandas mill around is so much more fulfilling than listening to the bonehead temp in the next cubicle talk about his nephew's briss.
 
Your only chance to know if there's not a line Tuesday night at 9:45pm. You know, just in case you have Fila Rocket Fuel sneakers and can get there in time.
 
The "snarkiest minds from CQ Roll Call" peep on elected officials as if they were pop-stars while also providing crucial lunch deets. Careful if you're sitting next to one of them at a bar -- they will out you. "That looks like real hair, too" -- @UnionPub patron not listening to @SenJoniErnst's #SOTU reac, remains fixated on her coiffure."
This former Michigan congressman may be an octogenarian, but he tweets just like the rest of us. "Wife is working late tonight. Might eat ice cream for dinner. #YOLO"
 
No need to bring three sets of disguises to DC Brau, this feed will clue you in to everything free -- from massages and Uber pomo codes, to live music with no cover.
 
Just in case the only reason you go to Nats games is to watch the Presidents Race.
Sign up here for our daily DC email and be the first to get all the food/drink/fun in town.