And lo, The Racing Presidents George, Abe, TJ, and Teddy came down from where they stretch before each Nats game to bestow upon our nation's capital 25 Commandments wheretofore if followed, the citizens of DC may live stress-free, albeit politically charged, lives full of restaurant openings, oppressive humidity, and so many gin Rickeys. And the tablets read:
Laura Hayes
THOU SHALT...

1. Be a good sport and take visiting relatives to all the monuments and museums they desire
… as long as you get to pick the spot for dinner. 
2. Move to the center of the car
This shouldn't be this difficult.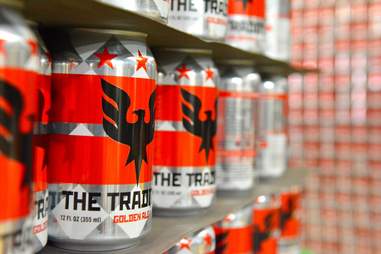 Laura Hayes
3. Support the burgeoning local beer scene
DC Brau, 3 Stars, Atlas Brew Works, Bluejacket, Port City, Right Proper, Lost Rhino, Chocolate City, and others are crushing it, along with your productivity.
4. Cheer for Teddy
Have you no heart?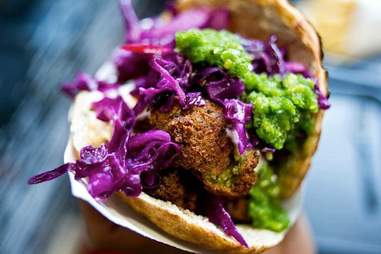 Amsterdam Falafel
5. Crush thine falafel balls at Amsterdam Falafel
This will allow you to get nearly twice as many toppings into the pita. You want more toppings.
6. Acknowledge from whence thou came and divulgeth your sports allegiances
If you're from Maryland and pull for the Ravens, you are not from DC. 
7. Reward bars and restaurants that offer extra-long happy hours with your presence
… so that more catch on and follow suit. 
8. Do the "HBO dance" at Screen on the Green
Or you will be the only one sitting down and it's impossible to be a wallflower when there are no walls. 
9. Watch Veep, House of Cards, Homeland, and Scandal
People will ask you about them and how realistic they are, so you need to have answers ready.
10. Get the hell out of town on July 4th
It's for the best.
11. Learn where all of the speed cameras are in the city
Or else thou shall get a postcard from thine vehicle in the mail, with a picture and everything.
Ethiopic
12. Try Ethiopian food at least once
It's in its most authentic state outside of Ethiopia. Chances are, you'll try it again and again…
 
THOU SHALT NOT…

1. Stand left
… or thou shalt be struck down.
2. Ask "who do you work for" in the first five minutes
You might get some horrific response like "if I told you, I'd have to kill you". Then, potential friendship = over. You might not have to ask though, see #3!
3. Wear your braggadocious work badge outside the office
Just don't.
Senate Square
4. Be stingy with inviting people to thine roof deck
We are all created equal, unless thou has a killer view and a pool. Do shareth or thou shalt be deemed a d**k. 
5. Assume a cab's credit card machine works properly
It doesn't.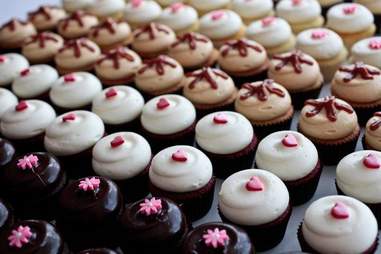 Georgetown Cupcakes
6. Stand in line for cupcakes. Ever.
Sure Georgetown Cupcake has 327,000 Facebook fans, but go somewhere else where there's no line. It's truly difficult to mess up cupcakes. Better yet, eat donuts. 
7. Eat naked fried chicken
Mumbo sauce. Always mumbo sauce.
8. Be unprepared to order when it's your turn at Greek Deli
This will help avoid a Soup Nazi incident. And shame.
Uber
9. Forget that Uber drivers RATE YOU TOO
Be nice, or you'll get burned. 
10. Forget to bring reusable grocery bags
Problem 1: $$$$. Problem 2: You'll be publicly bag-shamed by the peeps at Whole Foods. 
11. Metro to Chinatown for an authentic Dim Sum experience
Hop in thine car and get yourself to somewhere more like Wheaton or even Silver Spring. 
12. End the night covered in sweat in the basement of Café Saint-Ex
Or any of these bad decision bars.
13. Hook up with any of thine co-workers
This is a VERY small town that revolves around work. You may need to hire/fire this person in the future. This is why you simply cannot do #12.