8 DC Pop-Ups That Might as Well Just Happen Already
DC is in the midst of a pop-up business pandemic. No, not those ugly top-floor additions you see on row houses in NoMa and Petsworth -- although those may well be a pandemic in their own way. We're talking about those little supper clubs and retail locations that seem to appear overnight, and vanish just as quickly.
These days, you might see them hosted in apartments or businesses, vehicles or tents. There's even a "pop-up megaplex" -- whatever that is. But has DC truly reached peak pop-up? No! Because these eight can't-miss pop-up ideas have yet to be realized...
The first-ever Metro supper club
Excessive train delays can derail even the most carefully planned dinner reservations, so why not include the commute in the dining experience? Sure, eating isn't allowed on the train, but when did that stop anyone? Dinner would only be served while the train is "holding momentarily," which as any commuter knows, is plenty of time to serve a three-course meal.

A private pop-up bar for the ultra-rich
Pop-ups are already the realm of relatively well-situated trend-seeking millennials. But DC's ultra-rich don't want to be stuck swilling bourbon with the twirly mustache set. Why not give them a private pop-up bar to call their own? That way, DC's wealthiest lobbyists, lawyers, and businesspeople could openly discuss Illuminati secrets and sip on immortality potions hidden from the pesky public eye. And it could have a hip location, like deep within a secret nuclear bomb shelter, or located inside a nondescript mansion that regularly hosts black-tie orgy clubs. Come to think of it, this may exist already, because no one would know about it.
The obligatory Bao Bao-related pop-up shop
It would be wise to monetize that roly-poly ball of black and white fur before she somersaults into mediocrity. What the District needs are more Bao Bao hats. Bao Bao tee-shirts! Bao Bao lunch boxes filled with Bao Bao... bao. It's time to cash in now before some other baby animal steals DC's collective heart.

A pop-up with its own double-secret speakeasy pop-up
You're at a sip-and-savor, slurping on a boozy kale smoothie made with artisanal goat milk. One-by-one, your fellow diners slip into the other room. Where are they going? You get up to investigate, and surprise! You're in a new pop-up, this one themed like a pre-prohibition speakeasy. It's a pop-up inside of a pop-up. All the crowd-pleasers are here: gin cocktails that sort of taste like medicine; hand-cut ice cubes that take up the entire glass; a mustachioed bartender in a twill vest and a newsboy cap. For just a hundred bucks more, you can be part of the action. Worth it? Worth it.
DC's first DIY bone broth club
Bone broth is the new thing. And soon, the trend will venture into DIY territory. What do you need to make bone broth? Bones. For just ten bucks, pop-up-goers can rummage through an assorted pile of bones. Big bones, small bones, bones of all shapes and sizes. Just don't ask where the bones came from, or the species to which they belong.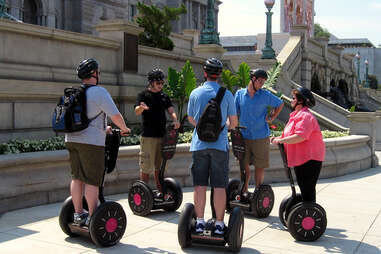 A literal pop-up tourist trap
DC-ers are tired of smartphone clutching out-of-towners who Google their way into local hangouts. A decoy is necessary. Hire that mustachioed newsboy bartender from the speakeasy pop-up, stick him behind a bar outside the Smithsonian museums, and make him sling "local specialties" like Natty Boh "less than two miles from the White House!"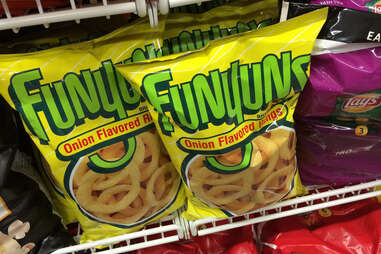 A BYOB pot and munchies pop-up
Now that pot is (mostly? maybe?) legal (for now?), it's logical to assume more DC residents will openly partake. But here's something to mellow your high: the retail sale of pot, along with Amsterdam-style smoking clubs, will likely stay illegal -- at least for the time being. Bummer. But there's a silver lining to this hazy cloud: It's still theoretically legal to own and smoke your own marijuana (possibly, do not mistake this for legal advice). Still, a BYOB, BYOW, and BYO-Funyuns pop-up can't be far away -- though, if Congress bans Doritos and Hostess products that could be a problem. (Note: Some DC residents already refer to this practice as "having people over").

Pop-up bathrooms
DC has a serious lack of publicly accessible restrooms. And if you've ever walked home from a bar cross-legged late at night, you know you'd gladly pay a small sum to use a restroom. Here's a free idea: tie a few porta-potties to a flatbed truck, charge a dollar per seat, and drive around Dupont Circle on a Saturday night. You'd clean up, figuratively... and then literally.
Sign up here for our daily DC email and be the first to get all the food/drink/fun in town.