Drink and paint like the real artists do!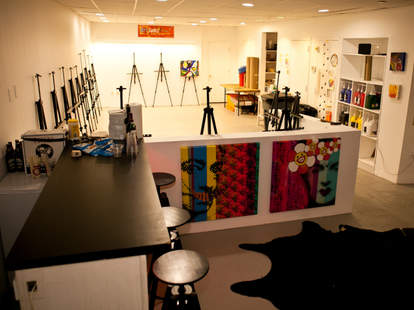 If artists need studios, and serious drinkers need bars, you need a place where you can booze under the pretext of art to obscure the fact that you're a serious drinker. Enter ArtJamz Dupont Studio. No seriously, enter it, it's sweet.
The just-opened, permanent home of previously gypsy-like paint-/booze-facilitators ArtJamz, the studio's split into a 24-easel painting area, and a lounge with bench seating and a three-stool bar, so show up early, or you'll have to, you know, paint. Upon arrival to your registered class, you'll get three hours to create your masterpiece (which of course, you'll be allowed/forced to take home with you), in addition to a canvas, an easel, brushes, and unlimited paints with which to implement your very limited skills. Speaking of downing tons of booze, you can hit the aforementioned cash bar, or opt for an all-you-can-drink brew 'n wine package, and they've even teamed up with Fuel Pizza to provide pies, chicken wings, and salads, for those who want to look like a starving artist without being one.
And because that all-you-can-drink thing has surely made you realize how creatively freeing and emotionally productive art can be, you'll probably want to hit future classes covering cartooning, sketching, and graffiti, though wasn't avoiding being tagged with a label the reason you starting going to "art class" in the first place?
Photo by Anchyi Wei