Get Spooked at These Creepy Haunted Houses Near DC
Halloween has arrived in earnest in Washington DC. You may have already partied it up over the weekend -- thanks to our handy Halloween guide -- or you have your trick-or-treating path all planned out. But if you're in the mood to walk/scream your way through a haunted house and don't know where to start (and the Reddit AMAs featuring people recounting their experiences aren't doing it for you), then visit some of the spookiest spots in the District -- if you dare.
Laurel, Maryland
Smoke fills the passageways, a Krampus roars at those passing through his room, and Laurel's Haunted House of Horror seeks to put its full 30,000 square feet of abandoned movie theater space to full use. The property is so ghoulish that owners invited the Chesapeake Ghost Hunters to do an analysis. During their investigation, they indeed found signs of otherworldly activity. See what creepy vibes you can pick up on.
Dickerson, Maryland
Consistently named one of the best haunted attractions in the DMV area, Markoff's is tough to summarize. According to the attraction's operators, it's not exactly inspired by horror, blood, or drama like traditional haunted houses. Instead, you'll find quirky things like a vampire village, a floating UFO, or a creepy dollhouse. Not knowing what you'll see next makes the experience all the more unsettling. Visitors might pass through the dark while someone their touches their hand and a voice says, "That's a mighty nice hand. Mind if I borrow it?" Prices are high ($55 for two locations) -- and there is sometimes a wait -- but the fright factor is worth it.
Winchester, Virginia
Located out in rural Virginia, there is plenty of space at this one-stop-shop of spooky terror known as Haunted Nightmares at High Hill Farm. Prepare to have plenty of bad dreams after making your way through the farm's escape rooms, haunted house, and a "buried alive" simulator. Not it!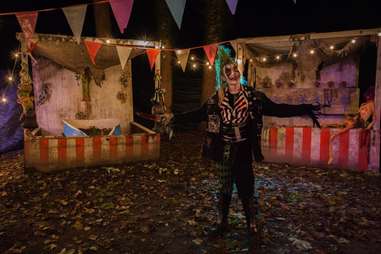 Olney, Maryland
Any place that has a farmer being skinned alive by a werewolf as part of its founding mythos is worth keeping in mind. Creativity is on full display at Field of Screams, with each haunted area telling its own unique story. That story inspires the actors, animatronics, color palette, and construction of every space. So, between your blood-curdling screams, respect the artistry.
Baltimore, Maryland
This legendary haunted attraction has been scaring Maryland locals in various locations for the past 18 Halloweens. For its latest season, Bennett's features the freaky abyss that is the Underworld, a demon-filled 3-D hellscape inspired by Dante's Inferno, familiar Halloween characters popping out at you in Legends of Halloween, and a recreated insane asylum where all the patients are let loose. Bennett's will be featured in a documentary Nothing But Haunts that highlights the top 25 haunted houses in the country.
Centerville, Virginia
This is seriously the stuff of nightmares. Visitors walk for 3/4 of a mile through a 20-acre pitch-black cornfield to be met by fire-breathing circus freaks, chainsaw-wielding maniacs, zombie scarecrows that appear between husks, and ghoulish butchers looking for their next victim. Hug your friends close for this one.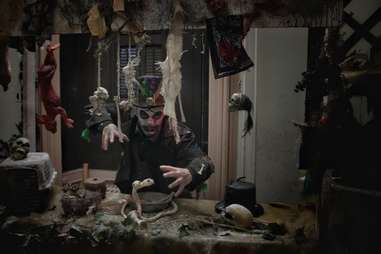 Leesburg, Virginia
Nothing creepier than an old mansion. This year, the first three levels of the haunted Virginia manor have been turned into Camp Carlheim, a creepy version of all your summertime childhood memories. Be sure to visit the basement, aka the Carnival of Souls, filled with disturbing clowns and carnival carnage. The website says the attraction is PG-13, and it must be referring to some very brave teenagers.
Sign up here for our daily DC email and be the first to get all the food/drink/fun in town.
Evan Fleischer is a Thrillist contributor, who has also written for
The New Yorker
,
The New York Times
,
The Guardian
,
The Washington Post
, and numerous other publications. Follow him on Twitter.