The only things scarier than seeing preseason John Wall shoot a three (14%? Seriously dude?) are these NINE haunted houses which run the gamut of pants-peeing terror, including one where you have to lie in a coffin being lowered into the ground, another where you're literally left in the woods with a farmer who's been skinned alive... and one with a beer garden... OF TERROR. The Curse of Frau Mueller Where it's at: Northeast DC Why it'll give you nightmares: 100 years ago the bodies of missing children turned up on the DC doorstep of Frau Helga Mueller. Shortly thereafter her home burned to the ground. Then, someone built a 50,000sqft warehouse on top of it. And someone else built a totally effed up haunted house inside of it that includes said bodies of missing children. Wonderful.
Recommended Video
Timothy DeLaGhetto & David So Take Over LA's Premier Foodie Event
Bennett's Curse
Where it's at: Jessup, MD
Why it'll give you nightmares: Castle Bennett + "vampyres" + a 3D zombie movie (+ Blob's Park Bavarian Beer Garden!) = Basically this.

Fright at the Museum: Dead Men Walking
Where it's at: Northwest DC
Why it'll give you nightmares: Sure, deep down you know the actors in this thing are Georgetown students earning their bar tabs, but seeing them suffer in gas chambers still means nightmares.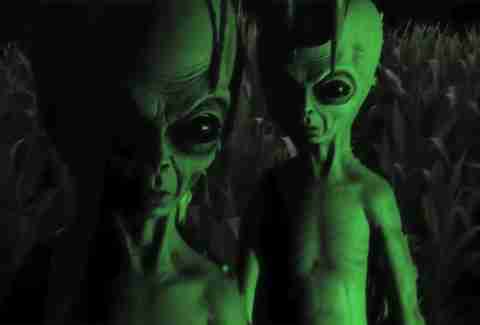 Cox Farm Fields of Fear
Where it's at: Centerville, VA
Why it'll give you nightmares: You walk for 3/4 of a mile through a 20-acre pitch-black cornfield. And there's touching involved.

Markoff's Haunted Forest
Where it's at: Calleva Farm, Dickerson, MD
Why it'll give you nightmares: Sign up for the haunted canopy tour and you'll have to maneuver a ropes course in the dark while creepy dudes screw with you from the trees. Hook yourself into a series of zip lines while you dodge god-knows-what.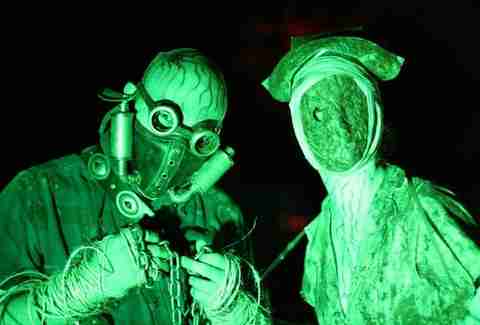 Field of Screams: Scream City
Where it's at: Olney, MD
Why it'll give you nightmares: More than 126 people have asked to be removed from the haunted trail this year alone. In addition to this 35min leisurely stroll through the forest where a farmer was totally normally SKINNED ALIVE, there's a side attraction in the field called Zombie Paintball Apocalypse.

Pev's Park Terrorville
Where it's at: Aldie, VA
Why it'll give you nightmares: In Zombie Rumple, enter a massive ring where like a quagillion zombies will ATTACK YOU and try to steal your flags. Also there's this.
Shocktober at Paxton Manor
Where it's at: Leesburg, VA
Why it'll give you nightmares: You can experience death. Your death. In "The Last Ride", you'll descend -- pitch black -- into a wooden casket, and they'll lower you into the ground. Oh, and they won't let you do it until you sign a waiver. (Pro tip: go Oct 26th, it's the only night you can also get beer)

Route 29 Haunted House
Where it's at: Warrenton, VA
Why it'll give you nightmares: You have to be at least 13 to go, they've got see-through body bags hanging from the ceiling with (maybe real?) people in them, and they made the exit smaller and harder to find this year, so yeah.