How DC tech scene champion Peter Corbett does DC
Peter Corbett is the founder of community-building digital agency iStrategy Labs. He's also regarded by many as the driving force behind establishing DC as a tech industry hub. But the most impressive thing Corbett's ever done? Rigged a cooler to dispense beverages only when the person who desperately wanted those beverages checked in on Foursquare -- that is GENIU$. We tapped him to tell us who in DC impressed him the most with their own fearless innovation. Here's what he came back with.
Innovative Wellspring of Innovation:1776
In his early 30s, Evan Burfield's already sold two companies, but Corbett calls this six-month-old "urban entrepreneurial campus, incubator, and accelerator" Burfield's most ambitious project yet. With 100+ start-ups already calling it home, the "frequent stop over point for senators, queens and superhero entrepreneurs" recently announced its 16-city global Challenge Cup competition. Additionally, it also hosts a ton of casual events for people looking to get into the game, from fireside chats, to garden parties, to Internpalooza -- a celebration of that magical time when you don't get paid, but also don't have to work on Vampire Weekends.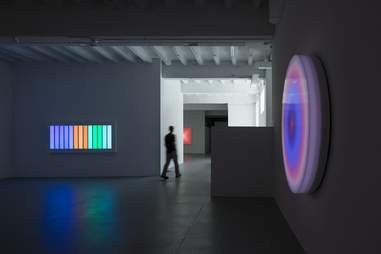 Copyright CONNERSMITH and Leo Villareal
Innovative Culture:CONNERSMITH and Emerge Art Fair
Corbett credits Leigh Conner and Jamie Smith with unifying the DC contemporary art community through always-must-see shows at the gallery, and an annual fair where the only thing deep-fried is your brain after attempting to deal with the overload of groundbreaking ideas. They "see young talent in this town first -- and know how to help build their profiles into national recognition".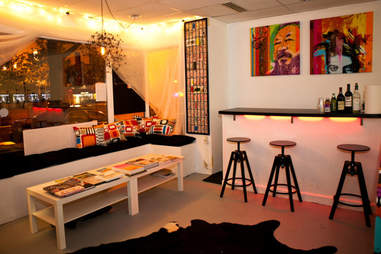 Innovative Culture, DIY Edition:ArtJamz
Hailing founder Michael Clements' passion for enabling the expression of creativity, Corbett predicts this combo people's art salon and lounge could expand past Dupont Circle "to include hundreds of locations over the next few years". Not bad for a company born when a group of friends looked at each other and said the five words that all-too-rarely launch a successful enterprise, "Wouldn't it be great if...".
Eric Brewer
Innovative Outlook on What DC's All About:Worn Magazine
Nicole Aguirre (above), a 1776 resident who also runs the agency Worn Creative, has become "the epicenter of a creative community that's rebelling against the staid perception people have of DC". Her biannual fashion print mag -- whose fabulous edition release parties you, yes you, can buy tickets for -- makes DC seem cooler than Milan, and not just because Milan's supposed to be a terrible city. If you're wondering what the latest seersucker trends are, or why this attractive woman in a bikini was standing around the Georgetown Waterfront with a dude who was also not wearing very much, grab a copy before it's gone.
Innovative Color: Sweetgreen
"Nate Ru and the two co-founders of Sweetgreen are the perfect example of entrepreneurial hustle in DC", says Corbett. "They graduated from Georgetown about four years ago, and in short order have build a dozen+ salad restaurant chain that hipsters, families and professionals flock to up and down the East Coast". Corbett also gives them props for their not resting on piles of crouton money, and instead launching the massive Sweetlife Food & Musical Festival, a.k.a., "Where Kendrick Lamar Meets Carbon Neutrality".
Innovative Restaurateur: Omar Popal
"Omar Popal is leading the charge in DC with regard to European influenced food and cafe concepts". Specifically that means Malmaison (above), Café Bonaparte, and Napoleon, all of which are "impeccable, with the recent addition of Malmaison rapidly taking over as a hidden gem under a bridge in Georgetown that the beautiful people of DC love to frequent". So, look forward to seeing smoldering Thrillist DC editor Leo Schmid.
Old Fashion Innovation:Bar Dupont
"Their Old Fashion is probably the best in the world". Sometimes the most forward-thinking thing to do is to think backward. Also, sometimes the most forward-thinking thing to do is to eat that entire bird off the cafe menu.