Unfortunately, not everyone who visits you in DC wants to get blasted at that bar in Adams Morgan with the baby bottles of grain alcohol. Except for Uncle Jesse. He loves that damn place. But, anyway, sometimes you need non-boozy alternatives, so we lined up 15 different spots to hit with three different types of people, so the next time you have a guest who doesn't feel right at Dan's Cafe, you'll have places to go. THE GUEST: YOUR SISTER AND HER THREE-YEAR-OLD KID The new nephew is a bundle of joy, but you can see his antics weighing down on your sister's face. Literally -- look at her eyelids. So help a sister out with a few spots that will tire the tyke out and give Mom a relaxing sleep- & Pinot grigio-filled night. Mini-Golf at the National Building Museum, 401 F St NW; Chinatown; 202.272.2448 Entertain that little critter with the National Building Museum's mini-golf, which features two nine-hole courses designed & built by local architects and contractors.
Recommended Video
Please Don't Hang Up: The Best Things to See, Eat, and Do in Seattle, WA
National Zoo, 3001 Connecticut Ave NW; Woodley Park; 202.633.2614
Hit the zoo! Lions and tigers and bears, oh my! Plus, a red panda, occasionally, when he's not ESCAPING!

National Children's Museum, 151 St George Blvd; National Harbor; 301.392.2400
Because DC loves their museums, take the little one to the Mall and hit all the favorite spots -- or head over to the National Children's Museum out at National Harbor. It even has a three-and-under section with a fish tank and "sensory water bed".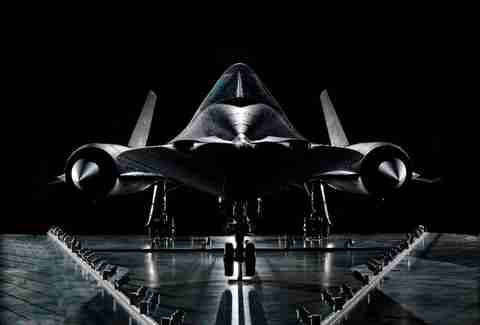 Stephen F. Udvar-Hazy Center, 14390 Air and Space Museum Pkwy; Chantilly; 703.572.4118
The kid in you is going to also enjoy the Air and Space Museum's Stephen F. Udvar-Hazy Center at Dulles, where you'll check out sweet flying machines, including a Lockheed SR-71 Blackbird, a Concorde, and the space shuttle Discovery.

Tidal Basin Paddle Boats, 1501 Maine Ave SW; Tidal Basin; 202.479.2426
Mom is probably going to want the kid to be all tuckered out by the end of the day, so let him or her paddle-boat their hearts out in the Tidal Basin, next to the Jefferson Memorial.


THE GUEST: YOUR GRANDPARENTS
While it's not always the most exciting geriatric pill to swallow, hanging with the old folks does have its rewards, and we're not solely referring to an inheritance. Show the still-happily-ever-after couple a great time with these quick hits, and take pictures, cause you know... Nevermind.

Hillwood Estate Museum & Gardens, 4155 Linnean Ave NW; Forest Hills; 202.686.5807
Take a leisurely stroll through the gardens of Hillwood Estate, and then head into the former home of Marjorie Merriweather Post, where Grandma will get super jeal while looking at all the Russian and French jewelry.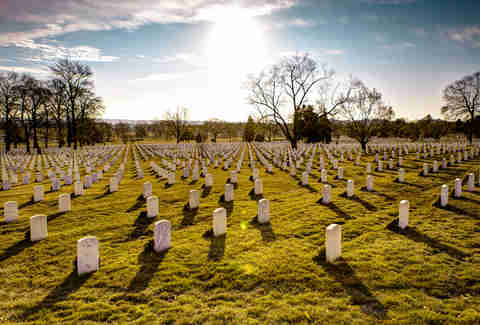 Arlington National Cemetery, 214 McNair Rd; Arlington; 877.907.8585
Head just across the Potomac to Arlington National Cemetery where paps can pay his respects to our nations' veterans, see the Tomb of the Unknown solider, and witness the changing of the guard.

The Willard InterContinental, 1401 Pennsylvania Ave NW; Downtown; 202.628.9100
For over a century at The Willard InterContinental, ladies have been sitting down for a nice afternoon tea in Peacock Alley. Sip organic teas, eat adorable pastries, and listen to live harp music while grandma tells you about that thing your mom did you now wish you hadn't asked about.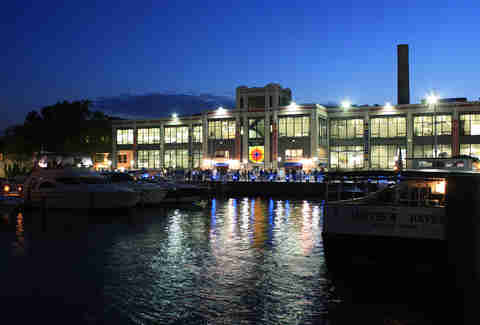 Torpedo Factory, 105 N Union St; Old Town Alexandria; 703.838.4565
Over in Old Town Alexandria, the Torpedo Factory is three stories of open studios and galleries where you can observe artists and buy their original artwork.

The White House, 1600 Pennsylvania Ave NW; Downtown; 202.456.1414
Look like a real baller by getting them a tour of the White House.  You'll have to contact your congressman or senator way in advance, but, if that doesn't pan out, get them a private Capitol tour, also set up by your legislator.


THE GUEST: YOUR FRAT BUDDY WHO CAN'T DRINK ANYMORE FOR VARIOUS REASONS
He was Johnny Thunder in college. The Jack Daniel's-powered machine was seemingly unstoppable, but then that thing happened: his LIVER. The poor dude can't drink anymore, but he still wants to party -- so take him out to these quick hits for a great, non-boozed-up time.

Allsports Grand Prix, 45915 Maries Rd; Dulles; 571.434.9566
Not for the kiddies, out at Allsports Grand Prix you have to have a valid driver's license to race on the track. It's 100% pure racing, pal.
Key Bridge Boathouse, 3500 K St NW; Georgetown; 202.337.9642
Pop those shirts off and go kayaking, canoeing, or stand-up paddle boarding down on the waterfront with the help of the good people at Key Bridge Boat House.

Quarterdeck Restaurant, 1200 Fort Myer Dr; Arlington; 703.528.2722
Take him out crab-smashing at Quarterdeck. Grab a seat on the patio, throw on a bib, and get to hammering. Be sure to call ahead to reserve (by the dozen) your order.
Capital Segway Tours, 1350 I St NW; Downtown; 202.682.1980
Tour and sightsee the city not by giant bus, but instead by cruising around on a nerdalicious Segway. Get a private tour of the Smithsonian Mall by a licensed tour guide.

TopGolf Alexandria, 6625 S Van Dorn St; Alexandria; 703.924.2600
Grab your clubs, or don't (they supply them as well), and drop in on the 21st-century driving range at TopGolf, where microchipped balls are electronically tracked as they fly into distant targets.