30 signs you just moved to DC
There are more indications that someone's new to DC than the map they're inevitably holding (and not a cool map like this one). A Duke sweatshirt is typically a sure bet, for example. Here are some of the biggest rookie mistakes (besides attending Duke) people make when they first touch down in our nation's capital. Offer a helping hand, and then tell the story over brunch.
1. Failing to see all the sights before your relatives arrive and expect you to be a fully informed tour guide.
2. Getting a warm DC commuter-welcome after standing left.
3. Thinking you need to pack heat before leaving NW. It's FAR past time to get over that and explore. Maybe you'll find these.
4. Searching for an actual Eye St to find an Eye St address. 
5. Trusting the Red Line to get you to work on time.
6. Giving your cabbie cross streets sans quadrant.
7. Whipping out your credit card at Showtime or Dan's Cafe. Know when you're headed for a dive bar and plan accordingly.
8. Bringing your car. Get ready for nightmarish parallel parking, random car towings for motorcades, passive aggressive notes from neighbors, increasingly intense winters, and plowing capabilities that remain ill-equipped to deal with said winters.
9. Proudly telling people you live in Washington instead of "DC" or "The District".
10. Showing up just about anywhere without a reservation, save those handful of restaurants that steadfastly deny that privilege.
Laura Hayes
11. Arriving at the decision that Ben's Chili Bowl is the best half-smoke in town. It's not.
12. Thinking your Congressional Intern pin is preloaded for the metro.
13. Testing the meter maids. They're out for blood.  
14. Making fun of anything Southern. News flash, Mason Dixon line-ignorer — you're now a resident of the South. Educate yourself, soul food style.
15. Flying solo on I-66 during the mandated HOV hours because that's how Google is getting you from point A to point B. Any attempt to get off I-66 immediately reroutes you back on, putting you at risk of a $1,000 fine.
16. Riding the X2.
17. Failing to explore Northern Virginia and Maryland. Yes, you want to live in DC, but don't forget to spend time across District lines.
18. Getting lost in Rock Creek Park. Several times. For hours.
19. Waltzing past the ticket booth at The Newseum, and other museums that sell tickets because you think they're ALL free.
Laura Hayes
20. Eating just about anything at Lauriol Plaza. Margs. Only margs!
21. Thinking you discovered a secret supper club or speakeasy. The "secret" lasts all of five tweets.
22. Taking advice on where to live from people who've only lived in the suburbs.
23. Worrying you'll be spending a lot of time at the Department of Motor Vehicles because your new friends keep telling you how much they love the DMV. That's DC, Maryland, and Virginia. Unless they weirdly actually love replacing their drivers license. 
Kimly Nguyen
24. Waiting in line for Georgetown Cupcake. Or, waiting in line for ANYTHING for that matter. (Stares daggers at Bon Appétit for rendering Rose's Luxury a tourist attraction).
25. Asking a cabbie to take you to Reagan. It's National. Just National.
26. Thinking "this is a bike-friendly city, so now's the time to learn how to ride".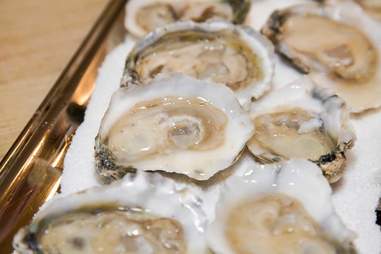 Hank's Oyster Bar
27. Paying full price for oysters. There's always $1 oysters somewhere.  
28. Look for the check-in desk and concierge at the Rock & Roll Hotel after a show.
29. Wandering around Capitol Hill unable to find the address you're looking for because you're in SE and don't even know it.
30. Turning your nose up at Virginia wine. Go back to California! You'll be replaced soon enough.
Sign up here for our daily DC email and be the first to get all the food/drink/fun in town.