The 25 steps to becoming a real Washingtonian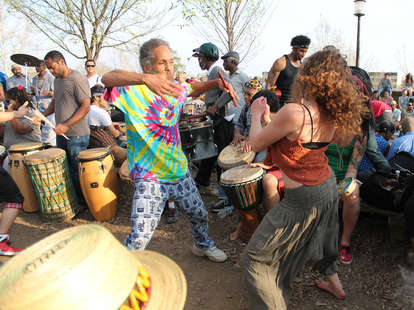 Elvert Barnes
Elvert Barnes
Did you move to DC from somewhere else? SHOCKING! In a city so full of transplants, what does it mean to be a local? Well, it means you've completed these 25 steps...
1. Groove to the beat with friends and strangers at the Malcom X Park drum circle -- it goes down on Sunday evenings. Can't find Malcom X on the map? It's also called Meridian Hill Park.
2. See a show at the 9:30 Club, Wolf Trap, U Street Music Hall, Cabin John, and Jiffy Lube Live. All of them.
3. Stay at brunch so long that it eventually turns into dinner.
4. Eat Chinese food in Rockville, Korean food in Annandale, and Vietnamese food in Falls Church. Repeat.
5. Grab some grass at Jazz in the Garden and/or Screen on the Green.
6. Hit the Fort Reno concert series. If you end up in Nevada, you've done it wrong.
7. Hike Old Rag. No excuses.
8. Experience the political electricity of a national election night or presidential inauguration that didn't involve you watching reruns of The West Wing.
9. Tailgate in the Green Lot at FedEx Field, maybe even with the ExtremeSkins.

10. Take a private tour of the White House, Pentagon, Supreme Court, etc., because you know a guy who knows a guy (if you don't already work there). Extra points for using the Capitol subway.
11. Buy fresh seafood at The Wharf/Maine Ave in SW DC. Consume said seafood (that should have been clear).
12. Experience a spectacularly long, unexplained delay on the Metro that leaves you questioning whether or not you'll still have a job when you finally get to work.
13. Use "spectacularly long, unexplained delay on the Metro" (or just "traffic") as a believable excuse for being late when really you were actually catching up on Netflix.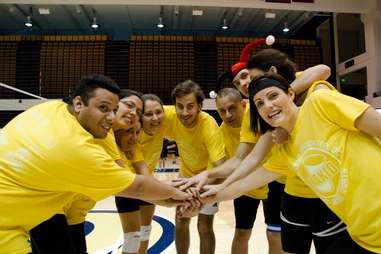 14. Join an adult rec league, not just for the competition, but for the post-game drinking in matching shirts. Or be more efficient and join a flip cup league.
15. Chill out at Gravelly Point Park and enjoy the hum of planes taking off and landing.
16. Drink at a dive bar. Tune Inn Restaurant & Bar, The Raven Grill, and Dan's Cafe are all acceptable choices.
17. See something at the Kennedy Center. Check out the terrace while you're there.
18. Eat Ethiopian food, a half smoke, Five Guys, blue crab, Jumbo Slice, mumbo sauce, Greek Deli, Pho 75, 2Amys pizza, and anything José Andrés. Or any of these.
19. Get on some kind of vessel on the Potomac, be it a kayak, canoe, paddleboard, your friend's boat, or a large piece of driftwood.
20. Break a sweat walking up a broken Metro escalator in the middle of summer (looking at you Rosslyn, Bethesda, Wheaton, and Dupont).
21. Make it to a Caps, Nats, Wizards, or Redskins game and yell "O" during the National Anthem -- even though you're not at an Orioles game. And, at Caps games, know when to yell "who cares", and "It's all your fault!"
22. Have a crazy afternoon at either Drag Brunch (at Nellie's or Perry's), or La Boum Brunch at L'Enfant Cafe & Bar.
23. Attend a party that requires a tux that isn't a wedding.
24. Set an alarm for 3:55am so you can check to see if you can sleep in thanks to OPM's late call of an obvious snow day.
25. Eat late-night pizza, Ben's Chili Bowl, or Yum's because nothing else is open.
Sign up here for our daily DC email and be the first to get all the food/drink/fun in town.