The 25 Worst DC Decisions
There are many opportunities for success in DC -- that's why you moved here, after all, you go getter, you! But, there are also some everyday pitfalls you should work to avoid... specifically, these 25 all-too-common terrible decisions:
1. Driving around Dupont Circle
There are so many streets you can use to avoid it. Use them.
2. Failing to choose your photo ops carefully
See that guy up top? Don't be that guy.
Whole Foods
3. P Street Whole Foods at 3pm on a Sunday
It's only the highest grossing location in the whole (!) damn country. Good luck with that. Shopping at peak hours also means no guacamole samples, and that's your JAM. Also, what if they run out of jam?!
 
4. Making out with strangers at Bourbon in AdMo
Actually, this is likely to happen just about anywhere in AdMo. 
5. Relying on WMATA to get you anywhere
What, you hadn't figured out that it's just a sick and twisted social experiment on how much frustration humans can endure? Like that time the Federal Triangle station did its impression of Venice.
 
6. Not checking out all that H St NE has to offer
What, is it "too much of a schlep"? Get over it. The reasonable drink prices and all-around fantastic night out will more than make up for your ride fare.
 
7. Making one fateful wrong turn on Whitehurst Freeway
If you've done it, you know all too well.
Laura Hayes
8. Hitting up a certain chain for your coffee
You know DC is in the midst of an incredible independent coffee boom, right?
 
9. Buying a condo in the best and buzziest neighborhood
You fool. You want the NEXT best and buzziest neighborhood.
 
10. Relying on quarters for all of your parking needs
Parkmobile. Repeat it slowly: Park-mo-bile. 
National Cherry Blossom Festival
11. Going for that jog around the Tidal Basin to experience the cherry blossoms at full bloom
Ask yourself, would you run through Times Square on New Year's Eve?
 
12. Flying solo on 66 during those fateful HOV-only hours
There are much better ways to spend $1,000. Like at Maryland Live.
 
13. No, wait, Maryland Live is terrible
But you can figure out other good uses for $1,000.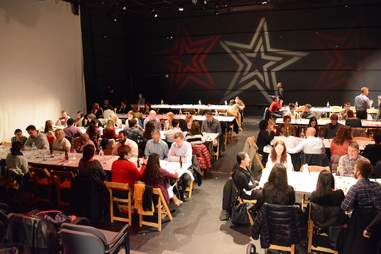 Laura Hayes
14. Overpaying for "secret, exclusive" events
If you just saw it on the Internet and bought a ticket like any other chump, it is neither of those things.
 
15. Ordering food at certain dive bars
Cardinal rule: if you wouldn't use the bathroom, don't get the food. Not naming names, but one rhymes with "Humors."
 
16. Thinking you have to live in NW
People will still give you rides and come to your parties. Be brave.
Laura Hayes
17. Being afraid of ethnic food
No, Amsterdam Falafel doesn't count. Nor does Lauriol Plaza. If you aren't exploring the broad spectrum of international eats in this city, you're missing out.
 
18. Thinking the Metro runs all night
Terrible thing to learn when you're a NoVa newbie partying hard in DC until last call.
 
19. Ignoring Lucky Strike's strict dress code
Scratch that. Just going to Lucky Strike in the first place.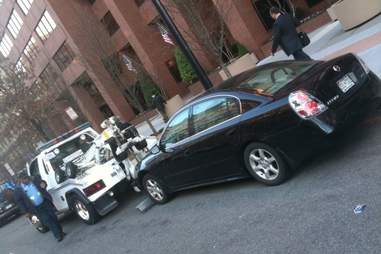 Wayan Vota
20. Thinking a ticket is the worst thing that can happen to you
Oh, you haven't met this guy? You will. Enjoy the impound lot! 
Laura Hayes
21. Nursing your hangover at home
...instead of relying on all of our brunch places that have made hangover cures their mission statement.
 
22. Not knowing your order when Kostas yells "NEXT" at Greek Deli
Get it together. People are waiting.
Eddie Welker
23. Dodging tourists on a Capital Bikeshare bike around the National Mall
...instead of renting a sweet ride for a long spin along the Capital Crescent Trail.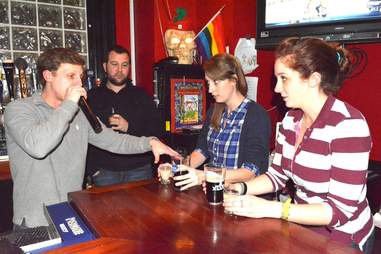 Laura Hayes
24. Ending Stoney's trivia in a tie with another team
The tiebreaker is an Irish Car Bomb race. You've been warned.
 
25. Underestimating DC bike thieves 
"Oh, this cable lock will do FINE on my [fill in expensive, hip bike brand here] bike," you tell yourself. You have told yourself wrong. Beef up that security.
Sign up here for our daily DC email and be the first to get all the food/drink/fun in town.