19 Things Only Washingtonians Understand About Winter
Let's face it, when there's snow or ice falling from the sky, DC freaks out, and whenever DC freaks out, it goes big. At no point in time is that whole "Southern efficiency and Northern charm" thing more evident than when the District is dealt a nor'easter or blizzard. Here, now, are the 19 things only Washingtonians will understand about their snow-scarred psyche:
1. Any storm that delivers more than 3in of snow is a big deal
For any given storm, the District's Department of Public Works has 750 support personnel and 345 pieces of equipment to help dig us out. That doesn't stop everything from grinding to a halt as soon as a bit of accumulation takes hold.

2. If it snows or sleets, stop doing your homework
DC-area schools are notorious for cancellations and delays at the mere mention of snow, ice, or freezing-rain. Just remember kids, at a certain point, those snow days translate into June-make-up days.

3. And don't even think about driving. Really. Don't!
You want to observe that inevitable 19-car Beltway pileup on the news from the comfort of your couch, not from the middle of said pileup.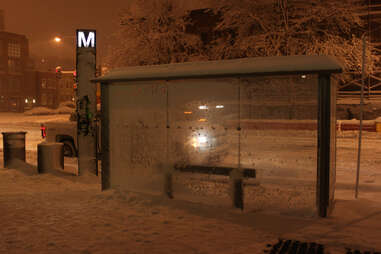 4. The Metro takes a little something extra to shut down, but it happens
When we really get hit hard by a storm, some Metro rail service will be suspended. It's official WMATA policy to close above-ground rail stations when the third-rail is impacted by accumulating snow, usually about 8in. It's okay, you already cancelled any plans after the first couple of inches anyway, right?

5. If you're from the Northeast or Midwest, you'll mock us
Conversely, if you'll from the South or the West Coast, you'll curse us. That co-worker of yours who biked to work in single-digit wind chill? Yup, he's from Michigan.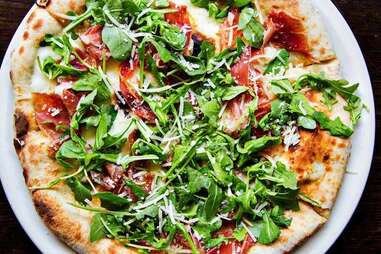 6. Snow day specials!
Okay, there are SOME reasons to leave the house. Bars and restaurants unload food and drink specials on snow days. This is your opportunity to eat, drink, and be merry. One reliable deal: any time it snows, Urbana in Dupont Circle sells $5 pizzas and discounted drinks.

7. You get shamed and fined for not shoveling your sidewalk
Aside from the social media shunning, you'll receive a $25 fine in the District. A new law says sidewalks must be cleared within eight daylight hours after winter weather.
8. Snow causes federal employees to compulsively check the internet
The Office of Public Management's website, to be exact. If the government closes, nonessential federal employees everywhere will rejoice!

9. You're never too old for a snow day, or as DC calls it: a "work-from-home" day
Of COURSE you're going to work hard today. Right after that Price Is Right Showcase Showdown...

10. It doesn't really snow until NBC4's Pat Collins measures it with his snow-stick
Measurable snow? Pat is on it! And wearing a decorative hat.

11. We give our snowstorms nerdy nicknames
Like "Snowpocalypse," "Carmageddon," and "Snowquester" (yes, that last one was a winter storm that happened when Congress was in budget sequestration).
12. Please don't mention "Snowmageddon" or "Snowpocalypse"
Despite the fun wordplay, it was brutal.

13. Nor'easters and blizzards can cripple the city for days, if not weeks
Remember the Blizzard of '93? Or how about '96?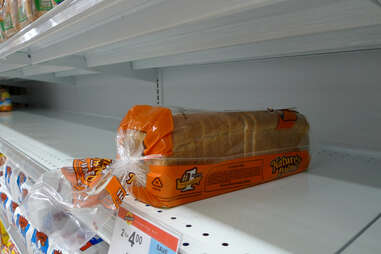 14. And with even a chance of severe weather, grocery store shelves look like this
The end is near! Stockpile! Related note: it's absolutely foolish to visit a grocery store 24 hours before a snowstorm.

15. Capitol Hill is one of the best hills for sledding
After 9/11, Capitol Hill was off-limits to sledders, but in 2010, The Sergeant at Arms of the United States House of Representatives reopened the Capitol grounds.

16. We live on the proverbial rain-snow line
Several inches of the white stuff in Maryland can mean a light dusting or just plain rain in DC and Virginia.
17. Cross-country skis make for a great way to get around
Two skis become the easiest way to get around Dupont Circle.

18. On really cold days, the C&O Canal freezes over and becomes a hockey player's paradise
Yes, it's legal to skate on the canal in certain designated areas, but skate at your own risk, as in... please make sure the ice is actually frozen.
19. Never, ever skate on the Potomac River
Save it for the ice rink. You don't want to do this kind of swimming.
Sign up here for our daily DC email and be the first to get all the food/drink/fun in town.