You live in DC, so there's a good chance you're working too hard. You need to stop and smell the roses -- not the ones at the White House, as that could get you arrested. Stop taking things so literally and make time for these 27 DC must-dos before there's no more time left.
1. Take a boozy late-night monument tour
There's something both invigorating and spiritual about walking through the monuments late night while they're empty and taking in our nation's history. There's something even better about doing it with just a little bit of a buzz on. Helps you get really introspective.
2. Brave the line at Rose's Luxury
If you've lived in the District for more than a few months, you've probably heard about Rose's. Actually, even people outside the district have often heard of Rose's, as Chef Aaron Silverman's Capitol Hill restaurant has garnered a deluge of well-deserved national attention from leading publications. You're going to want to either get there an hour before it opens at 5:30pm or show up around 9pm to avoid the worst of the waiting, but make no mistake, you will be waiting. And make no mistake: it will be worth it. Especially if you get the lychee salad.

3. Grow some pot!
As you should know by now, weed is legal (for now!) in DC. Also, urban farming has never been hotter. You can legally grow up to six plants in your house now, so time to start working on that green thumb. Maybe you can create your own strain with a cool name like "Lincoln's Beard" or something.

4. Attend a black-tie event
You're in DC, this shouldn't be hard. You probably will have been invited to three by the time you finish reading this sentence. Get dressed up and pretend you're classy for a night.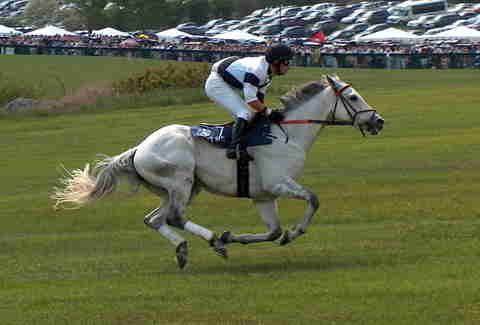 5. Venture to the Gold Cup
Continuing the theme of dressing and drinking like you're a classier person than you actually are, go to the Virginia Gold Cup! Located about an hour west of Arlington, the Gold Cup gives you the perfect opportunity to drink whiskey, pretend you know things about horses, and dress like you got lost in a Vineyard Vines warehouse while on an acid trip.

6. Sign up for a kickball league
Kickball leagues are ubiquitous in the nation's capital. Every spring, the National Mall is filled with kickball/softball players, and it's easy to see why: it combines the beauty of the monuments in springtime with booze and a mild workout. So join a team, have some fun, and please, don't be that guy who takes it way too seriously. Nobody likes that guy.

7. Take in some jazz in the garden
Every Friday in the summer, the Sculpture Garden at the National Gallery of Art is flooded with great jazz from 5:30-8:30pm. Pick a day with nice weather, show up after work, and grab a couple drinks to get your weekend started properly.
8. Go to Nats Park
You'll notice it doesn't say "attend a Nationals game," because (sorry Nats fans) it never seems like the crowd particularly cares about the game. What it does care about is having a good time, and Nationals Park is one of the best stadiums in America in that regard. Show up early, go to The Bullpen to pregame, and stop by the Red Porch once you decide to head in. The atmosphere inside the park is electric, and if you actually decide to follow the game closely, you're in luck: the Nationals are World Series favorites this year.

9. Stop by Blues Alley
Blues Alley, the historic Georgetown jazz haunt, has hosted so many musical greats in its 50 years it's mind-boggling. Everyone from Wynton Marsalis to Jimmy Rushing to Dr. John has graced its stage, yet it has never lost its original charm. With live music more than 300 nights a year, you can stop by almost any day and hear world-class jazz.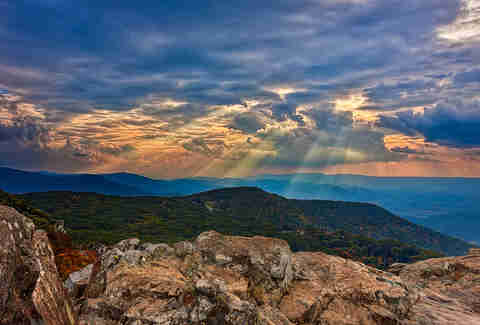 10. Go camping in a national park
There is an absurd amount of national parks within driving distance of the capital. So pick one, hop in your car, and make it a weekend. Whether you want to take in the Blue Ridge Mountains in Shenandoah or the wild horses at Assateague, it'll be worth it.

11. Paddle the Potomac
Whether by kayak or paddleboard, go paddling on the Potomac River. Sure, you probably don't want to fall into the water, but nothing beats the feeling of paddling with views of the monuments on a nice summer day.

12. Wait in line late night at Oohh's and Aahh's
The DC area offers some fantastic soul food joints, and while Oohh's and Aahh's may not be the best in the area (that honor goes to Margaret's in Shirlington), it's definitely the most iconic. Late at night the line can seem to last forever, but the wait is worth it. Nothing hits the spot quite like 3am fried chicken after a night of drinking on U St.
13. Do the same thing at Ben's Chili Bowl
Same basic concept as above. Just replace "Oohh's and Aahh's" with "Ben's," "Margaret's" with "Weenie Beenie," and "3am fried chicken" with "3am chili cheese dogs."

14. Visit all the Smithsonian Museums and the National Zoo
Everyone knows that DC is a great town to take in a few museums, but it's only truly impressive if you can manage to see all 19 of the Smithsonian Museums. Given that they're all free, make it a point to visit them all in a year's time. You can do it!

15. Join a workout cult class
DC, as you might have heard, is one of the fittest cities in the world. People are obsessed with working out, so join a fitness class. Just like cults, they're a great way to meet new people, and once you join one, it'll be all you ever talk about. Try the November Project; it's free, they meet early on Monday, Wednesday, and Friday, and on Wednesdays they workout on the steps of the Lincoln.
16. Boo Dan Snyder at a Redskins game
Growing up as a Giants fan just outside of the New York area, I had to deal with the reality that I would have to take out a mortgage to afford tickets. But not with the Redskins! They're terrible, and you can normally find tickets to their games for around 40 bucks. Plus, if your team is in town, it'll probably win. But you can bond with the locals by saying terrible things about Dan Snyder, which is generally something everyone can agree on.

17. Enjoy a boozy adult snow day
Every time it snows more than half an inch in DC, people act like the rapture is coming. Work gets cancelled, the federal government shuts down, Harris Teeter runs out of bread and eggs. So take advantage of it, and spend a snowy day inside with some friends and a bottle of your favorite booze.
18. See the Changing of the Guard at the Tomb of the Unknown Soldier at Arlington National Cemetery
America, man.

19. Experience brunch at La Boum
Hey, you had a couple mimosas at brunch last Sunday? That's cute. La Boum is like that, but on steroids. It's reservation-only, and reservations are filled weeks in advance, but it's totally worth it. Champagne flows like water. Burlesque dancers make appearances. Shit gets wild.

20. Tour DC Brau Brewery
DC is slowly but surely becoming a brewing town, and DC Brau is the best brewery in the capital. Get an up-close-and-personal look.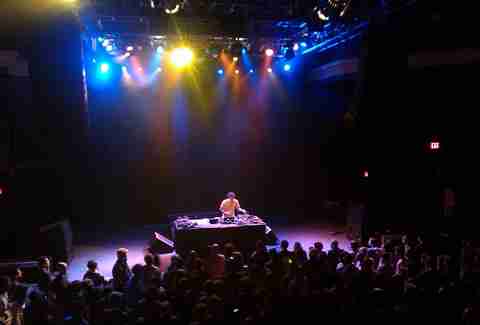 21. Catch a show at 9:30 Club
There's a reason it's consistently rated as one of the best music venues in the country. It attracts everyone from A-Trak to J. Roddy Walston and you feel like you're in the front row no matter where you are.

22. Eat too many Astro donuts
Whether you visit its store on G St, or catch its food truck (follow @Astrodoughnuts), you need to have an Astro donut. Or five. Or six.

23. Spend a night belting karaoke at Brass Monkey
There's nothing in Adams Morgan quite like spending a night three sheets to the wind shamelessly belting out karaoke in the basement of Brass Monkey. Just know the crowd you're singing for isn't looking for the next American Idol, it's hoping for a good time. This is not the time for your soulful, vulnerable rendition of "Hallelujah."
24. Experience a DC festival
Everyone knows about the Cherry Blossom Festival, and while it's undoubtedly a good time, try the DC Jazz Festival or Smithsonian Folklife Festival instead. The Folklife Festival celebrates DC's multiculturalism unlike anywhere else.

25. Go to a speakeasy
The capital has continued the only good tradition of the Prohibition era: the speakeasy. DC has no shortage of options. The Gibson, PX, and The Columbia Room are all fine choices, but for the best move, try Dram & Grain. Located under Jack Rose, it offers one-off cocktails and incredible service.

26. Go to a think tank discussion
You live in the nation's capital, so educate yourself. Think tanks like the Brookings Institution and the Carnegie Endowment for International Peace constantly host intriguing and informative discussions. Find an issue you're interested in and get some knowledge. The fact that many of the discussions have open bar receptions afterwards does not hurt.

27. Go to the top of the Washington Monument
Yes it's touristy. The view's still worth it.
Sign up here for our daily DC email and be the first to get all the food/drink/fun in town.